printer friendly version
Digital transformation status and progress in process industries
June 2019
IT in Manufacturing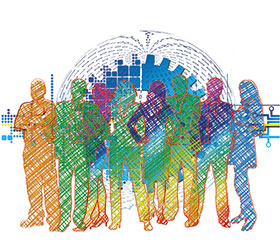 At the recent ARC Industry Forum in Orlando, Florida, many discussions revolved around digital transformation. According to a presentation by Mike Williams, ARC Associate, although industry research indicates that there has been more than 75% of the process industry participating in Industry 4.0 technology evaluation or pilot projects, there is still less than 25% of the industry moving beyond the pilot phase. It would appear that the process industries are lagging behind other industry segments such as automotive and other discrete manufacturers.
According to Williams, "Many times pilot projects find technically viable solutions, but come up short in creating a business case that would allow the CEOs and CFOs to demand more investment. The question raised here is why?"
Digital transformation in the process industry
In his presentation, Williams identified some of the top challenges facing early digital transformation implementation. These include:
• Lack of a concrete value proposition to justify investment.
• Islands of information prevalent in existing infrastructure.
• Lack of seamless integration between IoT and OT solutions.
• Reliability issues resulting in random periods of abnormal faulting in real time.
• Conflicting organisation design issues between IT and OT roles and responsibilities.
• Lost tribal knowledge – "How do we capture and digitise knowledge before it is gone?"
• Cybersecurity issues resulting in IP theft or denial of service.
• Need to upgrade skills and human assistance tools to improve efficiency, enhance decision-making and higher employee engagement.
Although the deployment of new Industry 4.0 technologies might improve asset utilisation, one of the most pressing issues in the process industries, this alone does not make or save money for the enterprise. The newly available capacity must be put to good use, such as by filling production orders for newly developed products.
BASF's experience with digital transformation
Michael Krauss, senior expert, control systems technology for BASF, began his presentation by acknowledging that requirements in the process industries, oil and gas and chemicals in particular, are different than in discrete manufacturing. Many of the process industry value drivers are centred around improving work efficiency and avoiding incidents. He commented that for companies like BASF, revenue-per-employee has an important impact on the bottom line. "Energy and raw material are key factors in the early steps of the value chain, and safety is important above all."
A BASF initiative that utilises bar coding and mobile digital devices provides necessary information about every asset in the plant to operators, maintenance personnel and material managers. Of course, this requires that key vendors must help make this information available digitally. The vendor list includes the automation systems suppliers such as ABB, but also extends to other areas such as maintenance, engineering and the enterprise. Some examples of where BASF has deployed digital technologies were provided, these include:
• Using a drone to measure the thickness of a tank's wall.
• Automatically scanning workers when they enter a facility to ensure that they are wearing the necessary protective clothing and other gear.
• Analysing the welds on all control valves deployed.
• Utilising advanced analytics with vibration monitoring and other sensors to monitor pumps.
• Performing predictive maintenance to avoid heat exchanger fouling and improving the reliability of pumps and compressors.
BASF also produced a video to highlight two key technologies in what it refers to as Maintenance 4.0: First, the use of Microsoft's HoloLens technology to allow personnel on site to contact remote experts about problematic plant equipment; and second, the use of additive manufacturing (3D printing) to not only produce a part, but to enable the freedom of design to improve it.
Dow Chemical's digital transformation starts with MES
Angela Morris, MES global improvement leader at Dow Chemical, used a symphony orchestra analogy to describe Dow's history and progress in manufacturing execution systems. Dow began its digital transformation in 2008, addressing the need for vertical integration between the enterprise and the shop floor. Early on in this journey, ARC Advisory Group's consultants helped the company identify the value-creating use cases and define the functional requirements needed to address the operational technology (OT) gaps between the company's new ERP solution and highly diverse shop-floor assets. (Dow's vertical integration project was a response to end-of-life issues with legacy MES systems, which were architecturally incompatible with the new ERP solution.)
One of the key learnings from the program was the barrier of reinvestment cost. Much like the BP experience, the solution required incremental value creation with phased reinvestment to be successful. Given the technology constraints at the time, and existing architectural compatibility issues, the full value of vertical integration was not realised and the program was placed on hold. However, much of the front-end analysis of functional requirements derived and economic justification has been leveraged into a restructured effort under the Industry 4.0 banner using new breakthrough technologies such as virtualisation and analytics. The MES-installed base is now being repositioned for duty as edge services supporting enterprise-based real-time execution applications.
Morris explained that if an Industry 4.0 application needs to have real-time performance, providing legacy MES servers at the edge may be the answer. He further stated that MES systems can play a role in the digital transformation of the manufacturing shop floor by "bridging the reality of the installed base, which most likely will remain for a long time, to the innovative ideas and capabilities of Industry 4.0 solutions."
For more information contact Paul Miller, ARC Advisory Group, +1 781 471 1141, pmiller@arcweb.com, www.arcweb.com
Further reading:
IIoT platforms, not all created equal
Technews Industry Guide: Industrial Internet of Things & Industry 4.0, Altron Arrow , IT in Manufacturing
Having a state-of-the-art architecture based on the most modern technology will not benefit any company unless it is tied to a specific purpose and business outcome.
Read more...
---
Bringing trust to the Internet of Things
Technews Industry Guide: Industrial Internet of Things & Industry 4.0 , IT in Manufacturing
Huge amounts of data are generated by and collected from a wide variety of IoT devices. It is then analysed and actions taken, depending on the results of the analysis. However, if you cannot trust the 
...
Read more...
---
So, what's left for us humans after the machines take over?
Technews Industry Guide: Industrial Internet of Things & Industry 4.0 , IT in Manufacturing
That said, there are some guidelines that can be put in place. An obvious career path exists in being 'on the other side of the code', as it were – being the one who writes the code, who trains the machine, 
...
Read more...
---
Staying ahead of industrial cyber-security threats
July 2019, Parker Hannifin Sales Company South , IT in Manufacturing
The consequences of cyber attacks on businesses can be huge, operation downtime, loss of productivity, proprietary information loss, diminished reputation among customers, business partners and investors and disruption of services.
Read more...
---
Comos version 10.3 saves time
Technews Industry Guide: Industrial Internet of Things & Industry 4.0, Siemens Digital Industries , IT in Manufacturing
Modular engineering with intelligent templates and central data storage.
Read more...
---
Innovation and intelligence for smart manufacturing
Technews Industry Guide: Industrial Internet of Things & Industry 4.0, Omron Electronics , IT in Manufacturing
Adaptive algorithms offer new ways to optimise production lines.
Read more...
---
Securing the smart factory?
Technews Industry Guide: Industrial Internet of Things & Industry 4.0, Throughput Technologies , IT in Manufacturing
Secomea provides secure remote access without the need for advanced firewall configuration.
Read more...
---
Digitalisation drives compressed air system development
Technews Industry Guide: Industrial Internet of Things & Industry 4.0, Siemens Digital Industries , IT in Manufacturing
German company, Otto Boge (Boge), develops compressed air systems for which it offers an extensive portfolio of components, machines and complete plants. To increase the efficiency of its production, 
...
Read more...
---
Industrial cybersecurity risk assessment and management
Technews Industry Guide: Industrial Internet of Things & Industry 4.0, Proconics , IT in Manufacturing
Since the acceptance of the various IEC62443 modules as national standards: SANS62443-2-1/4, SATS62443-1-1 and SATR62443-3-1, there has been confusion about the requirements, methodologies and implementation. 
...
Read more...
---
High-performance rackmount computers for Industry 4.0
Technews Industry Guide: Industrial Internet of Things & Industry 4.0, RJ Connect , IT in Manufacturing
With more and more companies implementing IIoT applications, the demand to connect hundreds or thousands of devices to industrial automation systems has increased dramatically. Moxa's DA-720, a high-performance 
...
Read more...
---