printer friendly version
A technology evolution unfolds at X-Change 2019
May 2019
News
From 17-19 March, I joined the throng of 430 delegates from 20 countries who descended on Sun City to attend the 27th annual IS3 User Conference. At the Valley of the Waves opening-night ceremony, a spectacular fireworks display set the tone which never let up until our departure three mornings later. Congratulations organising committee, once again you showed exactly why this event's reputation as 'Africa's premier industrial software conference' is so richly deserved.

Digital transformation in the spotlight
Doug Warren, AVEVA VP Strategic Partnerships, opened the conference proper with a keynote address the following morning. In line with the theme of The Revolution Evolution (aka digital transformation), Warren explained how AVEVA is focused on developing solutions that enable digitalisation from the edge to the enterprise through what he described as "an end-to-end digital twin". The idea is to use the new data-intensive technologies of Industry 4.0 to break down the traditional operational silos of the past. The value is created when data-driven business intelligence is applied across all the enterprise value chains in ways that enhance operational visibility and improve customer experience.
Warren stressed that the benefit of these "converged value chains" is realised only if the process is driven through a deeper understanding of the organisations current operational practices, and their shortcomings. Put differently, a company's digital transformation must be driven by a business case first, and by technology second. A quote by Bill Gates put this perfectly into context for delegates: "The first rule of any technology used in a business is that automation applied to an efficient operation will magnify the efficiency. The second is that automation applied to an inefficient operation will magnify the inefficiency."
The message then is that with the correct implementation, digital transformation powers workers to higher levels of productivity through actionable insights into the current state of operations. In an asset performance context, this could involve sending all the relevant repair information to the mobile device of maintenance technicians on their way to a breakdown. In the case of contractors, who might be unfamiliar with the plant, it might also include GPS-based directions to guide them directly to the failed equipment. It could also facilitate a call to an expert based at the asset vendor's HQ, in the event that a higher opinion is required.
Contrary to some opinions, Warren stressed that people are as much a part of the Fourth Industrial Revolution as the technologies they worry may replace them. The difference is the skills they will need. To this end, AVEVA is developing new products to speed up reorientation and skills development through augmented training and operational simulations. It is as much about instilling a new culture as it is about implementing new technology platforms, or in other words, buzzwords don't solve asset performance management issues, people do.
US-based power utility Duke Energy served as an example of an international success story. Fitting, I thought, since at the time South Africa was enveloped in the gloomy chaos of Eskom-prescribed Stage 4 load shedding. During the post presentation interview I asked how AVEVA would address the problems at a hypothetical national power utility with asset availability down around 55%. Turns out it is not that difficult to fix, provided the organisation commits to a strategy of continuous improvement over time.
"The first thing we would do is a multi-disciplinary maturity assessment," explains Warren.
The rationale here is to identify the areas of performance where the organisation believes it is weakest. The next step is to identify the most critical areas where digitalisation could make a difference, as this is usually where the greatest ROIs will be found. "We favour a self-sustaining approach to digital transformation," adds Warren, "which means that the savings from the first project must pay for the second one, and so on. This is a good way to make a business case for digitalisation, and keeps the focus off technology for technology's sake."
The next step is to prioritise the possible projects and identify the associated business processes. Only once projects have been ranked according to ease of implementation vs business benefit is it time to consider the most appropriate technology platforms. Warren stresses that it is vital for representatives of the customer organisation to be involved in every aspect of the project – from identification to implementation – if they truly wish to 'own' the solution.
This solution is invariably a mix of cloud and plant-based systems, depending on the type and criticality of the application. "What's important to realise is that some projects may underperform in terms of ROI, while others outperform," adds Warren. "Constant monitoring allows shrewd executives to maximise the returns they get from their digitalisation investments, and in fact sets the future direction as well.
"Getting back to your example of the power utility, the team may identify unplanned downtime as the most critical threat to the business. Next, the decision might be to implement condition-based monitoring on the most crucial assets. Once these have been identified, we would install the required sensors and hook them up to the appropriate analytics packages. Now the company is in a position to implement a predictive maintenance strategy on its most critical assets. As its level of digital maturity rises and it grows comfortable with the concepts, the solution can be expanded to include more and more equipment, until eventually, anything worth covering is covered. It is not necessary to take a 'big bang' approach. It's an evolution, so the important thing is to get started in the right direction and empower your workforce for continuous improvement."
The AVEVA roadmap
At the day-two opening address, Tim Sowell, head of digital portfolio strategy, used Warren's presentation to springboard into where AVEVA is headed. The reality is that project lifecycles are getting shorter. So to compensate for this, workers from all of a plant's engineering disciplines must be empowered to work smarter and more efficiently.
With this in mind, AVEVA is committed to utilising digital technologies to build business solutions that eliminate waste. "The aim is to create a unified platform that promotes teamwork across the organisation through a unified engineering experience," Sowell explained to an attentive audience at the start of the presentation.
This vision is called AVEVA Connect, a digital services platform that extends the reach and availability of the physical plant through a living digital twin. Since the twin is a digital (virtual) replica of the plant, both physically and operationally, the same information can be made available to anyone who needs it wherever they are in the world. It is living in the sense that as changes are made to the physical plant, these can be replicated in the digital twin through the AVEVA Connect platform.
Sowell contextualised it during a subsequent interview as a move to role-based information. A reliability engineer, for instance, may want to keep an eye on the operational data coming from the machines, while a maintenance manager might want to pull the service history for a particular piece of equipment, along with the data to show its current performance level. A plant engineer, on the third hand, is empowered through a view of the current level of overall output and performance. The strength of the AVEVA platform is that in all three cases, the information is accessed from the same central repository.
But it doesn't end there. Since the virtual plant is an exact replica of the physical world, it can be used to build realistic 3D training simulations. "We're modernising the workforce through technologies like virtual and augmented reality," explained Sowell. "This self-service learn-on-demand capability allows companies to on-board and train new employees in a fraction of the time previously required."
What AVEVA is striving for is to empower people through access to asset performance information, visible across the entire enterprise. The AVEVA vision is to provide its customers with the ability to transform their businesses through optimisation and empowerment. The platform to accomplish this is AVEVA Connect which, through its living digital twin, addresses two spheres:
• Value chain processes: alignment of the plant and the products it manufactures.
• People: smart workers, always connected to the plant through mobile digital technologies.
"In the future, our cloud-based solutions will make it easy and affordable for any organisation to implement a digital transformation strategy," concluded Sowell during the presentation wrap-up. "Not only that, but it will be an evolution. They will be able to build piece by piece, and make the journey at their own pace."
Kim Custeau talks Asset Performance Management
Asset Performance Management (APM) is one of the four defined AVEVA business units and it is led by VP Kim Custeau. I asked her how it all comes together in the real world.
"Asset Performance Management (APM) crosses over into many business areas, but mostly it's about maintaining a plant in optimal operating condition over its entire lifecycle," she begins. "The first level of APM is preventative maintenance, but, thanks to the affordability of modern digital technology, we are moving on from this because it is wasteful, and often responsible for introducing new problems shortly after repair.
"The next level is condition-based maintenance, which looks at the operating condition of the asset. Here we don't initiate maintenance simply because a predetermined time period has elapsed. Rather, we monitor the condition of the asset and base maintenance triggers on criteria like vibration and temperature levels. Now, we're repairing the asset only when it actually needs to be repaired.
"At the next level we have predictive maintenance, where we introduce algorithms and advanced pattern recognition. These techniques build a history of the asset condition over time. Once the history is established the algorithms are then able to compare the condition of the asset from one day to the next, and from that, predictions can be made about the probability of a failure and when it is likely to occur."
The difference between the two is that condition based maintenance relies on a set of rules, i.e. when the bearing temperature exceeds some predefined level it initiates a maintenance activity. While predictive maintenance is a supervised approach i.e. if a bearing temperature goes out of spec, the maintenance engineer is informed and is then in a position to evaluate other external factors (ambient air temperature for instance) before issuing a repair order.
AVEVA has gone one step further and added an even higher level called prescriptive maintenance. "This is the top level of the current maintenance pyramid," explains Custeau. "Now, thanks to the concept of the living digital twin, we are able to recommend the appropriate remedial action in response to a specific anomaly."
Maintenance is evolving thanks to digital technology, so how does one choose the best approach?
"A good APM strategy accounts for more than the performance of a single piece of equipment," answers Custeau. "It is critical to first define what needs to be accomplished and then look at this within the limits of market, environmental and regulatory requirements. Once you have done this, then you pick the approach that will give maximum benefit to the company's bottom line without violating the constraints."
The message from the conference is clear. Digital transformation is not a quick fix that can be applied on an ad hoc basis to 'patch up' an ailing company. However, if applied correctly, the digital methods of the fourth industrial era can significantly improve the return on assets over the lifetime of an industrial facility. It is as much about people and culture as it is about technology, and, as it has always been, the first step is to define the business objectives. This is where many organisations get stuck, since very few have the resources to tackle digital transformation on their own. The value of business partners the calibre of IS3 and AVEVA is the expertise to get you started and then keep you moving in the right direction. Digital transformation is an evolution of technology and culture. The pot of gold at the end of the rainbow is asset performance and efficiency at levels simply not possible before.
Awards
As is customary on the final evening, the conference was topped off with a gala dinner. Wacky comedian Alan Committie entertained the crowd, and the following awards were made in recognition of excellence:
• Best presenter: Pleasure Mnisi, Exxaro.
• Best Flow Software Innovation: Exxaro Grootegeluk.
• Best Planning & Scheduling Implementation: Astron Energy.
• Best Operations Implementation: Namibia Breweries.
• Best Control & Information Implementation: Transnet.
• Digital Transformation Strategy: Norilsk Nickel.
• Best Business Value: Hidro-Tech.
• Most Current Certifications: CSS – Total Engineering Solutions.
• Top System Integrator, 2nd Runner-up: Business Connexions.
• Top System Integrator, Runner-up: Advansys.
• Top System Integrator, Winner: Control Systems Integration.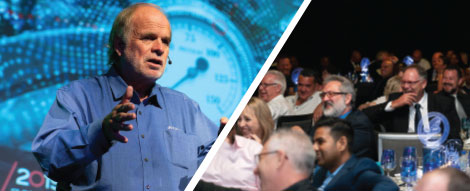 For more information contact Clarise Rautenbach, IS3 – Industry Software, Solutions & Support, +27 11 607 8473, clarise.rautenbach@is3.co.za, www.is3.co.za
Credit(s)
Further reading:
From the editor's desk: Automation professionals need communication strategy too
September 2019, Technews Publishing (SA Instrumentation & Control) , News
Catching the eye of a potential customer has become more difficult than ever thanks to the ethos of information promiscuity that defines the 21st century. It's never been easy to stand out in a crowded 
...
Read more...
---
South Africa sets plans in motion with new LNG import terminal
September 2019 , News
State-owned freight logistics firm, Transnet, said on Tuesday that it had signed a cost-sharing agreement with the World Bank's International Finance Corporation (IFC) to conclude a feasibility study 
...
Read more...
---
Emerson completes acquisition of Zedi's software and automation businesses
September 2019, Emerson Automation Solutions , News
Emerson has announced the purchase of Zedi's software and automation businesses. The addition of Zedi's cloud supervisory control and data acquisition (scada) platform will further enable Emerson to help 
...
Read more...
---
ETG conducts first Safety over EtherCAT Plug Fest
September 2019 , News
The EtherCAT Technology Group (ETG) recently held its first Safety over EtherCAT (FSoE) Plug Fest with great success. Numerous manufacturers of EtherCAT safety master and slave devices came to Verl, Germany, 
...
Read more...
---
Endress+Hauser strengthens ­expertise for advanced analysis
September 2019, Endress+Hauser , News
Endress+Hauser has expanded its centre of competence for advanced analysis in Lyon, France. The Group invested €2 million in a new production facility and office space to meet growing demand in the area 
...
Read more...
---
Festo inspires with smart digital solutions at the Automation Expo
September 2019, Festo , News
Festo hosted the first leg of the Automation Expo in Johannesburg at the Sandton Convention Centre, while the second took place in Port Elizabeth at the Boardwalk Convention Centre. Both ended on a high 
...
Read more...
---
AVK Academy gains traction in Africa
September 2019 , News
The Academy, the training arm of AVK Southern Africa, has taken the Group's training into Africa. With training on basic and advanced valve fundamentals recently concluded at Mulonga Water and Sewerage 
...
Read more...
---
WearCheck acquires reliability testing company, boosts services
September 2019 , News
Durban-based condition monitoring specialists, WearCheck, has bought Anglo Field Services (AFS), which adds three new established divisions to the company's comprehensive reliability solutions portfolio, 
...
Read more...
---
Siemens South Africa puts Smart City vision into action
September 2019, Siemens Digital Industries , News
Fourteen months ago, Siemens installed a microgrid at its headquarters in Midrand and data shows it is using 50% less supplied energy, drawing it from solar resources instead. By extracting energy off 
...
Read more...
---
Implementing Industry 4.0 technologies in Africa's manufacturing environment
September 2019 , News
African manufacturers are aspiring to raise their standards and increase the efficiency of their enterprise operations. To discuss the rising prevalence of technology within the industrial realm, the 
...
Read more...
---