Bag-in-Box technology just got faster
February 2019
Motion Control & Drives

printer friendly version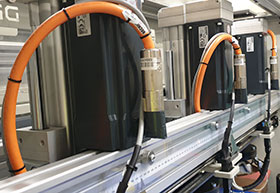 Founded in 2015, Pro Project Machinery (PPM) is a bespoke machine building business focusing its skills in the Bag-in-Box (BIB) industry. Bag-in-Box, more commonly known in South Africa as 'papsak' (boxed wine), is a growing global industry and PPM makes up a handful of expert machine builders who de-sign these complex machines.
The systems are diverse enough not only to make bags for the wine industry i.e. 3 to 5 litres, but are in fact capable of producing bags with a capacity of up to 250 litres. The machines make either 1, 2 or 4 flexible bags per cycle and are capable of running at 35 cycles per minute. The bags themselves are made up of two or four layers of material, drawn through the machine and processed at different points. Finally, a gland fitment is heat sealed into the bag, after which a tap fitting is inserted into the gland. The product is also heat sealed laterally and horizontally, after which it is cut and then manually packaged into boxes that are delivered to various production facilities to be filled.
PPM as a machine builder is passionate about two elements on any project – using cutting edge technology, and producing equipment that lasts. All machines are drawn up in 3D CAD before manufacturing starts and special care is taken when using specialised parts and other componentry that complements the machine.
In its quest to improve machine performance and get ahead of the competition, PPM partnered with Beckhoff Automation, a leading automation company, to provide the control components for its machines. Beckhoff's knowledge and experience in the field of motion control have proven an invaluable accompaniment in this regard.
PC-based control and EtherCAT fieldbus support a fast automation architecture
"The first step was undertaking an in-depth analysis of existing machines in the industry and identifying their performance weaknesses," explains PPM technical director Gareth Schenck. "One of the obvious problems that had to be addressed was the issue of pneumatic cylinders. An average 4-lane machine could use as many as 60 50-bore cylinders, consuming up to 5000 litres of compressed air per minute during operation.
"Replacing these with servo driven electro mechanical cylinders (EMCs) was an inviting alternative. EMCs provided solutions to many existing machine shortcomings in these types of machines, from eliminating the need for large auxiliary compressors, to being able to control the accuracy of sealer bars within micrometres, giving more consistency to the quality of the end product."
Based on this line of reasoning, the final machine design included a total of 64 servo motors and drives. This posed two problems for the control design team: first, was there an available control system that could simultaneously provide full 64-axis motion control from one unified controller? And second, was there a control network capable of providing the sub 2 ms data transmission times required for accurate machine control?
Beckhoff Automation answered both questions. "Using our PC-based control approach, a CP 6930 industrial PC with multicore Intel® i7 processor easily handled all the motion control requirements. Secondly, the speed of the purpose built EtherCAT network made seamless integration between all 80 of the EtherCAT nodes viable," explains Dane Potter, a sales engineer from Beckhoff's Cape Town office.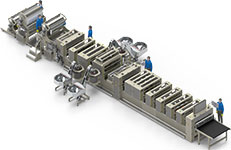 Overall system improvements
"The tapping insert station, which was transformed from pure pneumatic processes to 4x4-axis motion controlled pick and place using industrial camera imaging to detect defective fitments, as well as orientation, made on-the-fly fitment placing a dream to implement," outlines Schenck.
"In addition, Beckhoff's TwinSAFE safety PLC made the often painful integration of safety and control an easy task," adds Potter. "With 18 light curtain zones, three safety scanners, twenty-two electromagnetic door sensors, and 24 guard sensors, the machine is extremely benign, giving reassurance to operators and maintenance personnel alike that it is safe to work on."
TwinCAT PLC HMI in conjunction with the 21.5" Beckhoff CP Panel made machine visualisation effortless to implement with its 1080p graphics. This coupled with TwinCAT PLC HMI Web made the ability to view machine metrics on mobile devices uncomplicated and intuitive. Also, PPM utilised the latest AX8000 Servo series, which was not only easy to install and connect due to its modular One Cable Technology (OCT) design, but the built-in FPGA chipset made force feedback extremely accurate.
A large 50" screen at the front of the machine gives personnel a good overview of machine performance, as well as showing warnings to machine operators and packers – a great value add to the machine.
Benefits realised
Using this fast motion control capability, the web speed and sealer bar positions were easily synchronised to achieve maximum machine performance. Also, the decision to use EMCs, which exert far more force than their equivalently sized pneumatic counterparts, resulted in the benefits of faster sealing times, improved machine speed and greater production accuracy. (Machine performance increased from a previous maximum of 7680 bags per hour to a never-before-achieved 8400 bags per hour.)
One of PPMs top customers had this to say about a newly-delivered machine: "The ease of use far exceeds that of any bag maker we've had before, and the quietness of the servo actuation also makes for a very pleasant work environment. In monetary terms, we appreciate the fact that running costs have decreased by 60% due to not needing the large amounts of compressed air required previously. We look forward to the improved production capabilities this new design affords us."
On future machines, PPM will seek to automatically move machine units to facilitate quick and easy setup," concludes Schenck. "Load cell technology will also be added to bring even greater accuracy to the material sealing aspects."
For more information contact Michelle Murphy, Beckhoff Automation, +27 11 795 2898, michellem@beckhoff.com, www.beckhoff.co.za
Credit(s)
Further reading:
Conveyor systems for grain applications
February 2019 , Motion Control & Drives
BLTWorld offers dependable solutions for specific problems at the transfer points of conveyor systems in bulk materials handling, for example, grain in the food and beverage industry. "ScrapeTec Trading's 
...
Read more...
---
EtherCAT measurement modules extended
February 2019, Beckhoff Automation , System Integration & Control Systems Design
System-integrated precision measurement technology for efficient machines and test benches.
Read more...
---
Bosch Rexroth introduces latest transfer system
February 2019, Tectra Automation , Motion Control & Drives
By optimising existing components and integrating new modules into its TS 5 conveyor system for heavy loads, Bosch Rexroth has enhanced its already impressive flexibility to meet the requirements of an 
...
Read more...
---
One machine control over EtherCAT
February 2019, Omron Electronics , Motion Control & Drives
Manufacturing is changing. Production lines need to be increasingly flexible to cope with shorter production runs, more varied products and tighter deadlines. Manufacturers are addressing these challenges 
...
Read more...
---
Case History 164: More on valves that do not control properly.
January 2019, Michael Brown Control Engineering , Motion Control & Drives
I often publish articles showing valve problems. One of the reasons is that I do not think many people understand that valves are generally responsible for 75-80% of all control loop problems. When it 
...
Read more...
---
Integrated control solution for car heater manufacturing
January 2019, Beckhoff Automation , System Integration & Control Systems Design
TwinCAT CNC automates dispensing system used in the automotive industry.
Read more...
---
Global partnerships for automotive support
January 2019, Parker Hannifin Sales Company South , Motion Control & Drives
Parker Hannifin is a global leader in motion control components and system solutions serving industrial, mobile and automotive markets. Specialising in hydraulics, pneumatics, electromechanics, fluid 
...
Read more...
---
Matching linear measurement performance to application needs
January 2019, Parker Hannifin Sales Company South , Motion Control & Drives
Almost all modern automated machines and systems require precise, reliable and cost-effective linear measurement. And although this need increases in line with demands for greater efficiency, speed and 
...
Read more...
---
PC-based control simplifies building revitalisation
December 2018, Beckhoff Automation , System Integration & Control Systems Design
PC-based building automation from Beckhoff is characterised by its openness, reliability, ease of use and long-term product availability. In the revitalisation of the Eurotheum high-rise building in Frankfurt, 
...
Read more...
---
Case History 163: Control limitations on mineral processing plants
November 2018, Michael Brown Control Engineering , Motion Control & Drives
I was recently asked to conduct a control loop audit on a mineral extraction processing plant which was fairly old and had been acquired by new owners. A new and very modern control system had been installed 
...
Read more...
---