printer friendly version
Sonic industrial imager detects leaks
February 2020
Maintenance, Test & Measurement, Calibration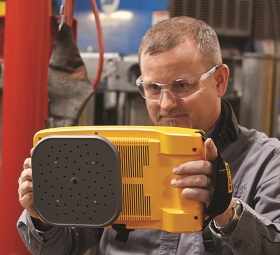 Comtest now offers the Fluke's ii900, a handheld sonic industrial imager that enables maintenance teams to locate air, steam, gas and vacuum leaks in systems. The straightforward, intuitive interface allows technicians to isolate the sound frequency of the leak and filter out background noise. In a matter of hours, the team can inspect the entire plant, even during peak operations.
Using SoundSight technology, this industrial imager offers a new way to locate issues using sound. Leak identification is simple, a SoundMap is displayed in colour over an image of the equipment allowing for fast visual location. With the image, it is easy to scan a large area quickly and even identify leaks from a distance.
The Fluke ii900 finds application in the following industries: manufacturing: automotive, glass plastics, mining, cement, food and beverage, and pulp and paper. The instrument enables users to do more with existing air compressors, for example:
• Delays the capital expense of purchasing an additional compressor.
• Ensures proper air pressure to pneumatic equipment.
• Lowers energy costs (optimisation of compressed air budget).
• Reduces leak detection time.
• Improves reliability on the production line.
The imager makes leak detection part of a typical maintenance routine, for example, the training of a maintenance team is possible in a matter of minutes and provides for the validation of repairs.
Finally, it is specifically designed for industrial maintenance teams, maintenance leads, plant maintenance managers and plant operations managers, who rely on compressed air, gas or vacuum in their routine operations. With minimal training, technicians can begin checking for air leaks as part of their typical maintenance routine. The ii900 provides a better way to check compressed air leaks, and at the same time conduct gas and vacuum leak identification.
For more information contact Comtest, +27 10 595 1821, sales@comtest.co.za, www.comtest.co.za
Credit(s)
Further reading:
Wireless connectivity for hazardous locations
March 2020, Comtest , Fieldbus & Industrial Networking
Comtest – local representative of Industrial Scientific, global leader in gas detection – has introduced the RGX Gateway, which enables designated safety contacts to receive real-time alerts for gas hazards, 
...
Read more...
---
RS Components unveils expansion of hand-tool portfolio
March 2020, RS Components SA , Maintenance, Test & Measurement, Calibration
RS Components has announced a major expansion of its RS PRO hand-tools range, enabling maintenance engineers to purchase individual devices not previously available. The portfolio will see a significant 
...
Read more...
---
Robust new dry-block calibrator
March 2020, WIKA Instruments , Maintenance, Test & Measurement, Calibration
Suitable for on-site use, WIKA's new Model CTD4000 dry-well calibrator has been designed for use in the severe conditions of the naval and marine sectors. Their ease of use and compact and practical 
...
Read more...
---
Food grade electric chain hoists
February 2020, Becker Mining South Africa , Maintenance, Test & Measurement, Calibration
New to Becker's range of Kito hoists are food grade electric chain hoists, designed for safe lifting applications in contaminant controlled and corrosive processing environments, particularly the food 
...
Read more...
---
Hygienic limit switches for processes
February 2020, Morton Controls , Maintenance, Test & Measurement, Calibration
Process and storage vessels incorporate limit switches to prevent overfilling of a tank or vessel (full indicator) or dry running of a pump (empty indicator). Anderson-Negele's NCS series are ideally 
...
Read more...
---
Using Fluke's T6 electrical testers
February 2020, Comtest , Maintenance, Test & Measurement, Calibration
Those who use electrical testers to capture measurements such as voltage and current know that the process is traditionally time-consuming and carries potential risk. Fluke T6 electrical testers provide 
...
Read more...
---
Optimised maintenance for gas burners
February 2020, Instrotech , Maintenance, Test & Measurement, Calibration
Whenever the flow of gases needs to be adjusted or monitored, Kobold's model UTS variable area flowmeter for monitoring gas burners offers a solution. This compact measuring instrument can be placed at 
...
Read more...
---
Point and shoot laser distance meter
February 2020, Comtest , Sensors & Transducers
Comtest has announced Fluke's new 417D, an accurate, durable, point and shoot laser distance meter, designed for indoor and outdoor, dusty and wet conditions. The easy, one-button operation means users 
...
Read more...
---
Shutdown planning and execution
January 2020, Instroworx , Maintenance, Test & Measurement, Calibration
It is inevitable in that in some shape or form, all plant workers will at some stage be involved in the shutdown of a facility. Planning is essential to ensure that this shutdown is executed within both 
...
Read more...
---
Accurate results with rugged Fluke thermal camera
January 2020, Comtest , Maintenance, Test & Measurement, Calibration
Leading an industrial maintenance team requires a unique combination of communication skills, industry knowledge and technical expertise. Implementing standard work and a preventive maintenance programme 
...
Read more...
---