printer friendly version
Network-based process visualisation
November 2018
IS & Ex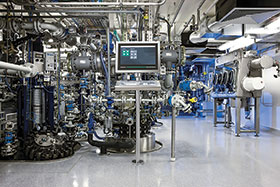 IT technologies such as PC and server virtualisation are establishing themselves in larger plants in the process industry to reduce the growing number of PC hardware components, while at the same time increasing flexibility and availability.
This trend has altered the landscape for operating and display devices for the process industry. Mechanical robustness, chemical resistance, and long distances from the actual host computer have always been standard requirements. Other requirements include suitability for certain production environments such as clean rooms or ATEX hazardous areas. Touchscreen operation, ever-increasing display resolution to match the growing complexity of the process information displayed, and new data connection technologies have been added to the mix. Instead of point-to-point connections of a PC and monitor to analog KVM extenders with limited cable lengths, we now have network-capable monitors with digital transmission over almost any distance and the freedom to connect to any PC or server on the network. Where each operator workstation previously needed a dedicated PC with an operating system and software, all that is needed now to connect to the host computers is the network interface(s) for the monitors. The Ethernet networking capability of operator workstations with integrated thin client technology is now a necessary prerequisite for connecting to a session on a server or virtualised systems.
VisuNet technology
Pepperl+Fuchs recognised this trend early on and for 10 years has offered operator workstations comprising a monitor, keyboard and mouse with standard Ethernet network technology. The VisuNet range of devices represents visualisation in networks. From as early as the 1990s, complete solutions consisting of a monitor with housing and mounting variants in stainless steel have been available to the process industry. These have been joined by up-to-date screen resolutions such as the most recent 16:10 and 16:9 'full HD' wide formats, and network technology with thin client-based monitors. Product lines have also been specially created for various industries, as each sector has its own specific requirements.
The VisuNet XT product line is specially designed for the outdoor oil and gas industries, with an extended temperature range for ambient temperatures from -40 up to 65°C, superb mechanical robustness, and sunlight readable displays. The range includes explosion-protected versions for ATEX Zone 2 and NEC/CSA Class I Div 2.
The VisuNet EX1 and VisuNet IND product lines are available for the traditional chemical industry. These have a rugged stainless steel housing and high resistance to chemicals and detergents. The extended temperature range from -20 to 50°C, and all the standard national approvals and many international approvals for hazardous areas make them versatile operating devices within process engineering plants.
The VisuNet GMP and VisuNet GXP product lines have a specific design and mechanical finish for the life science industries such as pharmaceuticals, cosmetics, and food. These can also be used in pharmaceutical clean rooms, non-classified production environments, and ATEX Zone 1/21 and Zone 2/22 hazardous areas. These device lines also meet the global GMP (good manufacturing practice) requirements of these 'regulated industries' in terms of easy cleaning and disinfection, low surface roughness of the stainless steel housing, and a seamless, slim design without surfaces where deposits can collect.
All VisuNet product lines vary in their mechanical design for different industries, although the underlying technology, display technology and interfaces for locally connected peripherals are almost identical. The monitor, housing, and mounting options can be configured from a modular system to meet individual requirements. The optional membrane keyboards with an antibacterial polyester film or stainless steel membrane surface can be connected to all VisuNet products. For cursor control, a user-friendly trackball or a joystick can be chosen as an alternative to the easy-to-clean touch pad. All monitors are available either as a touchscreen or with an antiglare glass surface. In addition to a model with an integrated Windows 7 panel PC for stand-alone operator workstations and the rarely requested operator workstations with an integrated KVM extender, network-based remote monitors with an integrated thin client are now predominantly used.
Industrial process visualisation
These remote monitors with a network connection – with the option of using fibre optic cables or WLAN – today form the backbone of modern industrial process visualisation and process and production control directly in the process plant. One of the terminal services protocols for network communication is used to display and operate the PC-based or server-based application software, usually scada or MES software. The RDP protocol, which is integrated into all versions of Microsoft Windows, is currently the most commonly used. However, other connection protocols such as VNC or ICA (Citrix Receiver) are also possible. This allows video data and operating inputs to be transferred digitally between the host computer and the remote monitor via an Ethernet network with switches and routers, with no borders, to and from all the host computers on this network.
There is also the option of using a secure Chrome-based 'restricted web browser' without window frames or function menus. This is suitable for web server-based applications on the host computer, as offered by some scada and MES software manufacturers based on HTML5. It will not be obvious to the operating personnel that they are working with a browser.
The RM Shell, an intuitive setup menu for configuring the remote monitor and designed for touchscreen operation, allows the commissioning engineer to specify all default settings and approved host computers and sessions with password protection. None of this will be noticeable to the user afterwards: After the monitor is switched on, it automatically connects to the host computer invisibly in the background, and the users see their application directly on the host computer, just like a 'normal' monitor.
Important additional functions of the RM Shell can be configured, such as switching between different host computers using key combinations or displaying several applications (e.g., DCS and MES) at once on a twin monitor (extended desktop). It can also be set up to mirror an application on other monitors for large plants with multiple alternative operator workstations. Configuration menus are available for integrating the data from any optional connected barcode or RFID readers, as frequently used in the pharmaceutical and cosmetics industries, or for optional built-in WLAN antennas. All this can be supplied in a design compliant with the ATEX directive.
Built-in mechanisms for detecting a break in the connection to the host computer and for a configurable, automatic reconnection to an alternative host computer on the network in the event of a failure of a host computer, without requiring any further action or rewiring, are key to operating reliability and availability.
IT security is ensured with the latest versions of the connection protocols, a built-in firewall, and the option of disabling the USB interfaces for external storage media. The internal flash memory of the integrated thin client is read-only.
If the standard modular system does not fully meet the requirements, as is sometimes the case with the extensive boundary conditions in the life science industry, for example, customer-specific adjustments are available. These are mostly mechanical changes, in particular for mounting devices in the production plant. Europe, America, and Asia Pacific each offer a dedicated Solution Engineering Center for HMI for this purpose.
Credit(s)
Further reading:
Tube connector for Ex areas
May 2020, Parker Hannifin - Sales Company South Africa , IS & Ex
Parker Hannifin has extended its Phastite permanent instrumentation connection range, which is now available in a number of corrosion-resistant alloys (CRAs), including Alloy 825, 625 and Super Duplex, 
...
Read more...
---
Safety controllers with diagnostics
October 2020, Turck Banner , IS & Ex
The combination of an intuitive user interface and diagnostics makes it easy to design and troubleshoot complex safety systems in just a few clicks.
Read more...
---
Quad-monitor thin client applications from Pepperl+Fuchs
October 2020, Pepperl+Fuchs , Industrial Computer Hardware
Using established thin client technology from Pepperl+Fuchs, production statuses are transmitted to multiple monitors in real time so that all plant data can be monitored and operators can respond quickly.
Read more...
---
Real-time location system
September 2020, Extech Safety Systems , IS & Ex
With worker safety becoming an ever-increasing focus for many businesses operating within process industries, iTAG X30 delivers a solution that allows high levels of location accuracy across their entire site.
Read more...
---
Sensor technology now in use in explosion-protected areas
September 2020, Pepperl+Fuchs , IS & Ex
Increased customer demand for hazardous areas requirements that can be met using sensor technology require sensors to be fitted in potentially hazardous locations, posing ever greater challenges.
Read more...
---
German & EU Chamber hosts inaugural Working Group Industry 4.0 online session
September 2020, Pepperl+Fuchs , News
On 18 August, the German & EU Chamber's Working Group Industry 4.0 hosted the first in a series of online events around 4IR and its adoption in South Africa.
Read more...
---
Safe operation of LNG tanks
September 2020, Endress+Hauser South Africa , IS & Ex
Endress+Hauser's innovative instrumentation and advanced inventory management solutions for LNG storage tanks ensure safe operation of plant and high levels of inventory transparency.
Read more...
---
PyroStorm protection for control equipment
September 2020, Alien Systems & Technologies , IS & Ex
If you work at a large industrial plant or mine, you may have noticed those hydraulic lubricating oil packs, or perhaps the diesel generator sets, oil store rooms, pump rooms or flammable liquids stores, 
...
Read more...
---
Profinet gateway integrates device data
August 2020, Pepperl+Fuchs , Fieldbus & Industrial Networking
Pepperl+Fuchs has launched the new LB Profinet gateway, delivering not only conventional Profinet functionality but also full access to all connected HART devices. In practical terms, this will give users 
...
Read more...
---
PyroStorm provides cost-effective fire protection for control equipment
August 2020 , IS & Ex
If you work at a large industrial plant or mine, you may have noticed those hydraulic lubricating oil packs, or perhaps the diesel generator sets, oil store rooms, pump rooms or flammable liquids stores, 
...
Read more...
---