printer friendly version
AVK helps water industry meet local content
February 2020
Valves, Actuators & Pump Control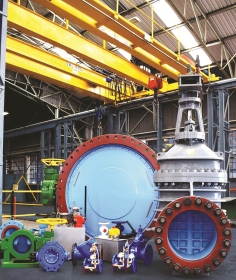 AVK Valves Southern Africa is helping key players in the water and wastewater treatment sectors comply with the Department of Trade and Industry's requirements for local content.
Since 2016, following a R300 million local investment drive that included the acquisition of Premier Valves, Gunric Valves and Cementation Engineering, as well as upgrades of its local manufacturing facilities that now manufacture various AVK products previously imported from Denmark, AVK Southern Africa offers a local content specification programme of 84%. This far exceeds the DTI's local content designation for valve products and actuators of 70%.
This means that state-owned enterprises, municipalities and other users in the water treatment industry have complete access to leading internationally accredited valve technologies, while simultaneously being able to advance their compliance with local content requirements.
The offering includes a complete portfolio of AVK, Premier Valves, Gunric Valves, IPV and Baker Control Valves for plant works, distribution and transmission in the water treatment industry, and for collection, outlet and treatment systems in wastewater applications.
"We feel that there are further opportunities to grow local industry and increase sustainability by creating business for the local foundries and supply chain, which will further advance job creation and enterprise development," explains AVK Valves Southern Africa Group managing director, Patrick Jantjies.
Supporting skills development in South Africa
Aligned with South Africa's skills development strategy and development initiatives, AVK Southern Africa offers ECSA accredited valve training courses. In addition to in-house training of its local workforce, the AVK Training Academy has now certified over 700 engineers, distributors and students.
Developing the export markets
The company supports the South African Government's export programme by actively developing export opportunities for its locally manufactured Gunric Valves and Premier Valves brands through the AVK International Infrastructure network. The two-day training course consists of two parts, the Valves Fundamentals Course and the Advanced Valves Course, which each contribute 2 CPD points.
By investing in modern, lean production layouts, engineering processes, state-of-the-art machinery and improved manufacturing expertise AVK Southern Africa supplies proven valve technologies to the water industry that simultaneously meet the DTI's policy objectives of reindustrialising South Africa.
Further reading:
The ultimate control valve
Valve & Automation Valves, Actuators & Pump Control Editor's Choice
Zwick has designed its TRI-SHARK range of Triple Eccentric Valves to be used in control or throttling applications as well as for pure on/off functionality.
Read more...
---
Smart pumping – a new era in water management and supply
Schneider Electric South Africa Valves, Actuators & Pump Control
Smart pumping can address the high cost and energy usage challenges faced by private and municipality-managed facilities.
Read more...
---
Schubert & Salzer and Macsteel
Macsteel Service Centres Valves, Actuators & Pump Control
The demand on valves, particularly in tyre production plants, is extreme with tyre curing presses working constantly at high temperatures and pressures.
Read more...
---
Chinese LNG tanker fitted with ARCA anti-surge valves
Valve & Automation Valves, Actuators & Pump Control
ARCA anti-surge valves avoid surging by accurately adjusting the gas circulation or blow-off flow, effectively protecting the safety of the compressor unit.
Read more...
---
Electrified subsea actuator for offshore production
Valves, Actuators & Pump Control
Bosch Rexroth has engineered the SVA R2 Subsea Valve Actuator as a disruptive innovation for electrically actuating valves in the subsea process industry. It can replace conventional hydraulic cylinders 
...
Read more...
---
Eliminate bearing failures in TOVs
Valve & Automation Valves, Actuators & Pump Control
Bearing failures are among the highest root causes of failure in triple offset valves (TOV) for tight shutoff applications. This issue is directly attributed to the need to have metal bearings with very 
...
Read more...
---
Locally manufactured knife gate valves
Bearing Man Group t/a BMG Valves, Actuators & Pump Control
BMG and Abrasive Flow Solutions (AFS) play a major role in the local valves sector, through the design, distribution, supply and support of a broad range of slurry related valves.
Read more...
---
Protect your pump and keep it longer
Elemental Analytics Valves, Actuators & Pump Control
Unexpectedly losing a pump is often an expensive or even a dangerous problem in a chemical plant.
Read more...
---
Locally valves manufactured for tailings pipeline
Valves, Actuators & Pump Control
The AFS manufacturing plant in Benoni is equipped with advanced equipment and is supported by specialists who offer dependable technical support to ensure the optimum safety, efficiency and extended service life of every system.
Read more...
---
New flange monoblock with shut-off valve
WIKA Instruments Valves, Actuators & Pump Control
WIKA's new monoblock with flange design integrates a shut-off valve to separate the process from the instrument side.
Read more...
---