printer friendly version
Large anti-surge control valves from ARCA
February 2020
Valves, Actuators & Pump Control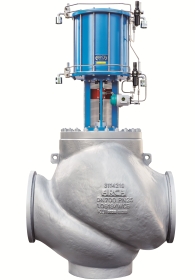 Arca supplies its extensive range of valves to nearly all types of industries, but an important part of the product range are valves for turbines and turbo compressors, especially anti-surge control valves. Arca manufactures its Ecotrol series of valves Type 8C/6N/6H and 130, from DN50 to DN700 in pressure class PN10 /ANSI150 up to PN400 /ANSI2500.
Recently, valves of a nominal width of 600 mm have been delivered to several customers. In recent years the design of these valves has been further optimised in order to fulfil the requirements of the customer.
Be it large valves for single-axle compressors or multistage high pressure valves for multistage gearbox compressors, Arca has a valve for every application, including hot-gas compressors or cryogen plants, or even for acid gas and oxygen.
Arca not only manufactures all types of valves, but also a wide range of pneumatic actuators for special requirements are now offered. For extreme operating conditions,
the actuators of the series 811/812/814 and MA60 guarantee a steady control mode and, in the case of an incident, move extremely
fast into the safety position. By means of cleverly devised component parts, large valves can open fast regulated, and, on the other hand, close slow regulated, as appropriate to customer requirements. A fast opening on a large valve is possible in less than 1 second. Ecotrol valves can be supplied with component parts suitable for installation in Ex zones and in all climatic conditions, as well as special versions for mounting in process gas plants, where the process gas is used in food processing.
Credit(s)
Further reading:
Valve & Automation's new Secunda Valve Repair Centre
Valve & Automation News
On 1 November 2021, Valve & Automation's Secunda Valve Repair Centre opened at 18 Kingfisher Street, Ext 57, Secunda, Mpumalanga.
Read more...
---
The ultimate control valve
Valve & Automation Valves, Actuators & Pump Control Editor's Choice
Zwick has designed its TRI-SHARK range of Triple Eccentric Valves to be used in control or throttling applications as well as for pure on/off functionality.
Read more...
---
Smart pumping – a new era in water management and supply
Schneider Electric South Africa Valves, Actuators & Pump Control
Smart pumping can address the high cost and energy usage challenges faced by private and municipality-managed facilities.
Read more...
---
Schubert & Salzer and Macsteel
Macsteel Service Centres Valves, Actuators & Pump Control
The demand on valves, particularly in tyre production plants, is extreme with tyre curing presses working constantly at high temperatures and pressures.
Read more...
---
Chinese LNG tanker fitted with ARCA anti-surge valves
Valve & Automation Valves, Actuators & Pump Control
ARCA anti-surge valves avoid surging by accurately adjusting the gas circulation or blow-off flow, effectively protecting the safety of the compressor unit.
Read more...
---
Electrified subsea actuator for offshore production
Valves, Actuators & Pump Control
Bosch Rexroth has engineered the SVA R2 Subsea Valve Actuator as a disruptive innovation for electrically actuating valves in the subsea process industry. It can replace conventional hydraulic cylinders 
...
Read more...
---
Eliminate bearing failures in TOVs
Valve & Automation Valves, Actuators & Pump Control
Bearing failures are among the highest root causes of failure in triple offset valves (TOV) for tight shutoff applications. This issue is directly attributed to the need to have metal bearings with very 
...
Read more...
---
Locally manufactured knife gate valves
Bearing Man Group t/a BMG Valves, Actuators & Pump Control
BMG and Abrasive Flow Solutions (AFS) play a major role in the local valves sector, through the design, distribution, supply and support of a broad range of slurry related valves.
Read more...
---
Protect your pump and keep it longer
Elemental Analytics Valves, Actuators & Pump Control
Unexpectedly losing a pump is often an expensive or even a dangerous problem in a chemical plant.
Read more...
---
Locally valves manufactured for tailings pipeline
Valves, Actuators & Pump Control
The AFS manufacturing plant in Benoni is equipped with advanced equipment and is supported by specialists who offer dependable technical support to ensure the optimum safety, efficiency and extended service life of every system.
Read more...
---