printer friendly version
First rack-mounted switches that comply with the IEC 61850-3 Edition 2 Class 2 Standard
November 2018
Editor's Choice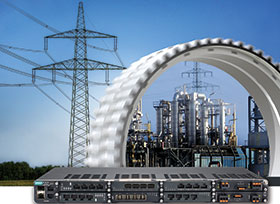 Moxa has launched the world's first rack-mounted Layer 2/Layer 3 managed switches, PT-G7828/G7728, that comply with IEC 61850-3 Edition 2 Class 2 and IEEE 1613 Class 2. The switches' 28 ports all support full Gigabit hardware time-stamping as defined in IEEE 1588v2. In addition, the switches offer selectable RJ45/SFP/PoE+ interfaces and dual LV24 – 48 VDC/HV-110 – 23O AC-DC power modules to ensure suitability for a variety of applications.
The IEC 61850-3 Edition 2 has been developed over many years based on feedback from deployments in substations. Adherence to this latest standard ensures that devices are rugged enough to be deployed in the harshest environments including substations, mines, rail, ITS, oil and gas, and other heavy industries. In addition, compliance with Class 2 of the Edition 2 standard ensures that if the device is subjected to high levels of EMI, shock, or vibrations, data will still be successfully transmitted.
The leading causes of unscheduled network downtime, as sourced by Gartner, can be attributed to the technology implemented and the hardware selected. Their research showed that 20% of network downtime is due to hardware. It is therefore imperative that a customer selects the best-in-class hardware, and takes into consideration quality and MTBF (mean time before failure) of the product, including power failure of the product itself. More considerations include links and designs, including misconfigurations of link technology or protocol, and no network redundancy design to avoid a single point of failure. Environmental design should also be considered with regards to temperature, humidity, dust, etc. EMS interference may also cause a network to react in an unstable manner. By carefully considering the above factors, customers can ensure that their OEE (overall equipment efficiency) of the network is optimised.
The PT-G7828/G7728 switch remains a fanless, ruggedised industrial Ethernet switch that can also be deployed for CCTV application in harsh environments. It can support up to 24 POE + ports, making it versatile and able to work in various applications. The PT-G7828/G7728 is also fully compliant with all industrial protocols, such as Profinet, EtherNet IP and Modbus TCP, ensuring seamless integration into your existing industrial network. In addition to this, it also supports a built-in MMS server, and IEC-610-90-4 switch data modelling for power scada applications. The PT-G7828/G7728 comes with Moxa's latest firmware, Turbopack 3, which includes exciting new features for both Layer 2 and Layer 3 networking. Part of the latest firmware is Moxa's network tracking system which was developed for a double-ring, double-stacked, high availability and multi-recovery network, allowing numerous points of failure on the network while still being able to connect to field devices. The switch comes standard with Moxa's famous Turbo Ring and Turbo Chain which has been enhanced, and allows ports to be truncated for higher backbone communications.
Utility timing synchronisation
All ports support hardware time-stamping synchronisation that has been defined in the IEEE 1588v2 standard, which ensures that the PT-G7828/G7728 switches deliver time-aligned data transmission. In order to ensure interoperability for the PTP function across products from different vendors, Moxa's products have been verified by the UCAIug Interoperability Test. Furthermore, to meet time accuracy requirement in power system applications, the devices support the IEEE C37.238 power profile.

Hot-swappable maintenance and a modular design
The PT-G7828/G7728 switches were built to simplify complex network integration and scalability. In order to achieve this, they have a unique modular architecture, including four fixed Gigabit ports, six quad-port Gigabit module slots, and two power module slots, to ensure sufficient flexibility for a variety of applications. The hot swappable function supports easy maintenance by allowing power and media modules to be replaced without having to shut down the system or impacting other communications that pass through the switch.
This allows Moxa customers to easily upgrade and enhance the switch capability by adding or removing a module while the network is in operation. Furthermore, as the switch supports dual hot-swap power supplies, even in the event that a power supply is damaged by a power surge, it could be replaced without having to recycle the power on the switch.
GOOSE monitoring to facilitate preventive maintenance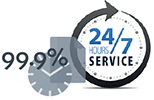 To speed up troubleshooting, the PT-G7828/G7728 can act as an event recorder to perform GOOSE monitoring and inspect all messages between IEDs. The switches can also keep the power scada or NMS systems informed on the communication status of GOOSE messages. The monitoring feature allows possible problems to be identified at an early stage and also allows operators to know exactly where the problems are occurring. These features accelerate problem detection and help to prevent failures and loss of communications in the future. This switch has been designed for 24/7 availability and 99.9% uptime.
Credit(s)
Further reading:
Paving the way to digitalisation in oil and gas
April 2019, RJ Connect , IT in Manufacturing
Oil and gas are still indispensable fuels for the global economy, and exploring for new sources of oil and gas remains a lucrative and attractive endeavour. New oil platforms, rigs and pipelines are constantly 
...
Read more...
---
Rugged panel computers and displays for tough environments
April 2019, RJ Connect , Industrial Computer Hardware
With the thousands of different monitors available on the market today, you might wonder why industrial users can't find a suitable monitor for their industrial applications. The reason is simple: The 
...
Read more...
---
Nick Denbow's European report: Trends in plant monitoring
March 2019 , Editor's Choice
Early last year, the interest from many large automation and sensor suppliers focused on condition monitoring, for example, using wireless communications to monitor the condition of the motors and bearings 
...
Read more...
---
Let there be light
March 2019, RJ Connect , Electrical Power & Protection
Fuel cell system helps channel electricity to rural community.
Read more...
---
Moxa's power grid upgrade through easily configurable Modbus gateway
March 2019, RJ Connect , Fieldbus & Industrial Networking
Smart grid is an electrical grid that uses digital communication technology to monitor the status of power consumption and power quality in real time. By using this information, engineers can adjust the 
...
Read more...
---
Now might be the time to have a talk with your IT service provider
March 2019, Absolute Perspectives , Editor's Choice, IT in Manufacturing
The Gartner hype cycle provides a simple graphic representation of how emerging technologies are adopted in the market. The principle is quite simple: a new technology (such as augmented reality) will 
...
Read more...
---
Nick Denbow's European report: Will UK industry pull out of the Brexit torpor?
February 2019 , Editor's Choice
Whether the UK – whoever is in charge – decides in March to remain in the EU, drop out, or make a negotiated partial exit, the last year has been disastrous for UK industrial investment in instrumentation 
...
Read more...
---
Enhanced intelligence at the edge
February 2019, RJ Connect , IT in Manufacturing
A new computing model that helps create autonomous edge nodes is changing the IIoT landscape. Edge nodes are data-aggregation points in an IIoT system, where the physical world of sensors and actuators 
...
Read more...
---
New toolkits for innovation
January 2019, Absolute Perspectives , Editor's Choice
Why you might want to bypass the DCS and scada systems.
Read more...
---
Emerging technologies pose a pressing governance challenge
December 2018 , Editor's Choice
As the year draws to a close, multiple factors compel the continuation of the Industry 4.0 theme and its challenges, particularly those related to governance. Many readers of this column, as well as social 
...
Read more...
---