printer friendly version
First rack-mounted switches that comply with the IEC 61850-3 Edition 2 Class 2 Standard
November 2018
Editor's Choice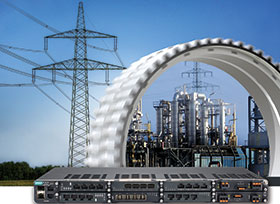 Moxa has launched the world's first rack-mounted Layer 2/Layer 3 managed switches, PT-G7828/G7728, that comply with IEC 61850-3 Edition 2 Class 2 and IEEE 1613 Class 2. The switches' 28 ports all support full Gigabit hardware time-stamping as defined in IEEE 1588v2. In addition, the switches offer selectable RJ45/SFP/PoE+ interfaces and dual LV24 – 48 VDC/HV-110 – 23O AC-DC power modules to ensure suitability for a variety of applications.
The IEC 61850-3 Edition 2 has been developed over many years based on feedback from deployments in substations. Adherence to this latest standard ensures that devices are rugged enough to be deployed in the harshest environments including substations, mines, rail, ITS, oil and gas, and other heavy industries. In addition, compliance with Class 2 of the Edition 2 standard ensures that if the device is subjected to high levels of EMI, shock, or vibrations, data will still be successfully transmitted.
The leading causes of unscheduled network downtime, as sourced by Gartner, can be attributed to the technology implemented and the hardware selected. Their research showed that 20% of network downtime is due to hardware. It is therefore imperative that a customer selects the best-in-class hardware, and takes into consideration quality and MTBF (mean time before failure) of the product, including power failure of the product itself. More considerations include links and designs, including misconfigurations of link technology or protocol, and no network redundancy design to avoid a single point of failure. Environmental design should also be considered with regards to temperature, humidity, dust, etc. EMS interference may also cause a network to react in an unstable manner. By carefully considering the above factors, customers can ensure that their OEE (overall equipment efficiency) of the network is optimised.
The PT-G7828/G7728 switch remains a fanless, ruggedised industrial Ethernet switch that can also be deployed for CCTV application in harsh environments. It can support up to 24 POE + ports, making it versatile and able to work in various applications. The PT-G7828/G7728 is also fully compliant with all industrial protocols, such as Profinet, EtherNet IP and Modbus TCP, ensuring seamless integration into your existing industrial network. In addition to this, it also supports a built-in MMS server, and IEC-610-90-4 switch data modelling for power scada applications. The PT-G7828/G7728 comes with Moxa's latest firmware, Turbopack 3, which includes exciting new features for both Layer 2 and Layer 3 networking. Part of the latest firmware is Moxa's network tracking system which was developed for a double-ring, double-stacked, high availability and multi-recovery network, allowing numerous points of failure on the network while still being able to connect to field devices. The switch comes standard with Moxa's famous Turbo Ring and Turbo Chain which has been enhanced, and allows ports to be truncated for higher backbone communications.
Utility timing synchronisation
All ports support hardware time-stamping synchronisation that has been defined in the IEEE 1588v2 standard, which ensures that the PT-G7828/G7728 switches deliver time-aligned data transmission. In order to ensure interoperability for the PTP function across products from different vendors, Moxa's products have been verified by the UCAIug Interoperability Test. Furthermore, to meet time accuracy requirement in power system applications, the devices support the IEEE C37.238 power profile.

Hot-swappable maintenance and a modular design
The PT-G7828/G7728 switches were built to simplify complex network integration and scalability. In order to achieve this, they have a unique modular architecture, including four fixed Gigabit ports, six quad-port Gigabit module slots, and two power module slots, to ensure sufficient flexibility for a variety of applications. The hot swappable function supports easy maintenance by allowing power and media modules to be replaced without having to shut down the system or impacting other communications that pass through the switch.
This allows Moxa customers to easily upgrade and enhance the switch capability by adding or removing a module while the network is in operation. Furthermore, as the switch supports dual hot-swap power supplies, even in the event that a power supply is damaged by a power surge, it could be replaced without having to recycle the power on the switch.
GOOSE monitoring to facilitate preventive maintenance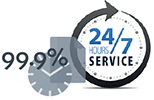 To speed up troubleshooting, the PT-G7828/G7728 can act as an event recorder to perform GOOSE monitoring and inspect all messages between IEDs. The switches can also keep the power scada or NMS systems informed on the communication status of GOOSE messages. The monitoring feature allows possible problems to be identified at an early stage and also allows operators to know exactly where the problems are occurring. These features accelerate problem detection and help to prevent failures and loss of communications in the future. This switch has been designed for 24/7 availability and 99.9% uptime.
Credit(s)
Further reading:
Loop Signatures 1: Introduction to the Loop Problem Signatures series
May 2020, Michael Brown Control Engineering , Editor's Choice
Over the years I have had many requests to write a book giving more detailed explanations of some of the problems I have encountered in my work on practical loop optimisation. I am by nature and inclination 
...
Read more...
---
From the editor's desk: The virtual business assistant
May 2020, Technews Publishing (SA Instrumentation & Control) , Editor's Choice
Have you ever wished someone would automate the daily grind of routine tasks and set you free to focus on the more engaging aspects of your job?
Read more...
---
From the editor's desk: The virtual business assistant
June 2020, Technews Publishing (SA Instrumentation & Control) , Editor's Choice
Enter robotic process automation (RPA), a disruptive workplace technology that uses software "robots" to mimic many of the repetitive interactions human beings have with their computers. It performs such 
...
Read more...
---
Case History 172: Interesting controls in a copper extraction plant.
June 2020, Michael Brown Control Engineering , Editor's Choice
In my 30 years devoted to optimising controls in industrial process plants in many countries, I thought that I had seen all the possible process dynamics that one would encounter. Imagine my surprise 
...
Read more...
---
Moxa's industrial cybersecurity solutions
May 2020, RJ Connect , IT in Manufacturing
Industrial networks today are no longer air-gapped and immune from cybersecurity threats. Although deploying a firewall and segmenting networks is a good first step, how are OT engineers, who primarily 
...
Read more...
---
The emergence of a new future in the energy sector
April 2020 , Editor's Choice
Adaptively complex and persistent challenges in Africa are driving the need for a new future in the energy sector. Lack of access to energy, (more than 600 million people in Africa with no access to energy) 
...
Read more...
---
Enabling an energy-efficient HVAC system for a hypermarket
March 2020, RJ Connect , System Integration & Control Systems Design
Heating, ventilation and air conditioning (HVAC) is the technology of indoor and vehicular environmental comfort. HVAC systems are mostly used in hypermarkets to provide shoppers comfort and acceptable 
...
Read more...
---
Case History 171: Instability in a metallurgical plant
March 2020, Michael Brown Control Engineering , Editor's Choice
I have written several articles about the unique problems I have encountered, specifically in the mining processing industry. This article is about some experiences in a mining operation where recently 
...
Read more...
---
Take data to the cloud wirelessly
February 2020, RJ Connect , Industrial Wireless
The ultimate goal of most industrial automation applications is to obtain actionable insights from data sources for more precise decision-making. To achieve this, businesses need to make their field data 
...
Read more...
---
Solar plant monitoring and control
February 2020, RJ Connect , Electrical Power & Protection
The power industry is now ready for clean power such as solar energy. Utility-scale solar power stations with electric power capacity of more than 50 MW and the capability to feed excess power back to 
...
Read more...
---