printer friendly version
Take data to the cloud wirelessly
February 2020
Industrial Wireless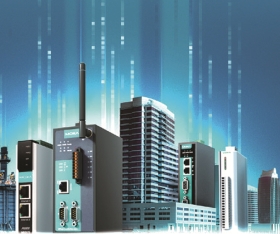 The ultimate goal of most industrial automation applications is to obtain actionable insights from data sources for more precise decision-making. To achieve this, businesses need to make their field data accessible to information technology (IT) or operational technology (OT) systems. Read on to learn how Moxa's easy, reliable, and secure connectivity solutions can facilitate such industrial applications.
Taking data to the cloud: all OT field data can easily be transmitted to the cloud. Instead of spending extra time and resources on OT/IT integration, simply migrate all field device data to the cloud. Focus on developing applications to avoid the complex integration between OT and IT systems using ready-to-run edge connectivity solutions to connect multiple serial, Modbus, EtherNet/IP, or I/O field devices to private clouds through generic MQTT, or to public clouds through reintegrated Azure or Alibaba Cloud SDKs. With intuitive UIs, it only takes a few steps to complete the cloud selection, connection, and message tag settings between the field and cloud. To speed up OT/IT integration project development, choose a Moxa edge connectivity product.
Q: What if my Application requires programmability or data pre-processing?
For applications that require edge computing, Moxa's UC series of edge computers is available. These Arm-based industrial computers support WiFi/LTE connectivity and various communication interfaces. The optional ThingsPro software enables easy Modbus data acquisition and supports cloud connectivity for Azure, AWS, Alibaba Cloud, and generic MQTT.
Credit(s)
Further reading:
Enabling an energy-efficient HVAC system for a hypermarket
March 2020, RJ Connect , System Integration & Control Systems Design
Heating, ventilation and air conditioning (HVAC) is the technology of indoor and vehicular environmental comfort. HVAC systems are mostly used in hypermarkets to provide shoppers comfort and acceptable 
...
Read more...
---
Wireless control of pumps
February 2020, Omniflex Remote Monitoring Specialists , Industrial Wireless
The ability to control a pump remotely over distance and without using wires is simple using Omniflex Teleterm Radio RTUs over a licence free band, avoiding administration of radio frequency band use. 
...
Read more...
---
Enterprise-level wireless infrastructure management
February 2020, Emerson Automation Solutions , Industrial Wireless
Emerson has added two new IIoT solutions to its Plantweb Insight data analytics platform that will enable industrial facilities to transform the way they manage their enterprise-level wireless network 
...
Read more...
---
Solar plant monitoring and control
February 2020, RJ Connect , Electrical Power & Protection
The power industry is now ready for clean power such as solar energy. Utility-scale solar power stations with electric power capacity of more than 50 MW and the capability to feed excess power back to 
...
Read more...
---
Vibration sensor simplifies asset monitoring
February 2020, Emerson Automation Solutions , Industrial Wireless
Emerson has introduced the AMS Wireless Vibration Monitor, a low-cost, easy to deploy vibration sensor that performs prescriptive analytics on vibration data using native software to automatically identify 
...
Read more...
---
5G – the wireless network of the future
December 2019, Siemens Digital Industries , Industrial Wireless
Mobile wireless network standards, starting with 1G, have been shaping our mobile communication for years. While previous developments have focused on improved usability in the public sector, the new 
...
Read more...
---
Dome protects communication sticks
December 2019, Beckhoff Automation , Industrial Wireless
With the new CU8210-M001 cabinet dome, the USB port of an industrial PC can be fed out of the control cabinet and still be well protected. In this way, reliable and powerful wireless connections to the 
...
Read more...
---
Instrument Area Network
December 2019 , Industrial Wireless
Modern plant managers and operations professionals can save time and money through a robust condition and preventative maintenance model enabled by wireless Instrument Area Network devices. Instrument 
...
Read more...
---
Enabling IIoT connectivity for virtual power plants
December 2019, RJ Connect , Electrical Power & Protection
The power grid has seen many changes that have enabled the integration of power from distributed energy sources (DERs).
Read more...
---
Advanced controller for data acquisition
December 2019, RJ Connect , Data Acquisition & Telemetry
The ioThinx 4530 series is an advanced modular controller product with a unique hardware design, making it an ideal solution for a variety of industrial data acquisition applications. The controller has 
...
Read more...
---