printer friendly version
New slurry sensor from Emerson
February 2020
Flow Measurement & Control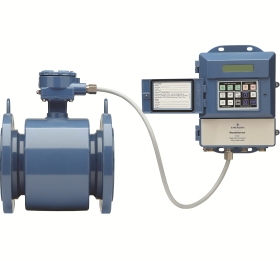 Emerson's Rosemount MS Slurry Sensor with the Rosemount 8782 Slurry Transmitter is a slurry magnetic flowmeter specifically designed for high noise and slurry applications for use in the oil and gas, mining, and pulp and paper industries. Featuring robust coils and advanced signal processing, a responsive yet stable flow signal is possible even in high noise applications. With over 25 years of experience delivering products for these challenging applications, the new slurry magnetic flowmeter helps improve product quality, reduce raw material cost, and minimise waste and re-work.
The slurry magnetic flowmeter, or slurry mag, provides a flow measurement solution for customers with fluids that contain large solids, mining ore, pulp or sand, or that experience high process noise or signal instability. Featuring the latest advanced signal processing that is the first to adapt to changing process conditions in real time, the slurry mag eliminates noise from the flow signal without using excessive damping, giving operators confidence in their measurement calculations.
Accurate measurement of process flow rates is essential to running a plant or mill efficiently – that is why the slurry magnetic flowmeter uses advanced signal processing with real-time diagnostics to deliver flow measurement confidence and the ability to automatically control the loop.
The meter includes more standard diagnostics such as the grounding and wiring fault detection that helps ensure the meter is installed correctly the first time. Optional advanced process diagnostics help provide insight into performance through a high process noise detection diagnostic as well as enable proactive maintenance in applications where coating may be a concern, such as in pulp digester applications where pitch from the wood fibres may result in coating of the meter.
Finally, the 8782 contains Emerson's patented Smart Meter Verification capabilities providing a simplified means of troubleshooting or verifying the meter, taking a process that used to take hours and simplifying it down to minutes. While the 8782 transmitter is designed to work with the MS sensor, it is also compatible with existing 8707 installations making the performance, signal processing and advanced diagnostic capabilities available to anyone who is already using Emerson's solutions for these challenging applications.
"Through the utilisation of advanced features, the Rosemount slurry magnetic flowmeter can help our customers better achieve their operational goals," said Laura Chemler, product manager with Emerson's Automation Solutions business. "The advanced signal processing is able to adapt to changing flow rates without getting bogged down by traditional damping practices, providing more accurate flow rate feedback when it's needed most which in turn helps to ensure an efficient overall process that minimises waste and optimises utilisation of precious resources."
Credit(s)
Further reading:
Emerson announces commitment to venture capital initiative
Emerson Automation Solutions News
Emerson Ventures to focus on disruptive discrete automation solutions, environmental sustainability technologies and industrial software.
Read more...
---
Compact ultrasonic flow controller
Mecosa Flow Measurement & Control
Bronkhorst's new, compact ES-Flow ultrasonic flowmeter/controller series ES-113C was designed for the OEM market to measure or dose low volume flows with high precision, high linearity and low pressure drop.
Read more...
---
Safe supply in CNG operations
SICK Automation Southern Africa Flow Measurement & Control
The Flowsic500 compact ultrasonic gas meter enables extremely accurate natural gas distribution measurement.
Read more...
---
Accurate flow measurement on a conveyor
SICK Automation Southern Africa Flow Measurement & Control
Heidelberg Cement in Lengfurt, Germany, needed a solution for the accurate metred supply of secondary material on its conveying system.
Read more...
---
Flowmeter with IO-Link
GHM Messtechnik SA Flow Measurement & Control
The calorimetric measuring principle makes this new Honsberg meter practically wear-free and gives users the ability to record media temperature in addition to flow measurement.
Read more...
---
Level transmitter for hygienic applications
Emerson Automation Solutions Level Measurement & Control
The Rosemount 1408H Level Transmitter with IO-Link provides accurate, non-contacting measurement to help optimise operations and ensure food safety.
Read more...
---
Electronic flow switch with display
WIKA Instruments Flow Measurement & Control
The new model FSD-4 electronic flow switch from WIKA offers full flexibility in monitoring and controlling flow based on the velocities of liquid media.
Read more...
---
Emerson publishes ESG report
Emerson Automation Solutions News
Environmental, Social and Governance (ESG) Report showcases company's sustainability framework plus new goals to advance diversity, equity and inclusion.
Read more...
---
Key factors for picking the optimal flowmeter
KROHNE Flow Measurement & Control
While a variety of factors impact meter performance, the most common culprits are flawed sizing and failing to choose the most appropriate technology.
Read more...
---
Thief hatch monitoring
Emerson Automation Solutions Operator Interfaces, Switches & Relays
As thief hatches on oil storage tanks are necessary for maintenance, it is essential to monitor the hatch is closed so that it does not contribute to overall emissions limits.
Read more...
---