Paving the way to a digital future
October 2018
Maintenance, Test & Measurement, Calibration

printer friendly version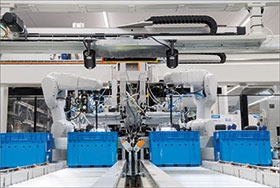 The ability to collect and manipulate vast amounts of digital information will catapult manufacturing into the future. By embracing digitalisation, SKF aims to enhance its core offering – bearings technology, and related services – so that customers can further boost the performance of their rotating equipment. Furthermore, by focusing on industrial digitalisation, SKF plans to drive the optimisation of cost and efficiency of the full value chain, including world class manufacturing and supply chain integration.
Growing expertise
Digitalisation will affect all parts of the value chain, from design and manufacturing through to purchasing and maintenance.
SKF has been monitoring equipment remotely for around fifteen years and currently has around 1 million bearings connected to the Cloud. Data from them is gathered and interpreted daily by experts. The ability to handle this data leads to enhanced analytics, allowing the early detection of potential failures in rotating equipment, and to get a better understanding of critical product and system design requirements.
There are various platforms available to help customers gather and interpret data. For instance, the Enlight platform helps operators visualise data from a variety of sources, using a device such as a smartphone or tablet – an easy way to put Big Data into an operator's pocket.
The connectivity of the data runs in all directions, and can be used in many ways. At its simplest, it connects a sensor to a remote diagnostics centre. However, the data – on the health of a bearing, for instance – can be fed right back to the design stage, and used to help redesign a better product.
Increased digitalisation has also begun to allow more customised manufacturing. Because it can cut machine resetting times close to zero, there are fewer restrictions to making customised products. Recently, the owner of an aluminium mill required bearings that would allow increased output – through a higher rolling speed – as well as lower maintenance costs and the elimination of unplanned downtime. SKF was able to produce four-row cylindrical roller bearings complete with optimised surface properties and customised coatings to boost service life and robustness, as well as designing out product cost.
Paid for performance
A major shift in the future, aided by digitalisation, will be the way in which customers are served. While the usual 'transactional' model of providing hardware will remain important, it will start to be replaced by more performance-based contracts.
Here, SKF will be responsible for ensuring that the customer's operations remain efficient. Supplying hardware like bearings will then be supported by services – from predictive maintenance to lubrication expertise – that deliver this extra efficiency.
Recently, the company agreed a five-year 'Rotation For Life' contract with Zinkgruvan Mining of Sweden. SKF will carry out remote monitoring of four mills at a Zinkgruvan enrichment plant for a fee based on whether productivity targets are met.
This arrangement relies on digitalisation technologies working in synchronisation. In one element of the contract, monitoring data from a conveyor belt is gathered automatically and a specialist analyses the deviations if necessary, while a distributed lubrication system keeps the line running at optimum efficiency.
The ability to correlate a wider variety of data can further improve performance. For instance, condition monitoring data can be combined with process data to make more informed decisions on maintenance and asset performance. For example, analysing both monitoring and process data might reveal that slowing a machine down by 3% would extend the maintenance period by four weeks. The customer can then balance a slight reduction in output with a longer production period – and make the best possible decision.
Self-replacement
Automatic detection of a failing bearing is a massive step forward in efficiency. However, the process of ordering the replacement still involves human intervention, which is why SKF is already gearing up for a future in which the faulty part effectively puts in an order for its own replacement.
This extends the 'just in time' manufacturing concept down as far as the individual component and could one day bring stock levels close to zero. This type of system is still under development. However, SKF is running pilots in specific areas of the supply chain. In the future, the plan is to join these together, allowing full, end-to-end digitalisation.
For more information contact Samantha Joubert, SKF South Africa, +27 11 821 3500, samantha.joubert@skf.com, www.skf.com
Credit(s)
Further reading:
Eliminating the maintenance backlog in record time
February 2019, Phoenix Contact , Maintenance, Test & Measurement, Calibration
Adaptation concept facilitates the introduction of modern control systems and control technology.
Read more...
---
Operators step into the future
February 2019, SKF South Africa , IT in Manufacturing
Recognising the increasingly vital role that technology plays in business, SKF continues to move with the Industry 4.0 tide. In line with its 'World Class Manufacturing' initiative, SKF has implemented 
...
Read more...
---
Emerson drives faster response times
February 2019, Emerson Automation Solutions , Maintenance, Test & Measurement, Calibration
Emerson has released AMS Inspection Rounds, a new application for the AMS Trex Device Communicator that will make it easier for operations teams to capture, report and respond to abnormal plant conditions 
...
Read more...
---
Steam system inspection technology
February 2019, Comtest , Maintenance, Test & Measurement, Calibration
Steam is used to heat raw materials and treat semi-finished products. It is also a power source for equipment, as well as for heat and electricity generation. But steam is not free. Annually, it costs 
...
Read more...
---
New app scans TeSys GV4 circuit breakers
February 2019, Schneider Electric South Africa , Maintenance, Test & Measurement, Calibration
Schneider Electric has released a TeSys GV4 multifunction mobile app that connects to its new TeSys GV4 motor circuit breaker to provide basic and advanced protection settings configuration, using a near 
...
Read more...
---
Safe infrared inspections under load
February 2019, R&C Instrumentation , Maintenance, Test & Measurement, Calibration
Iriss and Eaton joined forces to manufacture the Pow-R-Way III Busway System, which enables safe and accurate energised infrared inspections under full load. The UL listed joint cover design, with the 
...
Read more...
---
SKF runs on predictive maintenance
February 2019, SKF South Africa , Maintenance, Test & Measurement, Calibration
There is an ever-growing need for faster, more efficient production methods and manufacturers are striving to find the perfect balance between product quality and affordability and to deliver within the 
...
Read more...
---
The Fluke 810 vibration tester for condition monitoring
February 2019, Comtest , Maintenance, Test & Measurement, Calibration
Vibration, on a basic level, is just an oscillation of machines and components in motorised equipment. Sometimes it is a symptom or even a cause of trouble; other times, it is part of normal machine operation. 
...
Read more...
---
2-in-1 combo test instrument
January 2019, Comtest , Maintenance, Test & Measurement, Calibration
Thermal imagers are invaluable to troubleshoot electrical equipment, panels and transformers, but electricians and maintenance technicians do not often have access to one when they need it. Comtest now 
...
Read more...
---
Optimised condition monitoring
January 2019, ifm Electronic RSA , Maintenance, Test & Measurement, Calibration
The VSE150 from ifm electronic is a 6-channel diagnostic system designed to evaluate four dynamic signals (e.g. rotational acceleration) and two analog inputs. The new VSE15x family provides different 
...
Read more...
---