printer friendly version
The Digitalisation Productivity Bonus
October 2018
Editor's Choice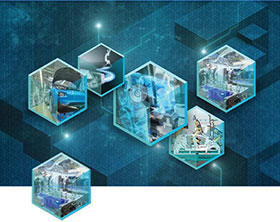 Adoption of digitalisation in manufacturing – Industry 4.0 – is accelerating as pioneers demonstrate the substantial efficiency and competitive advantages that digital transformation offers. Manufacturing CFOs, however, require measurable outcomes on which to base their investment in digital transformation.
Original research involving management consultants, manufacturers and academics indicates consensus across the globe that measurable improvements in manufacturing productivity are the CFOs' starting point, a concept that is relatively straightforward to translate into solid financial gain.
Drawing on the original research, as well as a variety of other published sources, this article summarises the key points of value that digitalisation and automation can deliver to those companies that start to invest in this new wave of digital technology.
Dimensions and perspectives
The vast majority of manufacturers and consultants surveyed confirm that the ability to increase manufacturing productivity is the starting point for deriving measurable value from digitalisation. The ability to manufacture the same product volume at less cost, or to manufacture more products for little or no increase in costs, resonates with manufacturers considering investing in digital technology to enable competitiveness.
Respondents stressed that the cost components of manufacturing productivity vary between industries and countries. In some sectors, the ability to reduce energy can lead to significant economic benefit. Other typical components of production efficiency include reduced downtime and shorter setup and changeover times. In addition, digital data fed from sensors into analytic packages enables predictive maintenance strategies that minimise the impact on production peaks and reduce downtime.
Digitalisation also gives companies the ability to offer mass customisation – where smaller, highly individualised production runs can be processed at much the same cost as mass production – in the form of faster setup and changeover speeds. Calibrations, settings and tolerances are all stored in a digital 'brain' and implemented automatically, thereby eliminating manual, sequential and time-consuming setup processes.
The digital twin
One aspect of digitalisation that needs special mention is the implementation of a digital twin. The twin is a virtual representation of a product, production process, or even an entire plant, which enables the individual process stages to be modelled and tested before anything is ever built. This creates consistent improvements in efficiency, minimises failure rates, shortens development cycles and opens up new business opportunities. In other words, it creates a sustainable competitive advantage.
However, developing and implementing a digital twin calls for powerful computer and software systems capable of modelling them along the entire value chain. The Siemens Digital Enterprise Suite offers integrated software and automation solutions to create a comprehensive approach: a central data platform is used to digitalise the complete value-adding process. Intelligent industrial communication networks provide for simple data exchanges within the different production modules and collect operational data on an ongoing basis.
With the step from integrated engineering to integrated operations, Siemens enables companies to build a comprehensive data model from plant engineering to operation. This digitalisation ensures a shorter time to market, greater flexibility and increased efficiency, which gives manufacturers the opportunity to respond successfully to the volatility and diversity of global markets, and to increase their productivity as well as energy and resource efficiency.
The Digitalisation Productivity Bonus
The various categories of value derived from digitalisation highlighted in the previous section are compelling and have already been realised by a range of manufacturers. Some elements, however, are challenging to translate into a precise financial amount. Competitive advantages from greater turnaround agility or mass customisation capabilities are clearly of value, yet these are more difficult to quantify. One exception is increased manufacturing productivity, where the ability to either produce the same number of products for less or more products for the same has a clear and calculable positive effect on costs – the Digitalisation Productivity Bonus.
In the words of the manufacturer
Of course, manufacturers only gain the Digitalisation Productivity Bonus once they have upgraded production technology to the new generation of digitalised systems and have, as a result, realised the benefits in practice. The new technology delivers reduced production costs that can then be diverted to invest in growth or to return more value to shareholders.
International manufacturing companies were invited to comment on their individual experiences with converting to digitalised ('fourth-generation') equipment in terms of the manufacturing productivity gains they experienced from this investment. Respondents' comments reflect the research finding that companies experience financially measurable gains from the improved manufacturing productivity that results from investing in fourth-generation digitalised technology.
The benefits gained accurately reflect the key points of value and, broadly speaking, are being applied according to such organisational priorities as enhancing profit margins, developing competitive capabilities, offering better pricing, improved forecasting and planning, and investing in new product development.
Sector focus: food and beverage
The value of digitalisation really comes alive when described in terms of a specific industry and its challenges, processes and opportunities. The research examined some of the ways Industry 4.0 is being applied in the food and beverage industry, a sector that is economically significant across the world. There are a number of key focus areas where digitalisation creates value in the sector; a selection of these is described below.
Reaching down the food-supply chain, one sees that agricultural production benefits from digital data. In the food-processing industry, information on the expected quality of an ingredient might be available even before harvest (e.g., on the basis of data on weather conditions). This information will be relevant for adapting manufacturing processes or sourcing other ingredients.
Another area where Industry 4.0 can help is with food quality. Shelf life is undeniably a real issue for many food manufacturers, and for businesses that make fresh products the same day they are shipped, it is important not to overproduce. Digital information flowing up and down the distribution and supply chains improves coordination of supply and demand, while electronic traceability allows producers to track items from dispatch to the supermarket shelf. Uncovering patterns in data also allows businesses to anticipate customer demand, enabling them to refine their processing schedules.
Packaging is another operation to benefit from smart factory technology. Working with a crowdsourcing platform, a major global beverage company gathered data on customer product labelling ideas. Participating customers were then able to order the product in small quantities with their own label configuration. This 'mass customisation' was only possible and affordable using digitalised Industry 4.0 print and dispatch technology. Not only is this a good example of mass personalisation, but it also shows how technology can be used to build brand image and customer relationships.
The chain of digitalisation continues in the factory, where it is imperative that the cold or hot chain is not interrupted while a product is being processed, otherwise whole batches of food could become unusable under certain conditions. IIoT monitoring of fridges and other temperature-controlled environments enable automated alerts and escalation routines, making it possible to quickly identify and rectify irregularities.
Logistics and materials handling are other areas that derive value from digitalisation. Automatic guided vehicles (AGVs), once the domain of manufacturing operations like automotive plants, are making their way into the food and beverage industry and consumer packaging applications, replacing human-operated forklifts for moving raw materials and finished products around the food processing plant. Although the fundamental purpose of automated vehicles is to move materials in a plant more cost effectively, these vehicles offer other benefits as well, including reduced product damage, reduced inaccuracy and reduced safety risks.
One industry observer described an even more futuristic vision about how factories will interact to create significant economic advantage. While today's food-industry systems are centrally controlled, in the future machines and raw materials will use information and communication technologies to link through a global network and independently organise production across company boundaries.
Based on the research findings in the global food and beverage manufacturing industry, it is estimated that conversion to digitalised technology could deliver returns of between $290 billion and $450 billion.
For more information contact Jennifer Naidoo, Siemens Digital Factory and Process Industries and Drives, +27 11 652 2795, jennifer.naidoo@siemens.com, www.siemens.co.za
Credit(s)
Further reading:
Siemens infrastructure technology day
April 2019, Siemens Digital Industries , News
Siemens recently held an infrastructure technology day at its Midrand premises. The highlight was the launch of the new Sinamics G120X frequency converter range, which has been specially optimised for 
...
Read more...
---
Faster results with a digital twin
April 2019, Siemens Digital Industries , IT in Manufacturing
High tech company Grenzebach's portfolio includes the simulation of material flow in complex plants in the glass industry. To achieve this, Grenzebach uses Siemens' simulation solutions. Together, the 
...
Read more...
---
A clean solution
April 2019, Siemens Digital Industries , Analytical Instrumentation & Environmental Monitoring
Biological wastewater treatment using regenerated activated carbon saves disposal costs.
Read more...
---
Pump monitoring in hazardous areas
Technews Industry Guide: Maintenance, Reliability & Asset Optimisation 2019, Siemens Digital Industries , IS & Ex
Safety has top priority wherever flammable media are used in industry. This applies in particular to the chemical industry, where flammable liquids are produced, processed and transported by pumps in 
...
Read more...
---
Siemens launches Digital Mining Incubator with Wits University
March 2019, Siemens Digital Industries , News
Mining remains a critical player in the macro-economic landscape of South Africa. But government, business, labour and civil society need to ask how they can align a 'here-and-now' emphasis on job creation, 
...
Read more...
---
Nick Denbow's European report: Trends in plant monitoring
March 2019 , Editor's Choice
Early last year, the interest from many large automation and sensor suppliers focused on condition monitoring, for example, using wireless communications to monitor the condition of the motors and bearings 
...
Read more...
---
Converters for building technology
March 2019, Siemens Digital Industries , Electrical Power & Protection
Siemens presented a new converter series at last year's SPS IPC Drives. The converters of the new Sinamics G120X series are especially suited for use in pump and fan applications in industries such as 
...
Read more...
---
Now might be the time to have a talk with your IT service provider
March 2019, Absolute Perspectives , Editor's Choice, IT in Manufacturing
The Gartner hype cycle provides a simple graphic representation of how emerging technologies are adopted in the market. The principle is quite simple: a new technology (such as augmented reality) will 
...
Read more...
---
Digital Enterprise offering with ­future technologies for Industry 4.0
February 2019, Siemens Digital Industries , IT in Manufacturing
By expanding its Digital Enterprise portfolio and integrating future technologies, Siemens is driving forward the digital transformation of the discrete and process industries.
Read more...
---
Siemens and MineSense to develop real-time ore grade measurement solution
February 2019, Siemens Digital Industries , News
With ore grades declining, plus added pressures such as rising energy costs and water restrictions, it is increasingly difficult for mining companies to fulfil customer demand by delivering material on 
...
Read more...
---