printer friendly version
WirelessHART in process ­automation
September 2018
Industrial Wireless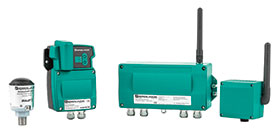 Thanks to WirelessHART, many sensors are now 'on air' in hazardous area applications in process automation. The wireless data transmission standard WirelessHART has been defined in the international standard IEC 625911 since 2010.
The open standard, based on the HART 7 protocol, ensures that sensors from different manufacturers can be integrated into the wireless communication platform without restriction via WirelessHART adaptors and gateways. However, they still retain compatibility with the familiar devices, commands, and tools of the wired HART universe.
Flexible, complex, decentralised, and geographically distributed production processes require a network that can be implemented quickly, cost-effectively, and in a manner that is future-proof. WirelessHART has been able, to a certain extent, to overcome the technical and economic restrictions of wired installations, in particular at measuring points that are difficult to access, mobile, and isolated, or are located in special environments, such as areas with a risk of corrosion or explosion.
The application potential of WirelessHART is huge: The first application category uses WirelessHART adapters connected to the installed 4 –20 mA loops. Centralised wireless access to all the HART data of the sensors is ensured without any other interventions in the existing control system or additional cabling.
Even a direct connection to the control system via battery-operated and therefore autonomous measuring points is possible, meaning the 4–20 mA cable to the control system is not required. This option is generally used for reconstruction measures, extensions, and, above all, new plants.
The ability to access device status information from the field level does not just allow a more detailed insight into the process itself. This information can also be used to generate vital process data for complete tracking of the products and comprehensive quality documentation. This potential is a key aspect for industries that are subject to strict legal requirements, for example, where substances are handled.
"Proactive maintenance is a key strategy for achieving greater plant availability," explains Gerrit Lohmann, head of the remote systems product group at Pepperl+Fuchs. Some of the device data provided by modern field instruments can also be used for periodic checking of the device status to identify possible failures at an early stage and avoid unexpected device failure. "This insight into the condition of equipment is the key to a proactive, predictive maintenance strategy," continues Lohmann. "Typically, a DTM or DD is used to retrieve information about the device status. The software triggers an alarm as soon as the device falls below a set performance threshold or if declining performance values are detected. The devices can also be remotely configured without any work being required on the field device itself."
Efficient calibration processes
Some sample applications describe the typical areas in which WirelessHART technology is used. Measuring devices are only as effective as they are accurate, which means that they must prove their level of accuracy through calibration tests at suitable intervals. These intervals depend on several measuring and environmental factors. Given a lack of online options for querying measured values and diagnostic variables, the operations supervisors working for a manufacturer of active pharmaceutical ingredients for medicines had to make do with calibrations in defined cycles. To do so, the respective device, for example, a temperature sensor, had to be removed from the process. During the testing and calibration, the process had to 'wait', which generated costs. This could have been avoided had the device been able to query itself and ascertain its own calibration requirements.
Thanks to remote wireless querying, measured values and diagnostics variables can be retrieved individually, allowing optimal, and in many cases longer, cycle times. To this end, the measuring instrument is fitted with a WirelessHART adaptor, which reads the data via the HART interface, or converts the 4-20 mA signal into a digital value. Measuring devices in the wireless network no longer have to be uninstalled 'on suspicion', but only in cases where there is a genuine need for recalibration. Improved availability and transparent calibration cycles increased the efficiency level of this plant.
One plant in Ireland went one step further: the calibration process was completed during live operation without removing the device, thanks to the WirelessHART connection of the HART functionality.
Tank farms and crude oil refineries
Efficiency, and above all, plant safety and environmental protection are the benefits that WirelessHART offers in these applications, where harsh ambient conditions, hard to reach measuring points and tanks a long way from the control room are all standard conditions.
Here, crude oil is converted into intermediate products in hydrocrackers that are able to process more than ten million tonnes a year. To detect and prevent hydrocarbons from escaping the plant in an uncontrolled manner, leaks must be detected at an early stage and repaired immediately. Statutory environmental regulations must be observed, fire hazards must be eliminated, and wastage of the valuable hydrocarbon resource must be avoided.
To this end, tanks and conduits are regularly checked in plant inspections. However, increased levels of safety can be achieved with continuous measurements by sensors to monitor combustible and toxic gases. These measured values are displayed in a central control room for remote diagnostics.
If leaks are detected by the gas sensors, this information is available in the control room in a fraction of a second via the wireless technology. Wireless signals must propagate in the plant to reach all measuring points, since this is crucial for performance and reliability. When integrating the information technology, compliance with the ATEX regulations within the explosion-hazardous areas must be ensured and observed. Using a wired solution for connecting the leakage sensors was ruled out: given the large number of tanks, the nature of the measuring points, which are often difficult to access, and the sometimes long cable routes, it is not only too expensive to implement wired solutions, but such solutions are also not permitted in certain parts of the plant, due to increased risk of corrosion. A future-proof communication platform that allows rapid integration of additional measuring points where necessary therefore impressed the plant operator.
Mobility
In addition to hard to reach areas, applications on moving objects are an important area of use for sensors with wireless connection, for example rotating, driving, or otherwise mobile plant components. Recording data from measuring points such as these is often not technically feasible using wired solutions, or is associated with significant costs. One area in which such applications are typically found is sewage treatment plants: instead of using error-prone slide contacts to transfer data to the control room, WirelessHART adaptors can be used to transmit fill levels, temperature, or oxygen requirements. The wireless standard allows measuring devices to be fitted directly onto the skimmers that move the liquid in the sedimentation tanks. Wired solutions are costly to install in such places, are subject to wear, and must therefore be constantly monitored through patrols by employees.
Conclusion
WirelessHART is based on open standards, and is a fast and easy way to achieve full transparency of the entire process control system right down to fieldbus level. It has proved to be the perfect starting point for achieving a significantly higher level of efficiency and plant availability. The WirelessHART data transmission technology can be easily integrated into existing infrastructures via adaptors, wireless field devices and gateways, and has a familiar look and feel since it uses the same tools and procedures for configuration, maintenance, and diagnosis as conventional HART connections. Using WirelessHART, users benefit from the increased efficiency of their process equipment.
Credit(s)
Further reading:
Hazardous area installations
March 2019, Pepperl+Fuchs , Enclosures, Cabling & Connectors
How to find the most efficient protected solution for each application.
Read more...
---
Wireless and telemetry by Omniflex
March 2019, Omniflex Remote Monitoring Specialists , Industrial Wireless
Wireless telemetry in plants is a necessity for the data acquisition requirements of modern process efficiency and compliance monitoring. However, cabling costs often push the economic viability of such 
...
Read more...
---
Surface collision avoidance system
March 2019, Becker Mining South Africa , Industrial Wireless
Becker Mining South Africa's advanced safety device, the intelligent collision avoidance system (ICAS), provides situational awareness to ensure optimum safety on construction sites, open-pit mines and 
...
Read more...
---
Enclosure series for explosion protection in process automation
February 2019, Pepperl+Fuchs , Enclosures, Cabling & Connectors
For many years, users have been waiting for a new, universal enclosure system in the field of electrical explosion protection. Having invested in this area, Pepperl+Fuchs has developed the GRP enclosure 
...
Read more...
---
Wireless kit simplifies rotating equipment monitoring
January 2019, Turck Banner , Industrial Wireless
Banner's new Wireless Solutions Kit for vibration monitoring is a fully integrated and easy-to-use solution for monitoring assets with rotating motion. It is designed to make it easy for users of any 
...
Read more...
---
Versatile wireless telemetry solutions
January 2019, Mimic Components , Industrial Wireless
Novus' FieldLogger is a versatile, powerful and cost-effective data-logger handling analog, digital and other types of variable with high resolution and speed. It is a high-performance and high-connectivity 
...
Read more...
---
Ongoing evolution for Booyco proximity detection systems
December 2018, Booyco Electronics , Industrial Wireless
In line with the Mine Health and Safety Act's regulations on machinery and equipment, the onus is on mines to ensure that their proximity detection systems (PDSs) are 'fit for purpose' when it comes to 
...
Read more...
---
Omniflex's satellite communications
December 2018, Omniflex Remote Monitoring Specialists , Industrial Wireless
Remote monitoring requires the usage of the most suitable communications infrastructure available at the remote location. While GSM networks are ubiquitous they do not always provide complete coverage, 
...
Read more...
---
Is HART technology still useful as manufacturing moves to Industry 4.0?
December 2018, Pepperl+Fuchs , Fieldbus & Industrial Networking
With its bidirectional communication between intelligent field devices and host systems, HART has become a global standard. The example of valves shows how important the data provided by field devices 
...
Read more...
---
Network-based process visualisation
November 2018, Pepperl+Fuchs , IS & Ex
IT technologies such as PC and server virtualisation are establishing themselves in larger plants in the process industry to reduce the growing number of PC hardware components, while at the same time increasing flexibility and availability.
Read more...
---