printer friendly version
WirelessHART in process ­automation
September 2018
Industrial Wireless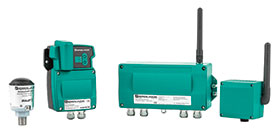 Thanks to WirelessHART, many sensors are now 'on air' in hazardous area applications in process automation. The wireless data transmission standard WirelessHART has been defined in the international standard IEC 625911 since 2010.
The open standard, based on the HART 7 protocol, ensures that sensors from different manufacturers can be integrated into the wireless communication platform without restriction via WirelessHART adaptors and gateways. However, they still retain compatibility with the familiar devices, commands, and tools of the wired HART universe.
Flexible, complex, decentralised, and geographically distributed production processes require a network that can be implemented quickly, cost-effectively, and in a manner that is future-proof. WirelessHART has been able, to a certain extent, to overcome the technical and economic restrictions of wired installations, in particular at measuring points that are difficult to access, mobile, and isolated, or are located in special environments, such as areas with a risk of corrosion or explosion.
The application potential of WirelessHART is huge: The first application category uses WirelessHART adapters connected to the installed 4 –20 mA loops. Centralised wireless access to all the HART data of the sensors is ensured without any other interventions in the existing control system or additional cabling.
Even a direct connection to the control system via battery-operated and therefore autonomous measuring points is possible, meaning the 4–20 mA cable to the control system is not required. This option is generally used for reconstruction measures, extensions, and, above all, new plants.
The ability to access device status information from the field level does not just allow a more detailed insight into the process itself. This information can also be used to generate vital process data for complete tracking of the products and comprehensive quality documentation. This potential is a key aspect for industries that are subject to strict legal requirements, for example, where substances are handled.
"Proactive maintenance is a key strategy for achieving greater plant availability," explains Gerrit Lohmann, head of the remote systems product group at Pepperl+Fuchs. Some of the device data provided by modern field instruments can also be used for periodic checking of the device status to identify possible failures at an early stage and avoid unexpected device failure. "This insight into the condition of equipment is the key to a proactive, predictive maintenance strategy," continues Lohmann. "Typically, a DTM or DD is used to retrieve information about the device status. The software triggers an alarm as soon as the device falls below a set performance threshold or if declining performance values are detected. The devices can also be remotely configured without any work being required on the field device itself."
Efficient calibration processes
Some sample applications describe the typical areas in which WirelessHART technology is used. Measuring devices are only as effective as they are accurate, which means that they must prove their level of accuracy through calibration tests at suitable intervals. These intervals depend on several measuring and environmental factors. Given a lack of online options for querying measured values and diagnostic variables, the operations supervisors working for a manufacturer of active pharmaceutical ingredients for medicines had to make do with calibrations in defined cycles. To do so, the respective device, for example, a temperature sensor, had to be removed from the process. During the testing and calibration, the process had to 'wait', which generated costs. This could have been avoided had the device been able to query itself and ascertain its own calibration requirements.
Thanks to remote wireless querying, measured values and diagnostics variables can be retrieved individually, allowing optimal, and in many cases longer, cycle times. To this end, the measuring instrument is fitted with a WirelessHART adaptor, which reads the data via the HART interface, or converts the 4-20 mA signal into a digital value. Measuring devices in the wireless network no longer have to be uninstalled 'on suspicion', but only in cases where there is a genuine need for recalibration. Improved availability and transparent calibration cycles increased the efficiency level of this plant.
One plant in Ireland went one step further: the calibration process was completed during live operation without removing the device, thanks to the WirelessHART connection of the HART functionality.
Tank farms and crude oil refineries
Efficiency, and above all, plant safety and environmental protection are the benefits that WirelessHART offers in these applications, where harsh ambient conditions, hard to reach measuring points and tanks a long way from the control room are all standard conditions.
Here, crude oil is converted into intermediate products in hydrocrackers that are able to process more than ten million tonnes a year. To detect and prevent hydrocarbons from escaping the plant in an uncontrolled manner, leaks must be detected at an early stage and repaired immediately. Statutory environmental regulations must be observed, fire hazards must be eliminated, and wastage of the valuable hydrocarbon resource must be avoided.
To this end, tanks and conduits are regularly checked in plant inspections. However, increased levels of safety can be achieved with continuous measurements by sensors to monitor combustible and toxic gases. These measured values are displayed in a central control room for remote diagnostics.
If leaks are detected by the gas sensors, this information is available in the control room in a fraction of a second via the wireless technology. Wireless signals must propagate in the plant to reach all measuring points, since this is crucial for performance and reliability. When integrating the information technology, compliance with the ATEX regulations within the explosion-hazardous areas must be ensured and observed. Using a wired solution for connecting the leakage sensors was ruled out: given the large number of tanks, the nature of the measuring points, which are often difficult to access, and the sometimes long cable routes, it is not only too expensive to implement wired solutions, but such solutions are also not permitted in certain parts of the plant, due to increased risk of corrosion. A future-proof communication platform that allows rapid integration of additional measuring points where necessary therefore impressed the plant operator.
Mobility
In addition to hard to reach areas, applications on moving objects are an important area of use for sensors with wireless connection, for example rotating, driving, or otherwise mobile plant components. Recording data from measuring points such as these is often not technically feasible using wired solutions, or is associated with significant costs. One area in which such applications are typically found is sewage treatment plants: instead of using error-prone slide contacts to transfer data to the control room, WirelessHART adaptors can be used to transmit fill levels, temperature, or oxygen requirements. The wireless standard allows measuring devices to be fitted directly onto the skimmers that move the liquid in the sedimentation tanks. Wired solutions are costly to install in such places, are subject to wear, and must therefore be constantly monitored through patrols by employees.
Conclusion
WirelessHART is based on open standards, and is a fast and easy way to achieve full transparency of the entire process control system right down to fieldbus level. It has proved to be the perfect starting point for achieving a significantly higher level of efficiency and plant availability. The WirelessHART data transmission technology can be easily integrated into existing infrastructures via adaptors, wireless field devices and gateways, and has a familiar look and feel since it uses the same tools and procedures for configuration, maintenance, and diagnosis as conventional HART connections. Using WirelessHART, users benefit from the increased efficiency of their process equipment.
Credit(s)
Further reading:
Adroit brings M2M, IoT and IIoT to the industrial world
June 2019, Adroit Technologies , Industrial Wireless
Combining the new IIoT capability with GIS interfaces, situational awareness and alarm management data, all can use the big data and analytical processing capability of Adroit's standard scada Intelligence software package to derive greater insights and value from their processes.
Read more...
---
Wireless networks for AGV systems
June 2019, RJ Connect , Industrial Wireless
In order for factories to perform their tasks efficiently and optimise production, automated material handling (AMH) systems, such as AS/RS and AGVs, need the flexibility to move around on their designated 
...
Read more...
---
Merging control and telemetry
June 2019, Omniflex Remote Monitoring Specialists , Industrial Wireless
Wireless telemetry and control in plants have become a necessity with the data acquisition requirement of modern plant control to lift performance and compliance. In-plant cabling costs often push the 
...
Read more...
---
Managing complexity in wireless environments
June 2019, Axiz , Industrial Wireless
In the decades since its infancy, wireless networking has undergone tremendous shifts, opening an avenue for enterprise wireless Internet consumption. The advances in speed, coupled with the sheer convenience 
...
Read more...
---
Mobility for Industry 4.0 ­challenges
Africa Automation Fair 2019 Preview, Pepperl+Fuchs , Industrial Wireless
The Tab-Ex 02 series of tablets from Pepperl+Fuchs has innovative features that make Industry 4.0/IIoT applications easy to implement.    The DZ1 version ecom has a range of applications that are unique 
...
Read more...
---
IO-Link infrastructure components
Africa Automation Fair 2019 Preview, Pepperl+Fuchs , Sensors & Transducers
Pepperl+Fuchs has on show a range of IO-Link infrastructure components. As a globally established communication standard that is system- and fieldbus-independent, IO-Link offers many advantages. The universal 
...
Read more...
---
Hazardous area access point
Africa Automation Fair 2019 Preview , Industrial Wireless
Bartec's Wireless X is a small, light wireless access point, eliminating the need for bulky, heavy enclosures and external antennas. On show at Stand G13, it has both IECEx and ATEX Zone 1 certification. 
...
Read more...
---
IIoT gateway for access to remote industrial equipment
Africa Automation Fair 2019 Preview, Throughput Technologies , Industrial Wireless
SiteManager is a security certified IIoT Edge Gateway in the Secomea Industrial Communications Solution program that ensures unified, uninterrupted and secure access to remote industrial equipment. Visit 
...
Read more...
---
Responsive wireless I/O from ­Omniflex
May 2019, Omniflex Remote Monitoring Specialists , Industrial Wireless
Radio networks traditionally follow the Master (main station node) and Slave (out station node) methodology for data acquisition. A single master polls for data from one or more slaves, depending on the 
...
Read more...
---
Change the way you look at asset health
Africa Automation Fair 2019 Preview, Automation & Control Solutions , Industrial Wireless
Automation & Control Solutions is exhibiting the Machinery Manager connection to Plantweb Optics. This allows users to monitor the health of their machines and stay better informed of activities within 
...
Read more...
---