printer friendly version
Technology that gets under your skin
September 2018
Operator Interfaces, Switches & Relays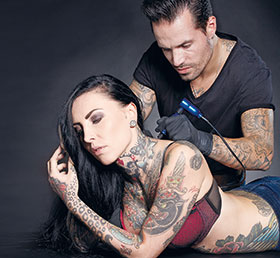 Football players Lukas Podolski and Jerome Boateng have them. Olympic swimmer Franziska van Almsick has them. Pop stars such as Robbie Williams and Madonna also decorate their bodies. What does this have to do with Faulhaber? In the handy machines used for tattoos and permanent make-up there are DC-micromotors – made in Schönaich.
Requirements
Tattoo professionals consider themselves to be artists; accordingly, their tattoo devices are the equipment with which they realise their art. They are occupied for many hours, without a break, when creating a large-scale tattoo. Modern tattoo machines are, therefore, characterised by a low intrinsic weight and the flexibility to adapt to individual movements. What is also desirable is that the device operates quietly and with low vibration, and it fits the hand well.
The underlying technology
Essentially, tattoo artists can choose between two types of machines: coil-based machines and rotary machines. Coil-based machines belong to the older generation, and function somewhat like an old-fashioned doorbell in which a clapper strikes a little bell repeatedly in rapid sequence. These classic tattoo machines work with alternating current, which flows through a magnetic coil while the electrical contact is closed; this causes a magnetic field to build up in the coil, which then interrupts the contact and simultaneously moves the needle. This earlier technology is now rapidly being superseded by a more modern one. However, the newest generation tattoo machines work with high-performance electric motors. With them, the needle is no longer actuated by means of a coil, but instead by a motor. The advantages are that these rotary machines are especially smooth running and significantly quieter than the coil-based machines, and – thanks to their low intrinsic weight – fit much better in the hand. In these angular devices, the motor is located in a cross-piece and drives an eccentric mechanism in order to linearly oscillate the injection needle. This requires thicker and shorter DC-micromotors. These are available in Faulhaber's product range in various versions and technologies. Depending on the model, the drives just barely weigh 20 to 60 grams, yet can deliver the necessary performance – thanks to their high efficiency factor of up to 86 percent.
Enduring, but not everlasting
Permanent make-up was developed from tattooing and refers to an enduring outlining of features by means of micro-fine colour pigments. In contrast to a tattoo, permanent make-up is not irreversible. The result lasts about five years. Beyond the aesthetic aspects, permanent make-up can also cover up small imperfections and scars.
Precision in ballpoint pen format
Cosmeticians who apply permanent make-up also benefit from having a light, handy device that they can delicately operate. The colour pigments are injected in the surface of the skin with an oscillating needle. The devices that are employed must meet the highest demands in technology and design, and work precisely and reliably. As the most sensitive parts of the body – such as the eyes – are being treated, extremely smooth running is necessary. Motors made by Faulhaber can also be successfully utilised in devices for applying permanent make-up. Because the devices are elongated and ideally have a format somewhat resembling a ballpoint pen, the slender models of Faulhaber DC-micromotors have proven themselves ideal.
Unique solutions
Faulhaber motors are distinguished by a high efficiency. As a result of the high power density, more compact, lighter drive solutions are possible. Faulhaber models are differentiated from conventional DC motors by the rotor. It is not wound around an iron core, but instead consists of a copper coil manufactured with a self-supporting, skew-wound design. This provides for low rotor weights, very smooth-running operation and a highly dynamic cogging-free action, without the usual magnetic hysteresis losses associated with other technologies.
For more information contact David Horne, Horne Technologies, +27 76 563 2084, sales@hornet.cc, www.hornet.cc
Credit(s)
Further reading:
Programmable multicolour indicator
November 2020, Turck Banner , Operator Interfaces, Switches & Relays
The K30 Pro Series bright, uniform indicator light is a 30 mm illuminated dome that provides dynamic control.
Read more...
---
Safety rope limit switch
September 2020, Anglo Allied Engineering , Operator Interfaces, Switches & Relays
Bernstein has introduced a new rope pull switch that provides safety for conveyor belts or machines.
Read more...
---
Powerful dialogue modules for mobile machines
April 2020, ifm - South Africa , Operator Interfaces, Switches & Relays
The new dialogue modules from ifm electronic have been developed for use in cabins and outside vehicles. Thanks to a high protection rating and optical bonding, they are optimally protected against moisture. 
...
Read more...
---
Multifunction pendant improves efficiency
Technews Industry Guide: Maintenance, Reliability & Asset Optimisation 2020, Turck Banner , Operator Interfaces, Switches & Relays
The Direct Select from Turck Banner makes it easy to communicate the critical information staff need to complete tasks. This versatile operator interface can be used to send and receive requests, acknowledgements, 
...
Read more...
---
Analog display for Industry 4.0 applications
February 2020, ifm - South Africa , Operator Interfaces, Switches & Relays
The new multifunctional display from ifm electronic is more than just a visual indicator. It pre-processes digital signals in a decentralised manner and, if necessary, passes this information on to a 
...
Read more...
---
RS introduces flush-mount devices for smart manufacturing
November 2019, RS Components SA , Operator Interfaces, Switches & Relays
RS Components has added the Schneider Electric Harmony XB4F series of flush mounting pushbuttons, selector switches and pilot lights to its product portfolio. Designed for use in industrial automation 
...
Read more...
---
What is going on in the Milky Way?
July 2019, Horne Technologies , Motion Control & Drives
One of the regions we know very little about is the dense part in the centre of the galaxy, where countless stars and gas clouds cluster around a presumed black hole. But a major astronomy project is 
...
Read more...
---
Mimic's SH300 text display for PLCs
June 2019 , Operator Interfaces, Switches & Relays
Mimic Components' SH-300 with text display is a long standing and reliable electronic device for programmable PLCs and other intelligent controllers equipped with a communication interface. It also functions 
...
Read more...
---
A switch for the next ­generation network
Africa Automation Fair 2019 Preview, Industrial Automation & Control (IAC) , Operator Interfaces, Switches & Relays
The Hirschmann BOBCAT Switch is a compact managed switch. It is the first appliance to provide advanced security and real-time communication through time sensitive networking (TSN) technology on all of 
...
Read more...
---
Industrial signal conditioner
Africa Automation Fair 2019 Preview, TANDM Technologies , Operator Interfaces, Switches & Relays
Setting new standards in industrial process control, ESTEQ's ClipX signal conditioner adapts to each measurement task, whether it is used with single- or multiple-channel applications, in manufacturing 
...
Read more...
---