printer friendly version
Foxboro's top performing intelligent vortex flowmeters
September 2018
Flow Measurement & Control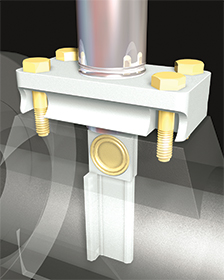 The Foxboro Model 84 series intelligent vortex flowmeters are among the best performers on the market and designed for flexibility and reliability in harsh process environments. Available in flanged (84F), wafer (84W), and sanitary (84S) configurations, there is a meter for nearly every application. The 84S meets 3A sanitary requirements per specification 28-03.
The accuracy of the Model 84 excels in liquid, gas, and steam applications for process temperatures up to 430°C. These instruments incorporate the patented DirectSense technology with Flexible Tuning for outstanding performance. DirectSense technology eliminates unreliable, mechanical sensor linkages used in some other vortex meters. The result is a simple, reliable design that is more sensitive to flow and less sensitive to noise. Combined with Flexible Tuning, the Model 84 has wide flow range capability. Other features and benefits include:
• Real-time Reynolds number correction.
• Correction for piping effects.
• Adaptive filtering for noise rejection at varying flow rates.
• Automatic low flow cut-in.
• Tuneable for specific operating conditions.
• K-factor corrected for temperature.
• HART communication protocol for measurement integration.
Accuracy in the field
The meters utilise Flexible Tuning to compensate for operating influences and maintain accuracy under conditions outside the calibration laboratory:
• Process piping: installation parameters such as pipe bore, location of valves, proximity to elbows, etc.
• Process temperature: correction for K-Factor shift due to change in the process temperature.
• Operation at low flow rates: an algorithm, utilising values for density and viscosity is embedded in the meter to correct for nonlinearity in K-factor at low flow rates.
• Low flow cut-in: eight user defined selections of LFCI. The instrument also includes an automatic low flow cut-in feature that can be configured to automatically select LFCI.
• Signal conditioning: a digital smoothing algorithm can be enabled to condition the raw vortex signal. This results in improved performance, particularly at low flow.
• Low and high frequency filters: these filters are set automatically based on the flowmeter configuration.
• Adaptive filtering: the meter provides an adaptive mode which automatically adjusts the high and low frequency filters.
For more information contact Johan van Jaarsveldt, EOH, +27 87 803 9783, johan.vanjaarsveldt@eoh-pas.co.za, www.eoh-pas.co.za
Credit(s)
Further reading:
Plug-and-play solution for flow monitoring
April 2019, Countapulse Controls , Flow Measurement & Control
Ease of flow monitoring with low maintenance benefits is a given with the compact plug and play EGE SNS 450 thermodynamic flow sensor from Countapulse Controls – the sole southern African agent for EGE's 
...
Read more...
---
Low volume rotating vane flowmeter
April 2019, Instrotech , Flow Measurement & Control
Instrotech is offering Kobold's DTK rotating vane flowmeter for small quantities, a versatile, efficient and very economic piece of equipment. This flowmeter was specially developed for use in low viscosity 
...
Read more...
---
Electromagnetic flowmeter for conductive fluids
April 2019, Instrotech , Flow Measurement & Control
Instrotech is offering the Kobold electromagnetic inductive flowmeter for conductive fluids – the model DMH – with a standard accuracy of ± 0,3% of reading stability of zero. It is used specifically for 
...
Read more...
---
Foxboro's vortex flowmeters designed for harsh process environments
April 2019, EOH Process Automation Solutions , Flow Measurement & Control
The 84 series measures volumetric and mass flow of saturated and super-heated steam.
Read more...
---
New Schneider Electric pressure transmitters with FoxCal Technology
March 2019, EOH Process Automation Solutions , Pressure Measurement & Control
Through its Foxboro brand, Schneider Electric continues to provide high-quality instrumentation to customers through the introduction of a multi-tiered pressure transmitter line. The new transmitters 
...
Read more...
---
Visual flow indicators from Valco
March 2019, GHM Messtechnik SA , Flow Measurement & Control
The visual inspection of the passage of liquids, gas and other matter in plant processes is a critical element and can be achieved quickly and efficiently with Val.co's visual flow indicators, which can 
...
Read more...
---
Hygienic flow measurement
February 2019, SICK Automation Southern Africa , Flow Measurement & Control
Compact stainless steel sensor for conductive and non-conductive liquids.
Read more...
---
Flow control problems in a pulp mill
January 2019, Valve & Automation , Flow Measurement & Control
NAF's advanced process valves solve pulp, paper and cellulose applications.
Read more...
---
Temperature compensated conductivity measurement from Foxboro
December 2018, EOH Process Automation Solutions , Analytical Instrumentation & Environmental Monitoring
Measuring the conductivity of a liquid can reveal the concentration of salts dissolved in the solution. In fact, conductivity is often the method of choice for measuring the amount of salts dissolved 
...
Read more...
---
Picomag for utility measurement
December 2018, Endress+Hauser , Flow Measurement & Control
In industrial process measurement and automation, demand is steadily rising for simple, reliable and maintenance-free measuring instruments in a pocket-sized format. The new Picomag from Endress+Hauser 
...
Read more...
---