printer friendly version
Cables for robots in the Industry 4.0 era
Technews Industry Guide: Industrial Internet of Things & Industry 4.0
Enclosures, Cabling & Connectors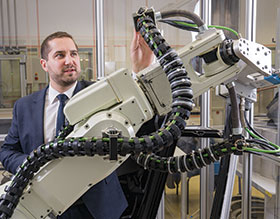 It's a time of revolution in industry – automation, digitalisation and Industry 4.0 are just some of the current buzzwords. Robotics is an area that is developing rapidly.
Worldwide, annual growth in the installation of industrial robots has been 16% since 2010. The automotive industry continues to dominate, but other sectors are catching up, with use in consumer electronics increasing sharply. As part of this trend, small and medium-sized producers are increasingly investing.
Manufacturers of robots are responding with new models that are more compact, more versatile and last longer. In the past, robots would be replaced when a product generation was phased out, but today they are taking on new tasks and these change more frequently than before. The variety of movements means that the loads on certain components are increasing, particularly the cables. They perform torsion and kinking movements, frequently a mixture of the two, and with different bending radii and torsion angles as well.
Standard cables often unsuitable
Lapp has numerous robust cable types in its standard range, which have performed for years without failing on many robots. However, these standard cables are not always suitable for special applications such as those outlined above, and these applications are on the increase. This is where cables uncompromisingly tailored for a specific use come into play. For cable manufacturers, robotics is the supreme discipline.
The most important difference between robot cables and conventional moving cables is that the former have to withstand both bending and torsion over their entire service life, and in development they are designed fundamentally differently to a power chain cable, for example. There are three key parameters:
Braided conductor class
Robot cables should have at least class 6 conductors, which are designed for continuous movement in line with the standard. Lower classes are less suitable, or totally unsuitable. However, sometimes even braided conductor class 6 is not sufficient. For cables that need to be highly bendable and twistable, Lapp uses braids outside the standard in which the individual wires are just 0,05 mm thick, considerably thinner than the thinnest braided wires covered by the standard.
Torsion angle
A typical value is ±360°/m, which means that a cable can be twisted one full revolution to the left and once to the right about its axis per metre of cable length. This applies to cables without shielding. With shielding the value is typically ±180°, or half a turn per metre.
Bending radius
Ideally, this is between four and 7,5 times the outer diameter and thus in some cases lower than for cables that are only subjected to occasional movement. This allows the cables to be coiled in tight radii and in tightly packed hose assemblies.
Three times about its own axis
For some applications, even these properties are not sufficient. For these, Lapp supplies special cables qualified for even higher torsion angles, including a cable for a 3D laser welding robot that allows torsion of over ±1000°/m. This means that the cable can be twisted almost three times about its own axis. This is unique worldwide. For the robot concerned this is definitely not overkill, as the robot arm moves completely freely in three dimensions, twisting several times about its own axis.
The amazing thing is not the sheer extent of the torsion angle, but the fact that this movement is possible over many years with no deterioration in properties. This particular cable is qualified for a minimum of seven million cycles, proved by tests at the Lapp testing centre, which is currently being extended for even more dynamic movement tests. Another special robot cable is certified for over 15 million cycles and, with ±720°/m, allows two turns about its own axis per metre. To create cables capable of handling such extreme loads, the Lapp engineers have to dig deep into their box of tricks. For the cable discussed above with a ±1000°/m torsion angle, for example, braids made of a special copper alloy were used. They retain their minimum electrical resistance even when bent or twisted and after a large number of movement cycles.
Sophisticated construction
These properties can only be achieved with a sophisticated and complex cable construction. There are several factors that can be influenced:
Stranding types: Bundle stranding is usual for robot cables, with the individual conductors combined in one or more bundles. These cables withstand both bending and torsion. If the electrical properties demand it, for example for data or servo cables, cables suitable for use on robots are stranded in pairs.
Core insulation: The insulation of the cores has to be able to withstand several million movement cycles. The best solution is a thermoplastic elastomer, or TPE.
Sliding support: Elements help the components in the cable to move against each other with as little friction as possible. They also act as a filler to make the cable circular. Sliding supports can be stranded plastic fibres that fit into the gaps or voids between the cores. Correct placement of these filler fibres requires a high degree of know-how. Thicker cores are often wrapped in a polytetrafluoroethylene or polyester film fleece wrapping to make it easier for them to slide against one another, particularly under torsion.
Shielding: Tests have shown that under torsion the gaps in the braided shield increase in size over time, because the small wires that make up the braid are pulled apart by the torsion and break over time. This pushes up the contact resistance, which has a detrimental impact on the desired shielding effect. Above half a million torsion cycles, spinning with copper wires is superior to braiding. All the wires point in the same direction and the contact resistance hardly changes over the service life.
Outer sheath: Here, as in many industrial applications, the material of choice is the very robust polyurethane (PUR).
Thinner is better
Customers are increasingly expressing a demand for the cables to be as space-saving as possible because robots are getting smaller all the time. Increasingly, hybrid cables are being used, containing all kinds of cables such as power, data and signals, and even hoses for pneumatics or the air or protective gas supply. For example, Lapp has developed cables for a welding robot that contains dozens of cores for power, signals and industrial Ethernet in a single sheath. Although some of these hybrid cables are 30 millimetres thick or even more, they take up 30% less space than laying individual cables.
As the requirements for robot cables are so diverse, extensive tests are unavoidable for the manufacturers. However, many cable suppliers also have high minimum order quantities, in some cases several kilometres. In the case of Lapp, sample lengths starting at 100 metres are possible. This enables manufacturers to carry out tests without having to spend a lot of money on the cables.
For more information contact Lapp Group, +27 (0)11 201 3200, info@lappgroup.co.za, www.lappgroup.co.za
Credit(s)
Further reading:
Hazardous area installations
March 2019, Pepperl+Fuchs , Enclosures, Cabling & Connectors
How to find the most efficient protected solution for each application.
Read more...
---
M12 field wired push-in connectors
March 2019, Turck Banner , Enclosures, Cabling & Connectors
Turck has added M12 field wireable connectors with integrated push-in connection technology to its connectivity portfolio. The new connectors enable the user to complete rapid and safe manual assembly 
...
Read more...
---
Enclosure series for explosion protection in process automation
February 2019, Pepperl+Fuchs , Enclosures, Cabling & Connectors
For many years, users have been waiting for a new, universal enclosure system in the field of electrical explosion protection. Having invested in this area, Pepperl+Fuchs has developed the GRP enclosure 
...
Read more...
---
Rittal's new industry-first enclosure system
February 2019, Rittal , Enclosures, Cabling & Connectors
Following the official launch of Rittal's new VX25 large enclosure system at last year's Hanover Trade Fair, Rittal South Africa unveiled this evolution during a customer day which took place last year. 
...
Read more...
---
RS launches rugged Molex connectors
February 2019, RS Components SA , Enclosures, Cabling & Connectors
RS Components has introduced the Molex Squba range of 1,80 mm sealed wire-to-wire connectors, designed to fit into small spaces while offering IP67 protection against liquid, dust and dirt. Squba supports 
...
Read more...
---
Isobus series of connectors from Amphenol
February 2019, RS Components SA , Enclosures, Cabling & Connectors
RS Components has announced availability of a new series of Isobus circular connectors manufactured by Amphenol, a leading maker of connectivity components for industrial engineering applications. The 
...
Read more...
---
RS introduces Harting's compact industrial Ethernet interface
February 2019, RS Components SA , Enclosures, Cabling & Connectors
RS Components has announced availability of the Harting ix Industrial range of Ethernet interfaces. These new devices set a higher standard and respond to the future challenges posed by Industry 4.0 and 
...
Read more...
---
Compact splice boxes for future-proof data transmission
December 2018, Phoenix Contact , Enclosures, Cabling & Connectors
The new FDX 20 splice boxes from Phoenix Contact extend the range to ensure continuously reliable data transmission in real time. With their compact and uniform design, the splice boxes provide ample 
...
Read more...
---
Cables for the direct current era
November 2018, Lapp Southern Africa , Enclosures, Cabling & Connectors
Alternating current is the blood that flows through the veins of most power grids. It conveys electrical energy across great distances from the power station to factories and homes. But the monopoly of 
...
Read more...
---
Fortress creates safer workplaces for Industry 4.0
November 2018, Deebar , Enclosures, Cabling & Connectors
A leader in networked access control systems, Fortress' technology helps create safer workplaces where employees in industrial environments are safeguarded from injury, equipment is protected from damage 
...
Read more...
---