printer friendly version
Success through measurement expertise and product innovation
July 2018 Editor's Choice Maintenance, Test & Measurement, Calibration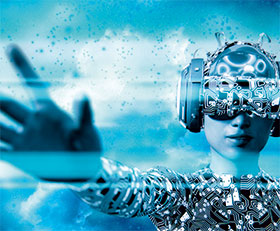 Since inception, the GHM Group has constantly sought to add layers of exper-tise and competence through the development and acquisition of brands, which not only offer precision measurement, but also bring a dynamic cross-over of synergies to customers.
Over the years the group has brought on board leaders in the field of instrumentation, control and measurement, such as Honsberg, Delta OHM, Greisinger, Val.Co, Imtron and Martens, all offering unique centres of competence.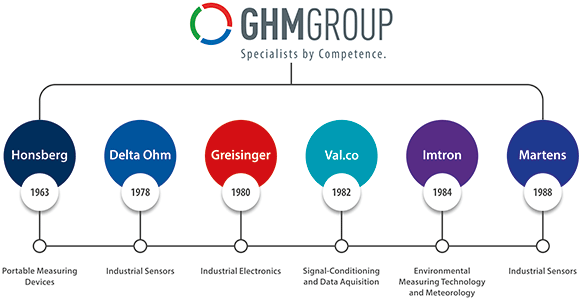 Greisinger
Greisinger devotes a great deal of effort to compact designs and is a specialist for hand-held measuring devices, indicators, regulators, and temperature transducers and sensors, all of which combine technology with measurement precision. Over 100 000 devices are delivered yearly to customers.
As a German-based centre of competence for measuring devices, indicators and regulators, as well as temperature sensors, Greisinger bundles the extensive know-how of experienced specialists under one roof. Market trends are tracked by the company and taken into account in the development of new technologies.
Honsberg
For decades, the centre of competence, Honsberg in Germany has been regarded as a top address for measuring and monitoring flow, fill level and pressure in industrial applications. Dependable application engineering and innovative know-how from Honsberg specialists, coupled with product quality and reliability, have made the company a major contributor to the success of customers, as it is one of the best performers in the global marketplace.
Martens
Sensors are vital to industrial production. This idea is sharpened at Martens' centre of competence in Germany, where the special need for measurement precision and inclusion of specific customer requests are developed. The entire spectrum of modern analysis and industrial measuring technology enables GHM to offer product versatility for a broad range of applications.
Martens' sensors are utilised in building technology, plant engineering and the food and pharmaceutical industries, where almost all physical variables are measured, recorded and evaluated.
Imtron
As a manufacturer of metrological components for industrial applications the Imtron brand stands tall, and its centre of competence in Germany, is one of the most well-known providers in the market. The company specialises in stationary and mobile testing procedures, which assure activity in the power and automotive industries through components and systems.
Imtron's hardware and software provide important data and facts concerning all measured parameters on stationary test stands in the auto sector, and in mobile applications for test runs and test flights. This extends to power management and seamless monitoring of solar power plants and wind farms.
Delta OHM
In no other area can the collection of data take on such a decisive role as in the field of environmental measuring technology. Delta OHM's centre of competence in Italy has over 40 years' experience in the supply of state of the art sustainable components for the field of meteorology.
Measuring instruments, data loggers as well as environmental and weather stations for the capture of acoustic information, vibrations, micro-climate data, air quality, water analysis, relative humidity, wind speed, photometry and light temperature and pressure have earned international recognition for Delta OHM innovation and product technology.
Val.Co
Founded in 1982, Val.Co has quickly made a name for itself as a specialist in the field of fill level measuring technology due to the quality and reliability of its instrumentation. The company is regarded as a key player in the industry due to the experience and expertise of its technicians and has obtained ISO 9001 quality management accreditation.
Val.Co's centre of competence near Milan enables it to draft, engineer and manufacture all of its products and systems, which are used in industrial processes for the storing of mineral oil products, refineries, lubrication systems, cooling equipment as well as electricity generation plants and galvanic systems for the beverage industry.
Specialists by competence
The entire GHM Group offering of specialised measuring instrumentation is available via GHM Messtechnik South Africa, based in Alberton, Johannesburg. Managing director, Jan Grobler, commented: "We talk quality-based solutions for industrial applications. With such an array of reputable instrumentation and technologies, we believe that we are able to meet all industrial measurement requirements effectively, whether it is via standard or customer specific designs."
"In addition to focusing on local markets and trends, we at the GHM Group need to adapt to globalisation and keep up with the associated megatrends in order to maintain our successes and innovative research and development," added GHM Group CEO, Johannes Overhues. "I believe that local competences must be bundled to meet the requirements of markets throughout the world. We absolutely believe in our motto of 'Think global, develop local and manufacture fast."
The GHM Group is renowned globally for the manufacture of high-quality precision measuring and regulating technology. Since the group's inception, it has expanded from the original foundation of a small yet successful measuring technology manufacturer from Germany and northern Italy.
Today, the Group has grown into a medium-sized corporation with a combined depth of added value based on more than 200 years of combined experience. The South African office for the GHM Group opened in 2016.
"The GHM Group comprises excellence in innovation from iconic brands such as Honsberg, Delta OHM, Greisinger, Imtron, Val.Co. and Martens," commented Overhues. "From the development of specialised measuring processes to the complete production of sensors and key mechanical elements, to data loggers, firmware and software programming, we manufacture measuring devices that find application across all industries. The emphasis of our growth is found in the general machine construction, building technology, measurement data recording and communication, as well as in the food production industry, meteorology and general environmental measuring technology sectors.
"Through the Group's acquisitions and expansion, more than 40 experienced specialists at six centres of competence bring their know-how from respective areas of expertise to our multidisciplinary team, which can then quickly and flexibly develop precisely those products or adaptations that meet the requirements of our customers. Our focus on complete customer satisfaction is what drives the company's constant desire to be at the forefront and cutting edge of innovative technology."
The South African operation
"Our goal since opening the South African office of GHM Messtechnik has been to offer a personalised and solutions-driven service to our customer base," explained Grobler. "Our products are high-quality, high-accuracy sensors and instrumentation, hygienic design instrumentation, laboratory instrumentation, industrial electronics, process measurement technology, data acquisition equipment and environmental/water analysis instrumentation. These technologies and products have wide ranging applications for general industry, mining, food and beverage, brewery industries, power generation, renewable energy, pharmaceutical, laboratories, oil flow measurement and hydraulic related sectors.
"The South African market has many areas of uniqueness, and the GHM Group will continue to use South Africa for the development of extremely robust products. Our tough environmental and plant conditions initiate new challenges for our European centres of competence to design appropriate and effective instrumentation that is suitable for these challenging applications."
GHM synergies
With such well-known brands, the company is in a position to offer optimal assistance and consultation in all matters relating to measuring, control and closed-loop technologies, and has the capability to offer complete product portfolios for requirements of the broadest range of applications such as:
• Process, industrial, test-stand and laboratory measurement technology.
• Industrial electronics/closed-loop control technology.
• Customer specific developments.
The GHM Group has three strategic business units:
1. Industrial – sensors and electronics.
2. Environmental technology – areas of metrology and mobile measuring devices.
3. Testing and services.
All products are manufactured to the exact standards expected of German engineering. "We see great potential for market expansion in South and southern Africa," concluded Grobler. "Our instrumentation is precision engineered to the highest calibre and our high measurement accuracy has been achieved by investment in innovation. We offer solutions that add value to our customer's applications."
For more information contact Jan Grobler, GHM Messtechnik South Africa, +27 (0)11 902 0158, info@ghm-sa.co.za, www.ghm-sa.co.za
Credit(s)
Further reading:
Loop Signatures 10: Digital controllers – Part 2: Testing controller operation
Michael Brown Control Engineering Editor's Choice
There is a commonly held belief in control circles that all PID controllers are similar and relatively simple. This is a dangerous fallacy.
Read more...
---
A review of the 2021 MESA Africa conference
MESA Africa NPC Editor's Choice
The overarching lesson from this year's conference: yes, we have problems now and solutions are on the table, but we need collective action!
Read more...
---
Cybersecurity for operational technology: Part 5: Cybersecurity threats to critical information infrastructure.
Editor's Choice
CII describes infrastructure that is essential to the functioning of a country's society and economy
(2)
. Local examples include energy (Eskom), government (SARS, judiciary), police and defence (SAPS, 
...
Read more...
---
Level switch for storage bins
GHM Messtechnik SA Level Measurement & Control
Val.Co has introduced a new LPM level switch specifically designed to control the storage of dusts, granules and solid products.
Read more...
---
The ultimate control valve
Valve & Automation Valves, Actuators & Pump Control Editor's Choice
Zwick has designed its TRI-SHARK range of Triple Eccentric Valves to be used in control or throttling applications as well as for pure on/off functionality.
Read more...
---
From the editor's desk: 2022 must be the year SA gets its vaccination act together
Technews Publishing (SA Instrumentation & Control) Editor's Choice News
This is his last
"From the editor's desk"
that Steven Meyer wrote before his death in early January 2022.
Read more...
---
What to do when fragmented systems get too complex
Absolute Perspectives Editor's Choice
With proper planning, a strategic approach, careful vendor selection and a systematic project methodology, you can successfully upgrade to a future-proof ICT infrastructure that supports ongoing digital transformation.
Read more...
---
Case History 180: Fuel gas pressure control problem
Michael Brown Control Engineering Editor's Choice
The problem with the pressure control was that it seemed to work intermittently and seldom got to setpoint, resulting in large and unacceptable variance on the control.
Read more...
---
Cybersecurity for operational technology: Part 4: Practical recommendations to reduce cybersecurity risks for OT systems
Wolfpack Information Risk Editor's Choice
It is essential that IT professionals are able to clearly articulate cybersecurity risks to management.
Read more...
---
Specialist instrumentation for specialised applications
GHM Messtechnik SA Level Measurement & Control
Over 30 years of experience puts Val.co at the forefront to supply specialist liquid level, flow, pressure and temperature instrumentation.
Read more...
---