printer friendly version
Friendship through technology
June 2018
News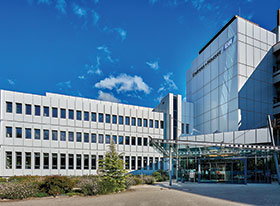 There was nothing out of the ordinary about the group of engineers I joined in the Slow Lounge at OR Tambo International that Saturday afternoon in April. Some were accompanied by their partners, but mostly, delegates to this year's Hannover Messe Training Tour were just a group of experienced control and instrumentation professionals with a like-minded interest in the latest technology from a Swiss-based instrumentation company. Twelve days later things had changed. Twelve days later the Endress+Hauser experience had successfully forged that common technology interest into a bond between life-long friends.
Congratulations to the organising committee for the splendid agenda. Delegates were a mix of Endress+Hauser customers travelling alongside representatives from the regional company offices in Southern Africa. The formula is so popular because it gives end users a first-hand look into the workings of a true global leader in the field of instrumentation technology, while at the same time, giving them a chance to network with and get to know the people who will support them from its local offices. And it isn't all work and no play. Generous helpings of after hour's social activity set this event apart every bit as much as the quality of its technology component. Included this year were a crossbow shooting competition, an early morning visit to the castle of an eccentric Bavarian monarch, evenings of fine dining, and some late nights enjoyed by the younger (and in some cases not so younger) generation. Add the eisbein-filled celebration at the closing dinner in Hannover to the traditional ice-cold Jägermeister shots served on the bus, and maybe I've left you with an idea of the enjoyment factor which characterises this trip.
Alongside the fun, the educational aspect, the tour of the Endress+Hauser research and production facilities located in the 3-countries region of central Europe, is of the highest professional calibre. Endress+Hauser has accumulated an almost immeasurable amount of technical know-how in the 65 years since founders, Georg Endress and Ludwig Hauser, first opened the doors on 1 February 1953. All I can hope to do is scratch the surface and describe a few of the things that stood out for me on this absorbing tour.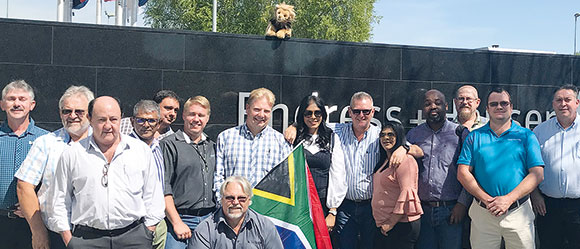 Delegates to Endress+Hauser's Hannover Messe Training Tour 2018 pose for a photograph. The tour mascot looks on from the wall.
Maulburg, masters of modular production
For delegates, the training began in earnest at the production facility in Maulburg, home to the company's level, pressure and inventory management solutions.
For level measurement applications, Endress+Hauser recently added an 80 GHz device to its already impressive range of radar-based level transmitters. This means it can now provide solutions that operate in the 1 GHz, 6 GHz, 26 GHz and 80 GHz bands. When one considers that each of these can be fitted with a variety of different antennas, the number of possible product combinations becomes mind boggling. The claim of a complete portfolio for level measurement applications is no exaggeration, but how does one deliver against this?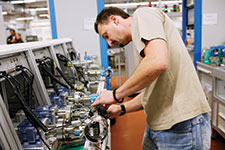 Instruments are assembled to customer-specific requirements.
The problem is solved by modularity. Very few instruments are kept ex-stock at the factory with most delivered on a built-to-order basis against a customer-specific configuration. It seems obvious, until the penny drops and you stop to consider the staggering number of possible configurations that have to be accommodated. Modularity on its own works just fine if you only ever build once-offs. For continuous production though, modularity solves nothing unless it is supported by the appropriate checks and balances to ensure that at every step of the assembly process, the instrument is in fact being put together in the required configuration.
At this point, Endress+Hauser reveals a key success factor: complete control over the combination of modules during the build of an instrument. Although final assembly is still mostly done by hand, automated systems guide and support assembly line workers every step of the way. So, once an instrument has been assembled to order, the complete build history is then available for final quality inspection.
The result of a skilled workforce supported by well-designed manufacturing processes is an overall sense of order in the production area. This, and the attention to detail, made an impression on me at all the facilities we visited.
The world's first self-calibrating temperature probe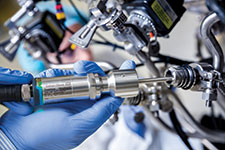 The world's first self-calibrating temperature probe.
Endress+Hauser Wetzer is the company's competence centre for temperature measurement, temperature engineered solutions and system products. One of the latest innovations to its iTHERM product range – TrustSens – is a shining example of how investment in research and development can pay off when it is spent in the right areas.
The idea of a self-calibrating temperature probe is innovative. The fact that it can be done without taking the process offline is beneficial. The fact that it uses the process itself to perform the calibration is pure genius.
To achieve self-calibration, TrustSens uses a physical phenomenon known as the Curie point, where the magnetic properties of an integrated reference sensor abruptly change at a specific temperature. Since the Curie point remains constant, no matter what, the reference sensor always provides a stable comparison for the process element.
Here is how it uses the process to initiate a calibration. Since the Curie point (of the first, and at this stage, only model) is fixed at 118°C, a temperature reached during the steam sterilisation cycle at a food and beverage plant, every SIP operation initiates a new calibration. As an aside, the design impressed Hannover Messe to the extent that Endress+Hauser received a coveted Hermes award for this innovative new product (see 'Endress+Hauser wins Hermes Award').
Every instrument has a Heartbeat
These days, no automation company can make a credible claim to global leadership if it has not addressed the issue of digitalisation. Endress+Hauser has this angle covered with its Heartbeat Technology.
Heartbeat Technology is not specific to any product type. Rather, it is a capability that can be built into any of the company's measuring instruments to provide on-board diagnostics and instrument verification. The system continuously monitors the status of all components in the instrument and sends an alert whenever it detects a problem. All the relevant verification information, diagnostics alerts and instrument data can then be viewed at the control and monitoring system, or remotely accessed via a web browser.
Adding this Industrie 4.0 functionality eliminates the need for unnecessary calibrations (requiring the removal of instruments from the process), reduces the need for personnel to perform onsite instrument checks, alerts operators when an instrument requires service, and provides diagnostics information so that technicians know what type of problem they are dealing with before they go into the field.
Putting it all together
It simply isn't possible to document everything that impressed me about Endress+Hauser (and this tour) in an article of this length. I chose the three aspects described above to illustrate the level of innovation (TrustSens), the platform for digitalisation (Heartbeat Technology) and the level of manufacturing expertise (Maulburg) within the organisation.
These are all tangible achievements (you will find them documented all over the Internet), but they do not tell the full story. That, I believe, you can only get by walking around, asking questions, and seeing things first-hand for yourself. This is the real opportunity that the tour offers to delegates.
In my case, the single thing that impressed me most about the capability of the Endress+Hauser operation is how easy they make everything look. Making difficult things look easy is what separates the professionals from the also rans. Endress+Hauser makes producing one of the most extensive portfolios of high-quality process instrumentation look easy. This is a clear indication of well-designed production processes at work in an organisation that understands its business very, very well. And perhaps just as importantly, understands that even after 65 years' experience, things are not yet perfect.
Of course my takeaway is not necessarily your takeaway. So, if you're looking for an opportunity to learn how things work inside one of the world's leading instrumentation companies, and you want to have some fun along the way, Endress+Hauser's Hannover Messe Training Tour offers a fine opportunity to build new friendships through this automation technology experience of note.
For more information contact Natlee Chetty, Endress+Hauser, +27 (0)11 262 8007, natlee.chetty@za.endress.com, www.za.endress.com
Credit(s)
Further reading:
From the editor's desk: Is additive manufacturing poised to go mainstream?
March 2021, Technews Publishing (SA Instrumentation & Control) , News
As digital manufacturing technology pushes its way further towards the production floor, additive manufacturing (3D printing) is emerging as a viable option to complement the more traditional methods 
...
Read more...
---
Fluid Systems Africa – official Arpol partner for Africa
August 2021, Fluid Systems Africa , News
Fluid Systems Africa has recently been appointed as the official partner of Arpol flexible pipe couplings in Africa.
Read more...
---
BMG boosts solutions through Heko products
August 2021, Bearing Man Group t/a BMG , News
Through the supply and support of Heko products, BMG has boosted its solutions service to customers wanting to optimise the efficiency of their bulk material conveyor systems.
Read more...
---
Ready for use anywhere
August 2021, Endress+Hauser South Africa , Level Measurement & Control
The first 2-wire loop-powered compact transmitter enters the market.
Read more...
---
Bosch Rexroth electrifies subsea process automation
August 2021 , News
Bosch Rexroth has engineered a disruptive innovation for electrically actuating valves in the subsea process industry.
Read more...
---
Endress+Hauser opens vaccination centre
July 2021, Endress+Hauser South Africa , News
As part of a model project, Endress+Hauser is operating a vaccination centre for employees in Maulburg.
Read more...
---
IS³ accelerates digital transformation through its AVEVA Select partnership
July 2021, IS³ - Industry Software, Solutions & Support , News
IS³ has announced that it has become the first AVEVA Select partner in the EMEA region, making it the only authorised distributor for AVEVA products in southern Africa.
Read more...
---
Flow Software joins the Eclipse Foundation and Sparkplug Working Group
July 2021 , News
Sparkplug governing body and industry collective welcomes an innovative industrial data analytics and information management software provider to help drive the future of the protocol.
Read more...
---
IS³ accelerates digital transformation through its AVEVA Select partnership
July 2021, IS³ - Industry Software, Solutions & Support , News
IS³ has announced that it has become the first AVEVA Select partner in the EMEA region, making it the only authorised distributor for AVEVA products in southern Africa.
Read more...
---
New B2C online shopping platform for engineering consumables
July 2021, Bearing Man Group t/a BMG , News
BMG's online shopping platform now encompasses a newly launched E-commerce service, designed especially for consumers, to boost their buying experience of engineering consumables.
Read more...
---