printer friendly version
Remote monitoring without the risks
Technews Industry Guide: Maintenance, Reliability & Asset Optimisation 2018
Maintenance, Test & Measurement, Calibration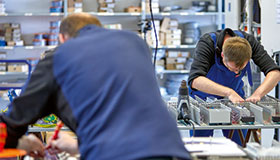 High availability of machines and systems is the demand of every operator. Regarding its remote maintenance concept, Hermes Systeme therefore relies on the Phoenix Contact cloud as a flexible and cost-effective solution for secure access to customer applications.
The employees of Hermes Systeme in Germany develop innovative solutions using automation technology. In addition to system modernisation, the range of services comprises maintenance and repair of existing technology as well as supply and installation of new systems. Hermes focuses on industry and building automation as well as water technology, swimming pool technology, wastewater treatment plant technology, cooling technology, information technology, and central control engineering. As a system integrator, the company has supported industrial and municipal users for more than 30 years, also with regard to implementing scada systems. Here, an I/O station designed by the company for remote maintenance services uses security appliances from Phoenix Contact to provide access for service engineers to the corresponding scada network.
"Nowadays, systems without remote maintenance technology are no longer competitive because every operator requires high availability, which means that any interference must be removed as quickly as possible," reports executive vice president, Ingo Hermes. His company has already been involved in many control projects, from simple pump control to large-scale projects. Among others, Hermes Systeme has specialised in the development of proprietary scada solutions that control and monitor the processes. In water management, this can be small pumping stations, but also complex distribution systems.
Using the cloud solution is free
In the field of remote maintenance, Hermes Systeme relies on proven technology from Phoenix Contact. The primary focus is on fast removal of errors but also on a transparent security standard that is requested by the system operator in order to accept remote maintenance. Using the Phoenix Contact cloud, therefore, is an optimum solution for the relevant applications as it saves resources. This because using the cloud is free and Phoenix Contact is responsible for providing the cloud functions. This offers the following advantages:
• No hardware costs for a remote maintenance centre.
• Easy-to-use cloud services via web browser.
• Stationary and mobile access is possible.
• Many service engineers can have access at the same time.
• Phoenix Contact is responsible for cloud security.
• Reduced capital commitment and labour costs.
• High availability.
• Phoenix Contact is responsible for scaling and adapting the performance.
In the event of maintenance, the service engineer can immediately and remotely obtain information on the system's operating state. The engineer simply presses a button to evaluate a large amount of log files and other historical data that give information about the cause of an error. "We can remedy about 80 percent of all the problems completely by means of remote access," explains Christian Nölker, electrical engineer and programmer at Hermes Systeme. "To do so, our service engineers view the operator's screen of the system on their computer and then work on error removal together with the employee on site."
Easy management of systems and service personnel
"It is not enough to look at the technical parameters and prices in order to make the right choice of remote maintenance technology," emphasises Nölker. With an increasing number of systems, management of the online accesses and configuration of the remote router stations can become time-consuming. Issues like secure authentication, managing customised access and configuration data as well as different software environments of a plant that has grown continuously make the decision even more complicated. "We were looking for a supplier offering a solution for easy management of the systems as well as of the service personnel," adds Hermes. "It was also important that this was a renowned manufacturer in order for our customers to accept the remote maintenance concept."
The decision-makers were convinced by the complete solution from Phoenix Contact because it comprises system and service personnel management in addition to a high IT security standard. The required configuration of the terminal devices is automatically generated in the cloud and downloaded to the devices. Any processes, such as VPN configuration, routing settings, and certification management, are implemented using the cloud. "The Phoenix Contact cloud as a portal manages the increasing variety of different maintenance environments of the systems and automatically provides the right environment to the service engineer," says Nölker. "Every service access starts a temporary virtual machine, which is deleted again afterwards, which allows for parallel operation of different software generations. For Hermes, this type of remote maintenance platform has proven to be an efficient solution that ensures increased system availability for our customers."
Robust solution for harsh industrial environments
"We were looking for a solution that uses the Internet to dial into the scada network of the system, while at the same time, we wanted to protect the network against unauthorised access," continues Nölker. "However, the majority of security applications on the market have been developed for the office environment. This is why we opted for the FL mGuard product range, and thus for security appliances that meet all the requirements of the industrial environment. This series comprises security components with integrated firewall, routing and VPN functions for industrial networks. The devices combine IT requirements and robust hardware in a metal housing for harsh industrial applications.
"The version we use can be mounted on a DIN rail and features a 24 VDC power supply. Based on the situation, we either opt for the RJ45 or the mobile network unit to connect the system to the cloud. The FL mGuard RS2000 acts as a secure gateway that protects the system against unauthorised access, therefore, the scada network can be connected directly to the Internet and thus to the cloud. The service engineers use a VPN software client to establish a connection and the VPN function ensures that only authorised persons can initiate communication using the corresponding access data. When the VPN connection has been set up, it works like a direct connection to the local network. In this way, the programming software of the controller recognises the security devices and can simply connect them."
Conclusion
Modern plants are often comprised of complex machines and systems that are characterised by a high level of automation. As digitisation in the industrial environment increases, a rising trend in remote monitoring can be expected. These applications must be provided with IT security that is based on user and system requirements, which provides suitable protection against typical attack vectors – the Internet, for example. Secure access is a constant requirement that can only be provided by new security architectures that can be controlled by the user – the Phoenix Contact cloud, for example.
For more information contact Sheree Brits, Phoenix Contact, +27 (0)11 801 8200, sbrits@phoenixcontact.co.za, www.phoenixcontact.co.za
Credit(s)
Further reading:
The Heartbeat of plant processes
May 2019, Endress+Hauser , Maintenance, Test & Measurement, Calibration
Self-diagnostics and predictive maintenance.
Read more...
---
Solutions for test, measurement and broadcast
May 2019, Concilium Technologies , Maintenance, Test & Measurement, Calibration
Concilium's focus is ontest and measurement, enterprise network performance and testing, and professional broadcast. The company is a trusted provider of equipment, applications, services and solutions 
...
Read more...
---
Simplified distributed automation
May 2019, Phoenix Contact , Fieldbus & Industrial Networking
The Proficloud system from Phoenix Contact enables easy secure communication and control of machines and systems across locations worldwide. On show at Stands E09-E10, this unique combination of the Profinet 
...
Read more...
---
Multifunction motor-drive analysers
May 2019, RS Components SA , Maintenance, Test & Measurement, Calibration
RS Components has announced the availability of two motor-drive analysers from test and measurement maker Fluke, which help to locate and troubleshoot typical problems on inverter type motor-drive systems. The 
...
Read more...
---
Powerful electronic deadweight testers
May 2019, Comtest , Maintenance, Test & Measurement, Calibration
Comtest now offers the latest Fluke E-DWT-H electronic deadweight tester, an electronic calibrator designed to deliver traditional hydraulic deadweight tester performance with digital measurement features 
...
Read more...
---
Measurement data on the lookout for artificial intelligence
April 2019, Phoenix Contact , IT in Manufacturing
In the global race for competitive prices, it is the most efficient processes that win the race.
Read more...
---
Implementing an infrared thermography maintenance programme
Technews Industry Guide: Maintenance, Reliability & Asset Optimisation 2019, Comtest , Maintenance, Test & Measurement, Calibration
This article discusses the benefits and outlines the steps that will help to grow thermographic imaging into a key component of any modern maintenance strategy.
Read more...
---
Improving power plant performance with a modern calibration process
Technews Industry Guide: Maintenance, Reliability & Asset Optimisation 2019, QTEK Instrumentation & Calibration Solutions , Maintenance, Test & Measurement, Calibration
Calibration is an essential activity in power plants and there are various reasons to establish a proper calibration process.
Read more...
---
Maintenance transformed through machine learning
Technews Industry Guide: Maintenance, Reliability & Asset Optimisation 2019, Turck Banner , Maintenance, Test & Measurement, Calibration
This article explains what predictive maintenance is, how condition monitoring with machine learning works, and five capabilities to look for in a condition monitoring solution.
Read more...
---
Compact splice boxes for future-proof data transmission
April 2019, Phoenix Contact , IT in Manufacturing
Phoenix Contact has extended its range of splice boxes with the new FO range. These FDX 20 series splice boxes ensure continuously reliable data transmission in real time. With their compact and uniform 
...
Read more...
---