printer friendly version
Selecting valves for proportional control
March 2018
Valves, Actuators & Pump Control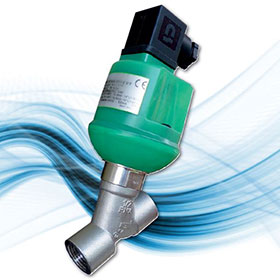 Proportional valves are suited to a wide variety of applications in machinery, basic processes and simple or complex hydro-pneumatic systems. They provide a cost-effective and compact solution for controlling flow or pressure at relatively low flow rates.
There are many different designs and styles of proportional valves for varying operating pressures and flow rates, with either electric or electro-pneumatic actuation. To the uninitiated, there can be a confusing amount of choice. When choosing the right valve for the job, it is important to understand the demands of the application and the relative merits of each valve type. A respected supplier will work with customers to determine the ideal valve, but having a working knowledge of proportional technology will speed up the process.
Before a valve can be selected for proportional control some basic information about the application must be determined:
• Is it controlling pressure, flow, temperature or level?
• What are the maximum and minimum pressures that the valve is likely to experience?
• What is the flow range?
• Will the set point be static, dynamic or step-by-step, and how will it be adjusted?
Set points
A static set point is one that will generally be fixed and there will only be infrequent changes. A typical application would be where a valve is used to control pressure to a cylinder that applies the pinching force – such as spot welding. The pressure will be set dependent on the material type and thickness being welded, and will remain fixed until the machine is set up for a different material.
Another application is when a fixed pressure is applied to a component to check for soundness – such as leak testing. The pressure will generally be fixed for a specific type of component but has provision for adjustment when the application is changed.
Dynamic set point
A dynamic set point is one that changes frequently. A typical application includes pressure control valves connected to cylinders operating a flight simulator. Signals from the simulator control system constantly adjust the pressure in the cylinders to move the simulator cabin. Material testing is another common application, in which the pressure output of a valve is steadily increased until the material under test fails.
Step-by-step set point
A step-by-step set point is one that changes at a low frequency. A typical application is a filling system where, as the container being filled approaches the required level, the flow rate is adjusted down so that the final filling happens at a slower rate. It is also applicable for the control of gas to a burner on a cooker, for instance, requiring different flow rates of gas dependent on the amount of heat required.
Adjusting the set point
When selecting a proportional valve, it is a good idea to consider how the set point will be adjusted, whether it is a pressure or a flow rate. Some valves enable users to adjust the set point by sending an analog control signal over the power cables or by using fieldbus communications. Others have a local interface, and some, such as the ASCO Numatics SentronicD, enable communication with the device via a PC and an RS-232 interface. Having a PC interface often enables a far greater degree of tuning and optimisation to take place, enabling users to get the most out of their process.
Operator
Proportional valves can be operated by different means such as solenoids, pulsed pilot valves or piezoelectric elements. In addition the valves may be pneumatically operated and controlled by a positioner.
Proportional solenoids
Direct operated proportional solenoids adjust valve position based on a varying voltage across the coil. The higher the voltage, the greater the magnetising current and the more the valve spindle will move. A common operator type, proportional solenoids tend to give short response times and have an extremely low hysteresis.
Pilot operated proportional valves
Pulsed pilot valves use small solenoid valves that load and unload pressure in a control chamber, allowing the valve to open and close. With power consumption of less than 2 W, pulsed pilot valves are ideal when low power is required. A typical application of such a compact and low power rating valve is to control the flow of a booster. By using a proportional valve operated by a pulsed pilot valve, a much larger flow can be controlled.
Piezoelectric elements
Piezoelectrically operated valves are ideal when very low power consumption is required. Their highly compact size makes them ideal for use in portable and table top machines such as medical equipment, measuring systems and gas analysers. The valves have very low power consumption and can even be operated by batteries or solar cells.
Choosing the right supplier
In practice, there are several additional factors that may need to be taken into account when choosing the best proportional valve for an application.
Many of these decisions will be made in conjunction with a supplier's application experts, so it pays to know what to look for in a supplier. There are hundreds of valves and many companies supplying them, so it can be a challenge to wade through competing solutions.
As a general rule, it is best to seek out a comprehensive and credible manufacturer ahead of a 'quick-fix' merchant selling on price. The process industry in particular should be especially wary of false economy. Look for a supplier with a broad range of technologies, sizes and operator types. Seek evidence of an established industry position, proven specialist knowledge and long-term customer relationships. But do not go on name alone.
A well-known brand is important, but be satisfied that your potential partner has the in-house expertise to specify the perfect solution, regardless of application, flowing media or other conditions.
For more information contact ASCO Numatics, +27 (0)11 796 7600, rfq.asconumatics.za@emerson.com, www.asco.com
Credit(s)
Further reading:
Protect your pump and keep it longer
July 2021, Elemental Analytics , Valves, Actuators & Pump Control
Unexpectedly losing a pump is often an expensive or even a dangerous problem in a chemical plant.
Read more...
---
Locally valves manufactured for tailings pipeline
June 2021 , Valves, Actuators & Pump Control
The AFS manufacturing plant in Benoni is equipped with advanced equipment and is supported by specialists who offer dependable technical support to ensure the optimum safety, efficiency and extended service life of every system.
Read more...
---
New flange monoblock with shut-off valve
March 2021, WIKA Instruments , Valves, Actuators & Pump Control
WIKA's new monoblock with flange design integrates a shut-off valve to separate the process from the instrument side.
Read more...
---
The Stafsjö HX story – greater demand calls for action
February 2021, Valve & Automation , Valves, Actuators & Pump Control
As a knife gate valve supplier, Stafsjö supplies product solutions to realise efficiency and production goals in pulp and paper applications.
Read more...
---
Drives for solar-powered pump systems
February 2021, Bearing Man Group t/a BMG , Valves, Actuators & Pump Control
BMG advises on how to optimise efficiency and extend the service life of solar-powered pumping systems by selecting the correct drives.
Read more...
---
Optimise fermentation in alcoholic beverage manufacturing through proper valve selection
February 2021, ASCO , Valves, Actuators & Pump Control
Emerson can help select the right fluid automation products to meet all unique requirements.
Read more...
---
Smart positioners of the future
January 2021, SMC Corporation South Africa , Valves, Actuators & Pump Control
SMC's new range of Smart Positioners was designed to pair perfectly with a variety of process control valves and actuators.
Read more...
---
Robust control valve proves itself in the construction materials industry
November 2020, Macsteel Fluid Control , Valves, Actuators & Pump Control
Ball sector valves from Schubert & Salzer excel in abrasive slurry applications.
Read more...
---
Check valve with redundant sealing
September 2020, WIKA Instruments , Valves, Actuators & Pump Control
The new model CV check valve from WIKA is designed for a wide range of applications in the process industry. Its sealing system reliably prevents backflow of liquid and gaseous media.
Read more...
---
Sustainability through packaging efficiency
August 2020, Valve & Automation , Valves, Actuators & Pump Control
There is probably no other term that has been used and interpreted in recent years in so many ways as the term 'sustainability'. Originating from forestry, today the principle of sustainability is comprehensively 
...
Read more...
---