printer friendly version
Level measurement in silos
January 2020
Level Measurement & Control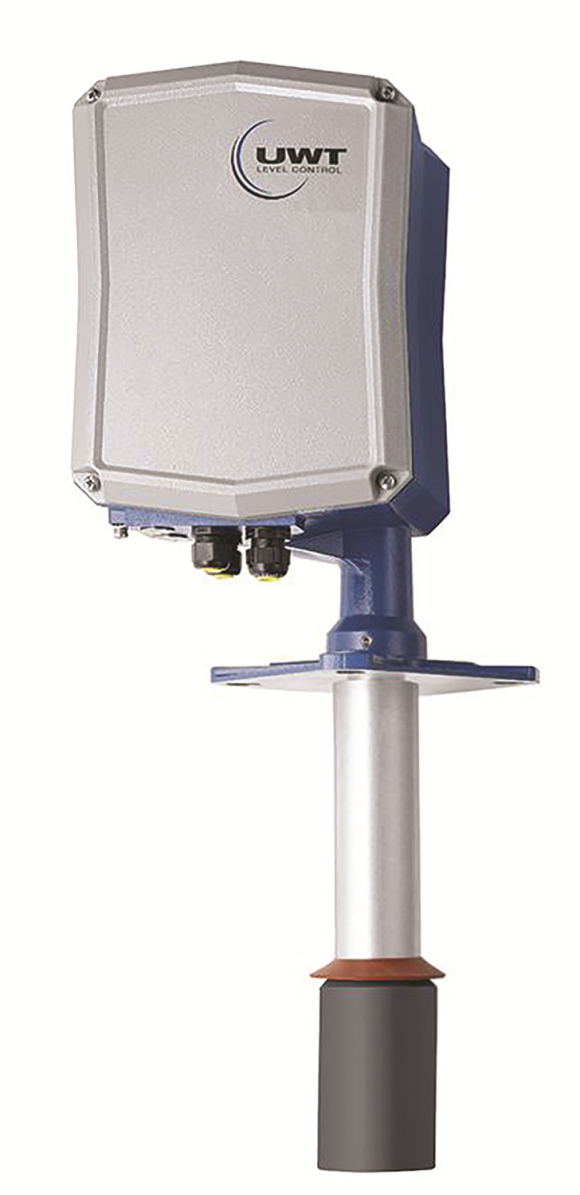 UWT has taken a traditional method of content measurement in silos and storage hoppers and remastered it to enable seamless integration with modern-day control systems and PLCs. The UWT NivoBob continuous level measurement system offers a high-tech version of a simple and reliable measurement principle, which works as follows:
• The sensor weight drives down on a measuring rope/tape.
• The rope/tape length is electronically measured by the rotation of the internal roller.
• Material contact stops movement.
• The motor changes the direction of rotation.
• Sensor weight is driven back to the upper stop position.
• The distance is measured, and signal outputs are activated (pulse/relays/4-20 mA/Modbus/Profibus).
Application example
The challenge: level measurement to be carried out in storage silos for gypsum powder. The finished product is conveyed pneumatically into the storage silo after production. The overall production planning is difficult if the fill level monitoring of the storage silos is missing. The operator previously had to climb onto the silo roof and carry out a manual level measurement with a rope and a weight. This yielded inaccurate results and caused stock losses due to poor management and control. The task was to automate the level measurement and to avoid manual interventions.
The solution: the UWT system Nivobob 3200 in the tape version fulfils these extreme requirements. The integrated tape cleaner prevents contamination of the band interior. The Nivobob 3200, thereby, provides a reliable measurement that can be trusted. Neither dusty nor clumpy conditions adversely affect the system. The electromechanical sensor NB3200 is developed for dusty applications and for high process temperatures and is the best solution in this gypsum storage application.
Note: when it comes to ignoring the cone after filling or the upside-down pyramid after draining the silo/bunker, and achieving reliable, accurate measurement results, experience play a role. The NivoBob must be mounted one third in from the radius of the silo to accurately cancel out the cone effect.
For more information contact Morton Controls, 086 100 0393, sales@mortoncontrols.co.za, www.mortoncontrols.co.za
Credit(s)
Further reading:
CIP design, planning and installation
February 2020, Morton Controls , System Integration & Control Systems Design
A complete system for a company specialising in the transport of liquid food.
Read more...
---
Hygienic limit switches for processes
February 2020, Morton Controls , Maintenance, Test & Measurement, Calibration
Process and storage vessels incorporate limit switches to prevent overfilling of a tank or vessel (full indicator) or dry running of a pump (empty indicator). Anderson-Negele's NCS series are ideally 
...
Read more...
---
Digital innovations using the vibronics measuring principle
February 2020, Endress+Hauser , Level Measurement & Control
Continuous optimisation and increasingly automated processes are shaping the history of process automation, as well as that of industrialisation.
Read more...
---
High-speed level measurement
February 2020, Morton Controls , Level Measurement & Control
Morton Controls in partnership with Anderson-Negele has introduced the innovative NSL-F level sensor based on a modular device platform. The new platform strategy used with this sensor is based on a building-block 
...
Read more...
---
Capacitive level limit switch
February 2020, Morton Controls , Level Measurement & Control
The Capanivo level limit switch can be used in most solids and liquids as a full or empty detector. The robust, glass reinforced PPS (polyphenylene sulphide) sensor is suitable for food applications while 
...
Read more...
---
Rotary paddle switch with rope extension for point level measurement in silos
February 2020, Morton Controls , Level Measurement & Control
Limit detection is required in most silos and containers to avoid overfilling or unnecessary downtime. The sensor needs to deal with an assortment of process conditions within a wide range of industries. 
...
Read more...
---
Digital float switch
January 2020, WIKA Instruments , Level Measurement & Control
As its first instrument of this kind, WIKA has launched a float switch with a PNP/NPN output signal. The model GLS-1000 detects the level of liquids with an accuracy of 1 mm or less. The digitised float 
...
Read more...
---
Conductivity measurement in CIP processes
January 2020, Morton Controls , Sensors & Transducers
CIP cleaning facilities are primarily used in those installations where hygiene and product safety are paramount, for instance breweries and food production. Throughout the process the complete production 
...
Read more...
---
Radiometric solutions in refineries
November 2019, Mecosa , Level Measurement & Control
Berthold Technologies' radiometric instruments for non-contacting level and density measurement are widely used in the oil refining industry, where customers include Exxon Mobil, Sinopec, Shell, BP, Conoco 
...
Read more...
---
Interface measurement in desalters
November 2019, Mecosa , Level Measurement & Control
Interface measurements in desalters are often regarded as non-critical, even though every drop of oil to be refined passes through the desalter. As refineries try to maximise their margins, so-called 
...
Read more...
---