printer friendly version
Simple and easy to use, yet smart enough to automate
January 2018
Valves, Actuators & Pump Control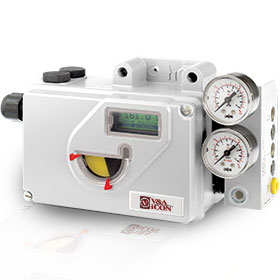 In a world driven by technology, efficiency and total cost of ownership, the V&A iCon® range of valve positioners meets all customer needs, be they simplicity, ease of use or integration with an existing plant automation system.
Ease of use
Valve & Automation has designed the 270991 positioner family to make life easier for plant operators, not more difficult.
Firstly, it is easy to fit. Proper mounting of a positioner onto a valve or actuator can be a significant challenge for an end-user because of the wide variety of valves and actuators in use today.
Valve & Automation overcomes this through a choice of standard factory-manufactured brackets to suit almost any valve/actuator combination found in industry. So, whether the valve requiring a positioner comes from ABB, ARCA, Fisher, Jamesbury, Masoneilan, Neles, Samson, Valtek, or any other manufacturer, there is a suitable attachment kit available. This eliminates the engineering risks often associated with positioner integration into existing plant equipment, without the need for any specialised knowledge or expensive tools.
Secondly, it is easy to calibrate. Valve & Automation has listened to its customers, and understands that in a manufacturing environment where budgets are constrained and skilled resources are limited, keeping things simple is often the best solution. With this in mind, the 270991 has been designed with the option to perform setup and calibration, using the onboard pushbuttons in conjunction with the integral LCD display. Not only can technicians set up the positioner this way, but they can also carry out fault-finding on the device and the valve, thus eliminating the need for costly loop simulators.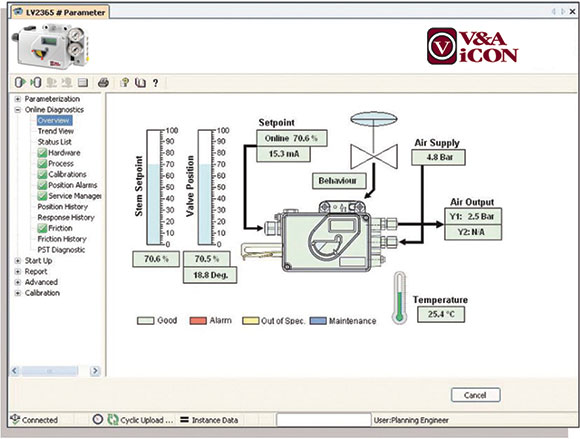 "We have concentrated on designing a positioner solution for our clients that makes it easy to calibrate and diagnose from the device itself, rather than via computers or hand-held terminals as was the case in the past," explains national sales manager, Desmond Delport. "The three pillars on which our design is based are easy to install, easy to calibrate and easy to use. For those customers with severe budget restrictions, or lack of access to suitably skilled technicians, we have even reintroduced older pneumatic and electro-pneumatic versions of the positioner, in order to provide them with a solution that can be calibrated and adjusted using just a screwdriver."
Skilled support for smarter requirements
While outwardly the 270991 has been designed for simplicity, the requirements of those end users who need an interface to their sophisticated plant control systems has not been ignored. Most positioners from the range (excluding the older versions) can be interfaced to a control system through discrete I/O, analog I/O or through one of the many common process control protocols available, including Foundation Fieldbus H1, FoxCom, HART and Profibus PA.
System diagnostics
From a predictive maintenance perspective, performance of the valve + actuator + positioner combination can be configured and tested through the FDT/DTM-based software included in the positioner. These diagnostics reduce the risk of incorrect valve operation, allowing owners to initiate timely repair activities before valves begin to show off-specification performance, thus preventing costly unplanned process stoppages.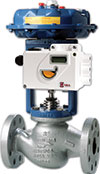 "In organisations where money is no obstacle, and the resources with the skills to interpret the diagnostics are available, this is an ideal solution," explains Delport. "But what we have found in practice, at least in our customer base, is that these conditions very seldom exist."
To get around this, Valve & Automation has invested heavily in training its own staff to support all the intelligent functions of the 270991. The company has also become a member of PACTware in order to be able to support the high-level diagnostic functionality via the intelligent fieldbus interfaces.
Delport says that there are now facilities in place at both the Vereeniging and Durban offices where customers can be trained in the basic positioner functionality, as well as the advanced diagnostics and interfaces if required. "Because each of our customers has a different set of requirements, ranging from the very simple to the more advanced, we had to devise a solution that suited all these different demographics," he adds.
With the 270991 range of solutions, Valve & Automation is now able to offer a simple pneumatic or electro-pneumatic positioner solution to those customers who need to perform calibration with just a screwdriver because they have no access to technicians with computer skills, while at the same time, it is able to offer a top-of-the-line smart solution to those users who need to integrate the positioner with their higher level automation systems.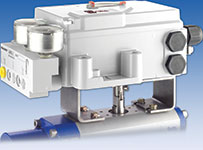 "Everyone understands the benefit of the latest smart technology," concludes Delport, "but not everyone has the money or resources to take advantage of it. At Valve & Automation we understand this, which is why we now offer our customers a range of positioner solutions that they can easily support themselves at the basic level, and we are in a position to help, should they need to integrate the more advanced functionality at a plant automation level."
For more information contact Desmond Delport, Valve & Automation, +27 (0)11 397 2833, desmond.delport@valve.co.za, www.valve.co.za
Credit(s)
Further reading:
Schubert & Salzer in control at PVS
May 2019, Macsteel Fluid Control , Valves, Actuators & Pump Control
Belgium-based PVS Chemicals produces extremely pure chemicals for use in the semiconductor industry. One of the company's outstanding innovations is the production of ultra-pure sulphuric acid. As the 
...
Read more...
---
Ball sector valves and sliding gate valves
Africa Automation Fair 2019 Preview, Macsteel Fluid Control , Valves, Actuators & Pump Control
Macsteel Fluid Control is exhibiting ball sector valves and sliding gate valves from Schubert & Salzer Control Systems at Stand D17.    The robust, efficient ball sector valves are capable of very precise 
...
Read more...
---
Actuators for precise positioning
Africa Automation Fair 2019 Preview , Valves, Actuators & Pump Control
Beck actuators provide precise positioning of valves, dampers, fluid couplings and other final control elements.    Unlike pneumatic and conventional electric actuators, they can withstand continuous 
...
Read more...
---
Valve island with CoilVision technology
Africa Automation Fair 2019 Preview, Hydramatics Control Equipment , Valves, Actuators & Pump Control
Camozzi Automation's Series D valve island has the ability to combine two different valve sizes in the same island with the help of only one initial electric part, bringing important benefits in terms 
...
Read more...
---
Speedy, reliable mA loop valve testing
Africa Automation Fair 2019 Preview, Comtest , Valves, Actuators & Pump Control
Fluke's new 710 mA loop valve tester allows technicians to source the 4-20 mA signal while it interrogates HART data to collect critical information about a valve's position and status, providing quick 
...
Read more...
---
Extended valve offering
Africa Automation Fair 2019 Preview, Metso South Africa , Valves, Actuators & Pump Control
Flow control specialist, Metso is showcasing the latest additions to its offering for the process industries, as well as the most comprehensive line of control valves available on the market today. Pay 
...
Read more...
---
New Rotork master station for valve actuator control
May 2019 , Valves, Actuators & Pump Control
Rotork has launched the latest generation of its monitoring and control system for valve actuators and plant equipment. Suitable for use in all industries, the Rotork Master Station is capable of operating 
...
Read more...
---
RS Components introduces Fluke valve tester
May 2019, RS Components SA , Valves, Actuators & Pump Control
RS Components has announced availability of the Fluke 710 mA Loop Valve Tester, which is an easy-to-use tool that greatly simplifies the testing of control valves, enabling the quick measurement of critical 
...
Read more...
---
The evolution of partial stroke testing
April 2019, Valve & Automation , Valves, Actuators & Pump Control
The failure of these valves in crucial moments can be catastrophic, potentially rendering useless a Safety Instrumented System (SIS), put in place to reduce the possibility of an accident. Though static 
...
Read more...
---
Stafsjö introduces Linak electric actuator
April 2019, Valve & Automation , Valves, Actuators & Pump Control
Linak's electric actuator is a compact maintenance-free unit for on/off operations with a speed of 7-11 mm/sec. It is available as standard in a 24 V DC version but it can also work on 230 V AC or 120 
...
Read more...
---