printer friendly version
The potential value of manufacturing analytics
October 2017 Editor's Choice IT in Manufacturing
Process manufacturing plants create enormous amounts of data every day, much of which is captured and stored in scada systems. At the same time business ERP systems also contribute to the volume of data collected and stored. Documents in e-mail systems contain information with potentially useful context, albeit that these documents are often unstructured and inaccessible in mail-boxes and bloated document libraries. In practice, most of this data remains unprocessed on hard drives and is ultimately archived or deleted without any attempt to derive any further business value. Are we just throwing money away and missing important insights relating to the business? A better question might be: How to move the manufacturing organisation to a mature analytics driven one, where this data is treated as a valuable resource and processed for the value it might contain?
Mature analytics organisations understand the value of using digital technology to tap into data to achieve better business performance. In manufacturing, the benefits of advanced data analytics are compelling. For example higher throughput, better yields, lower energy consumption, better utilisation of machinery and so on. But unlocking value from data to achieve these benefits is not a simple once-off process; it requires a deliberate effort to put all the necessary processes, technologies, skills and structures in place for the long haul.
Increasingly powerful computer technologies are making it easier than ever to process data into meaningful insights. The opportunity to derive value from data is therefore growing all the time. A mature analytics organisation makes good decisions based on facts by using analytical techniques every day. In these organisations analytics is part of the way they do things. Providing the analysis techniques are responsive and focused on supporting business decision making, such an organisation is clearly in a strong position compared to one that makes decisions on the fly, using instinct and 'gut feel'.
The reality is that many organisations are still not analytically mature, nor do they have the processes or structures in place to harness the value of their data. The result is that analytics projects tend to be sporadic and short term in nature, and certainly do not result in a sustained competitive advantage. There have also been many false starts, many of the so called 'business intelligence' projects in the recent past have often failed to deliver the promised benefits.
If data is properly regarded as a valuable resource (in the same way as raw materials, people and technologies) then the promise of unlocking value from the data can be realised. This will require a shift to a more mature analytics culture. Cultural changes of this nature involve good leadership and support at all levels. Leaders should start by setting high (and realistic) expectations based on case studies elsewhere – after all if you set the bar low you are likely to only achieve modest results. In essence, data analytics is a strategically important capability in the company and should be resourced accordingly.
Analytics – the fundamentals
While computer technologies are certainly making a lot more data analysis possible, it is also important to remember that the fundamentals of analytics in fact stay the same. Analytics address three key questions:
• What happened? Leading to a better understanding of the system and the ability to solve problems.
• What is happening now? Leading to better recommendations on immediate actions to be taken.
• What will happen in future? Leading to better management of the future risk and opportunity profiles of business decisions.
Each of these three questions has an implication in terms of the tools and technologies used to process the underlying data. All three are arguably equally important.
The role of IT in developing an analytics capability
IT's role in unlocking value from manufacturing data can be significant. IT should be leading the way by raising awareness and demonstrating the benefits of emerging technologies in this regard. In practice 'however' IT often fails in this important role and continues to focus on creating the same old 'reports' from the transactional systems. An IT silo that only develops ERP reports can have little or no impact in developing an organisation-wide analytical culture.
Technology is needed to collect, process and disseminate data into information, but technology is usually not the limitation – it is often the application thereof that will make the difference. IT professionals should focus on implementing technology platforms strategically with an enterprise level view that empowers end users in the organisation to make good use of the resulting information. IT's role in manufacturing goes further, it should constantly seek opportunities to introduce new technologies into the business and follow through to ensure the proper use thereof, thereby ensuring that opportunities are not missed. Many of the manufacturing automation vendors now have very powerful platforms that can empower end users right across the organisation (in operations and business functions) with the tools to access, analyse and interpret, and share data insights with each other. These platforms will also understand the context of the data, and be capable of connecting real-time and historical plant data with data from the business systems, customers, suppliers and the extended supply chain. Some of this data will be in the form of time series, other will be in the form of SQL type database transactions, and yet other data will be unstructured in nature (such as found in documents). The chosen analytics tools need to be able to work with all these data types and apply the appropriate modelling and analytical techniques.
Skills and organisational impact
Special techniques for data analysis, regression, interpolation and extrapolation, forecasting and modelling have remained the same for decades. What has recently changed is that more data has now become available, more data sources are now connected and accessible, and cheap computing power is now available both on the desktop and in the cloud.
The specific skills needed for advanced data analytics will still comprise of the fundamentals like statistics, modelling, mathematical optimisation, and so on. New skills such as machine learning, cognitive technologies and artificial intelligence will also need to be brought into the organisation.
Substantial benefits are possible
Any initiative to enhance an organisation's analytics capabilities and maturity will take time and likely be part of a broader digital transformation program. However, it is likely to prove worthwhile. Ongoing disruptions in the global supply chain will continue to impact on manufacturing business in unpredictable ways. Forecasting and understanding the impact of these disruptions makes it more important than ever for organisations to work at becoming more mature in their approach and usage of analytics, and better using the data they already have.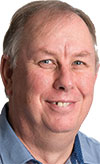 Gavin Halse
Gavin Halse is a chemical process engineer who has been involved in the manufacturing sector since mid-1980. He founded a software business in 1999 which grew to develop specialised applications for mining, energy and process manufacturing in several countries. Gavin is most interested in the effective use of IT in industrial environments and now consults part time to manufacturing and software companies around the effective use of IT to achieve business results.
For more information contact Gavin Halse, Absolute Perspectives, +27 (0)83 274 7180, gavin@gavinhalse.com, www.absoluteperspectives.com
Credit(s)
Further reading:
Case History 179: Some unusual measurement and control problems
September 2021, Michael Brown Control Engineering , Editor's Choice
The example given in this article illustrates some mistakes made by the system integrators and control engineers at a metals extraction plant that used a well-known make of PLC and scada for its controls.
Read more...
---
Tag-specific requirements in RFID systems for track and trace
September 2021, Turck Banner , Editor's Choice, Industrial Wireless
The BL ident complete RFID system from Turck Banner offers solutions in the HF or UHF range with interfaces for use in a plant or switch cabinet.
Read more...
---
Security for operational technology: Part 2: How much of a cyber threat are people to OT systems and what can be done?
September 2021, Wolfpack Information Risk , Editor's Choice
The recent cyber-attack on Transnet is a wake-up call that South African companies are not immune from cyber threats.
Read more...
---
Loop Signatures 8: Final control elements – Part 4: the infamous stick-slip cycle
August 2021, Michael Brown Control Engineering , Editor's Choice
An inherent phenomenon occurring in most control valves that few people are aware of is 'stick-slip'.
Read more...
---
OT the executor, IT the overseer, IIoT the enabler
August 2021 , Editor's Choice
It is a fascinating and daunting time to be working as professionals in the OT and IT worlds.
Read more...
---
Of gorillas and swarms – the manufacturing CIO's new dilemma
July 2021, Absolute Perspectives , Editor's Choice
Back in the heyday of integrated business systems, the manufacturing CIO was faced with a relatively simple choice: which big ERP vendor to select and what database technology to run the system on?
Read more...
---
Case History 178: An over-filtered hydrogen flow loop
July 2021, Michael Brown Control Engineering , Editor's Choice
A good example that shows how lack of knowledge of the practicalities of control can result in terrible control characteristics.
Read more...
---
Loop Signatures 1: Introduction to the Loop Problem Signatures series
May 2020, Michael Brown Control Engineering , Editor's Choice
Over the years I have had many requests to write a book giving more detailed explanations of some of the problems I have encountered in my work on practical loop optimisation. I am by nature and inclination 
...
Read more...
---
Loop Signatures 7: Final control elements – Part 3 hysteresis and deadband
June 2021, Michael Brown Control Engineering , Editor's Choice
Some of the biggest problems associated with the final control element are hysteresis and backlash.
Read more...
---
MES, OT and the IIoT – what's required for digitalisation?
May 2021 , Editor's Choice
Hand over the data decisions to the OT guys? Calm down IT professionals, there is a time and a place for everything.
Read more...
---