printer friendly version
Adroit Technologies launches Adroit 10 Smart SCADA
June 2017
SCADA/HMI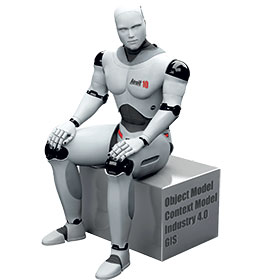 Adroit 10 is the latest product offering from Adroit Technologies. It is at the forefront of the scada/HMI market and is one of the most open, advanced and scalable scada platforms available. Adroit 10 is a real-time data acquisi-tion and reporting software that is not limited to industrial automation, but is extensively used in mining, building management, water management, network management, manufacturing and the IIoT markets.
Adroit 10 Smart SCADA
Adroit 10 provides support for both X86 and X64 architectures
Whilst Adroit 10 provides continued support for the existing Adroit product release on the 32 bit Windows Operating System the new Adroit 10 is now also available as a true 64 bit product designed to take full advantage of the 64 bit Windows OS's available. Whereas the 32 bit architecture supported up to 4 GB RAM allocation on the 64 bit OS, the new 64 bit Adroit 10 takes full advantage of the 250 GB RAM allocation, making it ideal for new and existing large scada implementation projects.
Adroit 10 supports most devices
With over 100 native drivers, Adroit 10 supports most commonly used PLCs and RTUs including Mitsubishi, Omron, Modbus, Siemens, Alan Bradley and OPC.
The new OPC UA (OLE for Process Control Unified Architecture) client driver can communicate with OPC UA servers in accordance with the OPC UA specification.
Architecture of Adroit 10
Adroit is built on the tried and tested client-server architecture, where the Agent Server (I/O server) communicates with field devices and performs the functions of scanning, logging, alarming and value processing. The client side (Classic and Smart user interfaces) provides the capability of configuring, displaying, manipulating and delivering the values in a rich, secure user interface.
Key enhancements of Adroit 10 that improve engineering time
Object Model
The Object Model enables users to utilise the existing, or their own, wizards in Adroit to create composite objects that can have associated tags and server configuration, as well as the required visualisation associated with the object – taking reusability and ease of engineering to the next level.
The objects that can be created will typically be items of equipment, like pumps, fans and conveyors, but can be anything that will be used time and again. When using a new object the visualisation, tags, scanning and alarming are created at the time of configuration, saving the engineer time.
Context view
The context view is a means of creating keywords to classify existing objects so that they can be searched for, or grouped together. Users create their necessary keywords when they define their object model templates and define different 'contexts' or 'views' within the Smart UI for a project. For example, keywords can be created to describe a specific object like a motor by: 'name', 'current', 'manufacturer' and 'power'. In a context view, these motors can be displayed according to the keywords. For example, all motors with a specific power can be displayed in a context view.
This makes searching and managing the configuration easy and intuitive.
Demand scanning of tags
There is added support for the demand scanning of tags, which are only communicated when there are one or more subscriptions against them, for example a graphic form is open with the tag in it. Once the graphic form closes, if this is the only subscription to this tag, then communication of that tag will cease. The new OPC UA client driver supports demand scanning and Adroit is busy migrating additional drivers to support it. Using demand scanning in very large projects can significantly reduce the PLC network communications load.
Find and Replace Tag References utility
The Find and Replace Tag References utility has been added to the Project group of the Home tab of the Smart UI Designer ribbon. This utility enables users to find where a tag (agent name) has been referenced and used throughout a project (and Adroit datasources), which allows a reference list for this tag to be generated. The results can be exported to Excel, or replaced with another name, if required.
Features and improvements
Adroit 10 has many new features and improvements. The user interface has been changed; the product icons have been revised, updated, standardised and are now classified using different coloured vertical bars on their left hand side. Each colour represents a category; red for Clients, green for Diagnostics, grey for Servers, blue for Utilities and orange for Services.
The utility launcher has been added to provide a central location from which the installed scada utilities can be launched, instead of installing a host of separate shortcuts for each individual utility. The launcher also allows the supported command line options, and by right clicking the utility, users can specify which command line options are supported when launching the utility. This shortcut is now installed on the Desktop.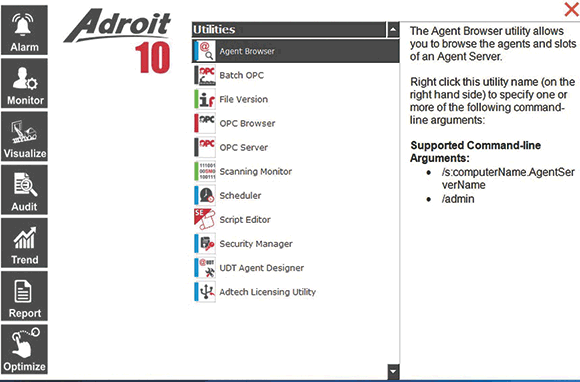 SCADA Utility Launcher.
The web browser is enhanced to support the latest web clients, which allows users to display content that was previously not possible, such as hosting the Adroit Report Suite in the Operator. Graphic forms in Adroit 10 have an improved loading time.
Adroit 10 goes mobile
The Performance Anywhere HTML5 client is included as an installable component of Adroit 10. This application can be opened on a mobile device or Internet browser. Performance Anywhere allows users to create numerous pages in which they place and configure widgets (controls). A widget can either display a series of images like a slide show, or display one or more images based upon the current value of a tag. Performance Anywhere enables users to have a view of their plant including trends, alarms and status updates using a WiFi or Internet connection, locally or globally.
This can be done at greatly reduced cost, making plant data available and accessible to many and improving productivity.
Additional values added to gauges
The user interface has changed to configure the gauges with additional values. Gauges can be customised with additional values. The Sub Values tab allows users to add additional values to the gauge. The following sub values are provided, rectangle needle, triangle needle, two colour needle, range bar, triangle marker and a text cloud.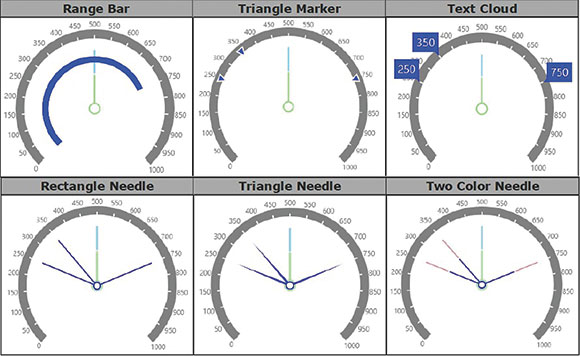 Customised gauges.
Enhanced Agent Browser
The Agent Browser utility has been enhanced. The Agent Browser dialog is resizable, and when the selected slot is a List slot then a browse button (a horizontal ellipse) is displayed to the right of the slot value. When this button is clicked, the contents of this List slot are displayed in a table with the required headings.
Double clicking an agent displays a dialogue that allows users to view the real-time status of an agent at a glance. By default this displays a categorised view, although the Sorted checkbox can be checked to display an alphabetical listing.
The other agents of the selected agent type may be viewed using the Previous/Next buttons or Page Up/Page Down keys. When launched in admin mode, users can add or remove agents from it using the + or – buttons of the Agents list.
Network management and troubleshooting
The ICMP (Internet Control Message Protocol) or Ping agent has been added to troubleshoot network problems. By continuously polling the specified remote IP address, this Adroit Agent Server is able to identify potential network problems as they occur by generating alarms when errors are obtained when attempting to contact the specified remote IP address, or when the round trip time exceeds specified High and High-high times. This makes it easy to find problem areas within a control network before they become serious.
The enhanced SNMPMgr agent has been added and replaces the SNMPManager agent. Any existing SNMPManager agent is converted to SNMPMgr agent when the Agent Server loads. It supports up to SNMP version 3 and allows an MIB file to be browsed in, in order to select which OID values users need to monitor, control or trap.
End-user and SI support
Site auditing and onsite support can be offered as an annual agreement. Telephonic and remote desktop support is offered free during office hours. Adroit 10 supports the latest installed version of Internet Explorer (IE11).
Credit(s)
Further reading:
Will the IIoT kill scada, or lift it to new heights?
Technews Industry Guide: Industrial Internet of Things & Industry 4.0, Adroit Technologies , SCADA/HMI
Dave Wibberley, managing director, Adroit Technologies, shares his views on where scada is headed in the era of the Industrial Internet of Things.
Read more...
---
Bridging the gap to the Industrial Internet of Things
Technews Industry Guide: Industrial Internet of Things & Industry 4.0, Adroit Technologies , IT in Manufacturing
The Adroit Enterprise IIoT platform is a customisable software platform that enables users to deploy and integrate cloud-based sensor data with normal telemetry data using protocols such as MQTT, Sigfox 
...
Read more...
---
Adroit brings M2M, IoT and IIoT to the industrial world
June 2019, Adroit Technologies , Industrial Wireless
Combining the new IIoT capability with GIS interfaces, situational awareness and alarm management data, all can use the big data and analytical processing capability of Adroit's standard scada Intelligence software package to derive greater insights and value from their processes.
Read more...
---
Collaborative robots
Africa Automation Fair 2019 Preview, Cobots , SCADA/HMI
Cobots is showcasing its range of collaborative robots. These robots make it simple and affordable for humans and machines to work together without a safety cage. Cobots can easily be implemented in small 
...
Read more...
---
Factory automation solution
Africa Automation Fair 2019 Preview, Adroit Technologies , IT in Manufacturing
As the official authorised distributor for Mitsubishi Electric's Factory Automation, Adroit Technologies is profiling a range of products including PLCs, drives, HMIs and robots. These together make possible 
...
Read more...
---
Adroit chooses Sigfox for smart water project
May 2019, Adroit Technologies , IT in Manufacturing
Adroit Technologies has chosen the Sigfox IoT network for a large municipal Smart Water IoT project. Managing director, Dave Wibberley, states that the company is excited about being involved in this 
...
Read more...
---
Machines that manage real-time resources
Africa Automation Fair 2019 Preview, Motion Control Systems , SCADA/HMI
iBOS Industrial is changing the way we maintain and respond to machine level events with technology that effectively manages real-time resources (people) from the machine level.    Health and safety, 
...
Read more...
---
New benchmark scada software platform
March 2019, Adroit Technologies , SCADA/HMI
MAPS 4, the latest scada solution for control and visualisation from Adroit Technologies, extends connectivity options, adds user tools and increases the scope of its built-in functionality. The result 
...
Read more...
---
Operator guided solutions
December 2018, Adroit Technologies , IT in Manufacturing
At parts assembly production sites, where parts are picked from stock, it is almost inevitable that picking mistakes will occur. As parts become more complex and their component types increase, the problem 
...
Read more...
---
Inductive Automation's I­gnition technology offers potential to ­disrupt the market
July 2018, Mzukulu Technologies , SCADA/HMI
'Ignition by Inductive Automation' is an industrial software platform with a variety of modules that can be combined to create custom HMI, scada and MES solutions.
Read more...
---