printer friendly version
5G – the wireless network of the future
December 2019
Industrial Wireless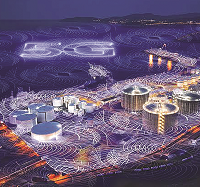 Mobile wireless network standards, starting with 1G, have been shaping our mobile communication for years. While previous developments have focused on improved usability in the public sector, the new 5th generation standard (5G) is all about the benefits and potential applications in many different industries. Essentially, it deals with greater bandwidth, improved reliability, lower latencies and a greater number of connected devices. Siemens has therefore committed itself to this new communication standard from the outset and is supporting standardisation and industrial implementation.
Everyone is talking about 5G and industry is, above all, anticipating many benefits and future-oriented potential from the new mobile network standard. However, this development has not simply 'dropped in industry's lap'. In fact, the 2G to 4G mobile phone generations have already had a significant impact on industrial progress. For example, 2G enabled RTUs to send text messages and 3G provided remote access, e. g. for remote maintenance. 4G finally allowed high-performance remote mobile access to plants. 5G will provide substantial increases in bandwidths and network reliability and delays will drop to almost zero. The 3rd Generation Partnership Project (3GPP) which, amongst other things, is responsible for global standardisation of mobile networks, created a vision for 5G which has three key scenarios. The first, enhanced Mobile Broadband (eMBB), covers improvements in bandwidth compared to 4G. The main objective is the realisation of data-driven applications which require high data rates with global, large-scale network coverage. A typical example is the growing need for HD high-quality streaming of music and videos on mobile devices such as smartphones. It is also possible to envisage augmented-reality applications for industry which would support field engineers.
The second scenario, Ultra-Reliable Low-Latency Communication (URLLC), offers high reliability and low latency for demanding industrial applications. Typically, this includes mobile robots, autonomous logistics, driverless transport systems (DTS), or even safety applications.
The third scenario, massive Machine-Type Communication (mMTC), focuses on connecting a large number of devices in a small space. In practice, this frequently means applications for the IIoT, where a unit area typically has a high device density. The devices continuously send or receive the data but over longer intervals so that only an extremely low bandwidth is utilised. Another example could be the process industry where many sensors are installed (e.g. for temperature, pressure, flow) to support process monitoring in a plant.
Step-by-step to the new standard
Despite all the euphoria, it is worth remembering that not all 5G functionalities will be available immediately. In fact, a sequence of releases already exists with, for example, Release 15, with the focus on eMBB, being adopted in 2019. Releases 16 and 17 will support the two remaining scenarios and have more relevance for industrial applications.
For more information contact Jennifer Naidoo, Siemens Digital Industries, +27 11 652 2795, jennifer.naidoo@siemens.com , www.siemens.co.za
Credit(s)
Further reading:
Simplifying machine setup
June 2020, Siemens Digital Industries , Motion Control & Drives
Strausak Mikroverzahnungen specialises in the manufacture of high-precision machinery used in the watchmaking and apparatus manufacturing industries. To enable the continued precise machining of parts 
...
Read more...
---
A new approach to wireless networks
June 2020, EOH Process Automation Solutions. , Industrial Wireless
The Instrument Area Network (IAN) has been developed by Schneider Electric as a cost-efficient and flexible industrial wireless network as an alternative to more costly systems. Bluetooth communication 
...
Read more...
---
High-speed dependable underground communication system
June 2020, Becker Mining South Africa , Industrial Wireless
Becker Mining South Africa's Electronics Division specialises in automation and communication systems, which are designed to enhance productivity and improve safety in the mining sector. The company 
...
Read more...
---
Software for locating system
June 2020, Siemens Digital Industries , IT in Manufacturing
Siemens has introduced its new 'Location Intelligence' software, which expands the Simatic RTLS (real-time locating system) to include the digital twin. The web-based software analyses and visualises 
...
Read more...
---
Rugged wireless gateway for Ex areas
April 2020, Comtest , Industrial Wireless
Comtest – local representative of Industrial Scientific, a global leader in gas detection – has introduced the RGX Gateway, which enables designated safety contacts to receive real-time alerts for gas 
...
Read more...
---
New 80 GHz compact radar transmitters
May 2020, Siemens Digital Industries , Level Measurement & Control
Siemens has introduced the Sitrans LR100 series 8 GHz radar level transmitters, a compact instrument with a narrow beam for flexible installations in existing vessel openings or even non-intrusively through 
...
Read more...
---
New network management solution
May 2020, Siemens Digital Industries , IT in Manufacturing
Industrial networks are growing more and more complex. Powerful industrial networks are no longer defined by hardware alone – the right network management is essential. The Sinec software family offers 
...
Read more...
---
Water management from Siemens optimises flood control
April 2020, Siemens Digital Industries , System Integration & Control Systems Design
The Erftverband is an organisation that includes municipalities, counties, industry and utilities, and as a public corporation it is responsible for cleaning private and industrial wastewater along the 
...
Read more...
---
Engineering framework ready for continuous software development
April 2020, Siemens Digital Industries , IT in Manufacturing
With the new Totally Integrated Automation (TIA) Portal V16, Siemens has expanded its engineering framework with practical new functions for various phases from planning to engineering to commissioning. 
...
Read more...
---
IO-Link data communication through to the cloud
April 2020, Pepperl+Fuchs , Industrial Wireless
Continuous data communication from the lowest sensor/actuator level to the cloud is becoming increasingly important across the entire industrial environment. For the logistics sector in particular, where 
...
Read more...
---