printer friendly version
Plan your media strategy with Technews Publishing
November 2019
News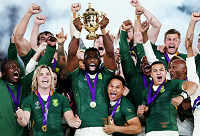 Dear Marketer,
Have you ever looked back on a year and wondered how you survived it? For the majority of South Africans, 2019 started benignly enough, cosily wrapped in the blanket of Ramaphoria that enveloped us all at the end of last year. By the beginning of February though, the blanket had worn thin, and in the months that followed, it offered little comfort against the chill of bad news sweeping the country.
It all culminated on Saturday 2 November in a headline to the effect that ratings agency Moody's had revised its assessment of South African government debt from stable to negative. But this time there was a glimmer of hope. The Springbok rugby team had made it all the way to the final of the World Cup, where they would face England later that day. The rest is history. Thanks to the power of sport, 57 million South Africans will end the year filled with pride in the belief that anything is possible if we stand #StrongerTogether.
As we start planning for next year, let's take this strong and positive attitude forward into a new decade of marketing challenges. At Technews Publishing, we're energised, ready and can't wait to tell you about our new vision and offerings. We'd like nothing better than to help you design a custom media strategy that enables you to look back on every year with this same sense of pride.
Click here to download the 2020 media profiles of your choice.
But before you do, please take note of these key points which apply to all our publications:
• Keep a keen eye on our successful traditional offerings, but also be alert to the new features/sectors in all our magazines, as well as some completely new platforms: an online supplement on Home Automation (including home security), Tech Jobs Network job portal, conferences, and breakfast seminars.
• Our integrated offering of monthly print issues, annuals, website, news briefs, direct mailers and conferences enable readers to access content in whatever form suits them at anytime. And marketers can promote their company through whichever platform suits their objective.
• Savvy business-minded readers and marketers understand the value of our targeted audiences with content that has been vetted by our experienced and qualified editors.
• Our circulation team carefully monitors all our deliveries and SAPO is currently stable. However, we have converted a significant number of our readers to delivery via courier to mitigate any possible future instability - 64% so far, and climbing.
• All our websites are responsive – meaning content and advertising formats work with whatever device the reader is using.
• Our online ads target readers of our news briefs and online publications only, so our advertisers know that they are being seen by the right people.
• We run our own ad server with strict click-fraud mitigation systems.
Contact us now so together we can design your 2020 media strategy.
For more information contact Malckey Tehini, +27 11 543 5800, malckey@technews.co.za
Further reading:
From the editor's desk: The power of 23
December 2019, Technews Publishing (SA Instrumentation & Control) , News
Have you ever looked back on a year and wondered how you survived it? For the majority of South Africans, 2019 was such a year. It started benignly enough, cosily wrapped in the blanket of Ramaphoria 
...
Read more...
---
Robust absolute linear position measurement
December 2019, ATI Systems , News
Temposonics, an MTS Systems company, is a leading supplier of magnetostrictive sensors, which are rapidly becoming the transducers of choice in many applications.
Read more...
---
Honeywell helps transform petrochemical operations
December 2019, Honeywell ACS South Africa , News
Honeywell has announced that Braskem Idesa has adopted a hands-free, wearable connected technology solution at its plant in Veracruz, Mexico. Honeywell's Intelligent Wearables will allow Braskem Idesa 
...
Read more...
---
Lonza selects Rockwell Automation for digital transformation of pharmaceutical operations
December 2019, Rockwell Automation , News
Lonza has selected Rockwell Automation for the turnkey implementation of the strategic vision to bring the digital factory to nine facilities that manufacture drug capsules. The Swiss-based company, founded 
...
Read more...
---
Rocket car arrives in South Africa
December 2019 , News
The Bloodhound LSR car has arrived at Hakskeenpan, the dry salt lake bed in South Africa's northern Cape province, where over the next month a 25-strong crew will run tests that may see it exceed 800 
...
Read more...
---
Europe's largest-ever Emerson Users Conference to be held in Milan
December 2019, Emerson Automation Solutions , News
The largest-ever Emerson Global Users Exchange in Europe will be taking place in Milan, Italy, in 2020. The biennial conference will be held at the Milano Convention Centre from March 18 to 20, with current 
...
Read more...
---
World record for Festo's BionicOpter
December 2019, Festo , News
The Festo BionicOpter will be included in the 2020 Guinness World Records. The chapter 'Robots' presents the most amazing records from the world of super robots and artificial intelligence. The Festo 
...
Read more...
---
BMG's Food & Beverage Expo voted a success
December 2019, Bearing Man Group t/a BMG , News
BMG's recent Food & Beverage Expo, held at the BMG World distribution and engineering facility, has been voted a great success. "Highlights of the event included presentations from guest speaker, Linda 
...
Read more...
---
BI leverages synergies across Hudaco Group
December 2019 , News
As part of the Hudaco Group, Bearings International (BI) is able to leverage synergies across a broad range of companies, meaning it can offer a complete product basket across its branch network countrywide. In 
...
Read more...
---
Nidec extends warranty on Commander drives
December 2019, Nidec , News
Control Techniques has launched a free, five-year warranty for its Commander range of general-purpose drives. Anyone who purchases a drive from the Commander range will now be able to register to extend 
...
Read more...
---