printer friendly version
Compact design electromagnetic flow measurement
December 2019
Flow Measurement & Control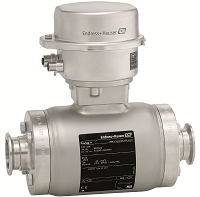 Whether in the life sciences or in biotechnology, whether in the food or chemical industries – global competition is steadily increasing. Ever more companies are implementing their process facilities in a very short time by following a 'modular principle'. The production units and skids required for this include a wide variety of measurement and control technology devices fitted into the smallest possible space. Therefore, customers require more and more compact and space-saving devices without limitations on functionality. This also applies to electromagnetic flow measurement. The Promag 100 from Endress+Hauser was specially designed for such applications.
Ultra-compact transmitter design
Promag 100 combines a decades-long proven sensor technology with ultra-compact transmitter electronics without any compromise. As a multivariable flowmeter, it also opens unimagined possibilities for optimal control and monitoring of individual process units, e.g. for heating, cooling, distillation, fermentation (bioreactors), product filtration, phase separation or inline cleaning.
High transparency and security in the process
The Promag 100 has a new feature: in addition to volume flow, the fluid conductivity as well as the temperature can now be measured directly. This makes it possible to monitor the process comprehensively and with high accuracy around the clock with the following benefits:
• Accurate measurement and dosing of substance amounts.
• Assured compliance with guidelines and regulations.
• Reduction of operating costs by means of proven, space-saving measuring devices.
Innovative measuring electronics in miniature format
The miniaturised measuring electronics in ultra-compact format not only have the same functionality as a traditional device, but also include a web server for intuitive operator access. This opens up completely new service and commissioning options. Examples cover simple access to measuring instruments and diagnostic data, on-site configuration of instrument functions without additional interfaces, or upload and download of configuration data for commissioning other identical measuring points. Permanent self-diagnostics (Heartbeat Technology) and a service-friendly data storage concept (HistoROM) guarantee safe operation around the clock. The electronics housing is available in aluminum or stainless steel, as well as in an ultra-compact hygienic version with pre-configured plug connectors.
Seamless system integration
Promag 100 is adapted for every environment. The seamless system integration via HART, Modbus RS-485 or EtherNet/IP is as straightforward as the wide variety of process connections, such as weld neck, hygienic clamp connections, couplings, threaded adaptors or flanges. The wide range of approval types (Ex, EHEDG, 3A, ASME BPE, FDA, etc.) ensures the highest level of safety in operation and compliance with specified regulations.
Industry-optimised sensors
All Promag 100 measuring devices are tested and certified on accredited, fully traceable calibration facilities (ISO/IEC 17025). This guarantees greatest measuring accuracy and repeatability, even in long-term operation.
Both the Promag H and the Promag P sensor are available with different equipment packages, allowing them to be matched optimally to the process conditions. These variants include corrosion-resistant linings made of PFA or PTFE, various measuring electrodes made of acid-resistant materials or SIP- and CIP-compatible seals for the Promag H.
Both Promag sensors offer full functionality where space is at a minimum, simultaneous measurement of multiple process variables, excellent and traceable accuracy and a long record of proven performance in the field.
For more information contact Natlee Chetty, Endress+Hauser, +27 11 262 8000, info@za.endress.com, www.endress.com
Credit(s)
Further reading:
How IIoT solutions can help your plant go digital
June 2020, Endress+Hauser South Africa , IT in Manufacturing
Everyone is talking about the new normal, a shift that is forcing companies to adopt a digital strategy, one way or another, in order to remain relevant and competitive in these unprecedented times. Many 
...
Read more...
---
Flexim perfects the steam flowmeter
June 2020, Actum Group , Flow Measurement & Control
Flexim is proud to announce the manufacture of a robust, user-friendly and industry-certified ultrasonic steam flowmeter solution. For this accomplishment, the company has been nominated for the 2020 
...
Read more...
---
Emerson introduces software for flow measurement
June 2020, Emerson Automation Solutions , Flow Measurement & Control
Emerson has released Micro Motion ProcessViz, a standalone, cost-effective software solution for flowmeter process data visualisation. Having an instant visualisation of raw process data translates into 
...
Read more...
---
Endress+Hauser sees itself as well positioned
May 2020, Endress+Hauser South Africa , News
Endress+Hauser performed well across all fields of activity, industries and regions in 2019. The Group created hundreds of new jobs, invested record amounts and improved in the area of sustainability. 
...
Read more...
---
Exceeding the limits
June 2020, ifm - South Africa , Flow Measurement & Control
The new SM flow from ifm electronic.
Read more...
---
The complexity of water management in mines
June 2020, Endress+Hauser South Africa , Flow Measurement & Control
Water is a critical resource for the mining industry, either in the mining processes, as a feed to the beneficiation of minerals process, or for potable use. With the growing demand and increased scarcity 
...
Read more...
---
Endress+Hauser partner programme is gaining importance through IIoT solutions
June 2020, Endress+Hauser South Africa , IT in Manufacturing
How can field instruments and components be easily integrated into automation systems? The answer is becoming increasingly important as industrial production digitalisation progresses. The Endress+Hauser 
...
Read more...
---
@Ease with Endress+Hauser
May 2020, Endress+Hauser South Africa , IT in Manufacturing
Focus on customer experience.
Read more...
---
Electromagnetic flowmeter upgrade
May 2020, Instrotech , Flow Measurement & Control
Instrotech has announced that the Kobold magnetic inductive flowmeters MIM and MIS have been upgraded and further developed as follows: Kobold MIM, for measuring and monitoring of conductive liquids, 
...
Read more...
---
Ultrasonic transducer with mini horn array
May 2020, Emerson Automation Solutions , Flow Measurement & Control
Emerson has released the Daniel T-200, a titanium-housed transducer, for its gas ultrasonic flowmeter product line, marking the first use of metal 3D printing to enhance the acoustic performance of ultrasonic 
...
Read more...
---