printer friendly version
SAIMC: Durban branch
October 2019
SAIMC
The Durban branch's September technology meeting was opened by our COO, Johan Maartens, giving a brief overview of the reasoning behind the changes to the SAIMC's organisation. He clearly and concisely explained the benefits in terms of our ability to influence policies through formation of a Suppliers Advisory Council, with us now having representation on President Ramaphosa's working group on Industrie 4.0. The revised structure will remove the existing requirement for the majority of Council members to be ECSA Registered.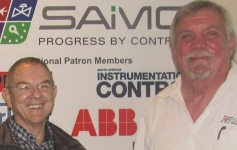 SAIMC COO, Johan Maartens (L) with branch Chairman Hennie Prinsloo.
The meeting continued with Robert Wright, MD of RJ Connect, who began his talk by observing that there is a need to look at what Industrie 4.0 can do for us in real life. There are plenty of seminars on the subject with lots of theory, but not so much about plans that exist for it to be applied or what the next step may be.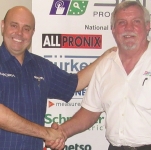 Robert Wright, RJ Connect (L) being thanked by Hennie Prisloo.
Rob focused on a practical application in which a Computer Numerically Controlled (CNC) machine's production was optimised through the use of cloud-based systems and applications. The need for using Big Data was graphically demonstrated by the huge contrast between information obtained at very different sampling rates; only the high sampling rate making determination of cutting tool life expectancy predictable so that finished product quality remained satisfactory. In most production facilities, checking the end product is not the answer to plant optimisation if use of information from within the process can reveal where an item or procedure is nearing the point of failure. No talk on this topic would be complete without discussing the need for data security, and also the cost of implementing more extensive use of cloud-based systems, both of which were brought to everyone's attention.
Hennie Prinsloo thanked Rob for his interesting and very informative talk before the large group of more than 60 adjourned to enjoy networking over food and drinks to the usual high standard of the Durban Country Club. It was gratifying to see that 13 students were among those benefiting from attending the meeting.
Kind regards,
John Owen-Ellis (Durban Branch Secretary)
Credit(s)
Further reading:
Obituary: Steven James Meyer
January 1957 - January 2022
Technews Publishing (SA Instrumentation & Control) News SAIMC
It is with deep sadness and shock that we announce the sudden death of SA Instrumentation & Control Editor, Steven Meyer. Steven joined Technews in October 2007 in the position of Deputy Editor. His 
...
Read more...
---
SAIMC: From the office of the CEO
SAIMC SAIMC
I trust that you all had a wonderful holiday season and are rested and ready to start another year of hectic activity. For some people, the holidays are the highlight of their year, while for others, 
...
Read more...
---
SAIMC: Johannesburg branch
SAIMC SAIMC
During another full month, the Johannesburg team had the pleasure of hosting the branch year-end function, as well as a technology evening presented by turboTRAIN. The year-end function was a spectacular 
...
Read more...
---
SAIMC: Cape Town branch
SAIMC SAIMC
The Cape Town branch management team would like to thank all members for their support in 2021 and wish everyone all the best for 2022. Presented by by Dhiren Naidoo, the last technical evening 
...
Read more...
---
SAIMC: Durban branch
SAIMC SAIMC
On 3 November the branch was treated to an informative presentation, given by Dewald Smit of Festo, using Zoom as the virtual medium. He provided a well-balanced comparison of the relative advantages 
...
Read more...
---
SAIMC: From the office of the CEO
SAIMC SAIMC
Covid-19, vaccination and 5G are both culprits when it comes to the subject of rumours, false information and scare-mongering. I will not be talking about Covid as this is a highly controversial subject. 
...
Read more...
---
SAIMC: Durban branch
SAIMC SAIMC
The branch held its virtual technology meeting, as always, on the first Wednesday of October. Diogo Fidalgo from R. STAHL South Africa presented on the very interesting topic: HMI and camera solutions 
...
Read more...
---
SAIMC: Johannesburg branch
SAIMC SAIMC
The branch had the good fortune of hosting two technology events this month, but due to the Covid-19 virus threat and the current lockdown situation, the management team has decided to do virtual training 
...
Read more...
---
SAIMC: Vaal branch
SAIMC SAIMC
The branch hosted Kenneth M
c
Pherson from Turck Banner during the month of September, when he presented on the role that IO-Link can and probably will, play in the Industry 4.0 workplace.       Most 
...
Read more...
---
SAIMC: From the office of the CEO
SAIMC News
Last month I elaborated on the big question: What are assessors looking for? Today I would like to talk to you about the new CPD requirements. This is especially important to companies who will apply 
...
Read more...
---