printer friendly version
SAIMC: Johannesburg branch
October 2019
SAIMC
The August technology evening we was hosted by Yokogawa at the Bryanston Sports Club. The theme was to find out more about the difference between a PLC and a DCS, where the PLC came from, some PLC theory, why we use both, and some of the components of these systems.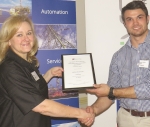 Ann de Beer (left) thanks Anton van der Linde after the presentation.
In bygone years all manufacturing processes were manual, people filling, labelling and packaging. General Motors Corporation decided they needed an automated system which could be easily programmed, easily maintained and reused in future applications. Initially PLCs were used for digital control like conveyor belts, on-off control, timers, counters etc. Now, applications for PLCs include energy management in buildings, steel making, breweries, food and beverage and countless others – but why then a DCS?
A DCS is generally a software platform for everything with enhanced databases, PID control, graphics and tags. A PLC system generally works from the field devices to a controller running on one network, the DCS can bring numerous controllers and networks together and distribute this information to engineering, HMIs, all the way up to business integration control.
We were taken through the questions you need to ask yourself before deciding on a PLC or DCS. Questions like: Will you be doing simple or complex control? What is the value of product manufactured and the cost of downtime? What does the operator need to be successful?
All this led to some lively debate and discussions of actual examples that individuals had experienced in their plants.
Ladies Tea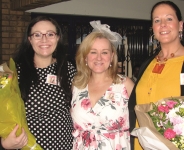 SAIMC president Annemarie van Coller (left) with Johannesburg branch chairman Ann de Beer (centre) and guest speaker Caroline Carter (right) at the ladies tea.
The Ladies Tea was held on the 23 August to celebrate woman's month. What a privilege to spend some quality time in the open air with the ladies of our industry.
Caroline Carter (marketing & customer relations manager) outdid herself with a unique outlook on 'Women as the Instruments of Measurement and Control'. She gave wonderful insight on how as the measures of control, women now influence business decisions in a traditionally male dominated industry.
SAIMC president Annemarie van Coller also addressed us with words of encouragement. It is so very important in the world we live in to motivate, encourage and support one another.
The day was a huge success and will be repeated in 2020. The branch thanks everyone for their attendance and support.
Credit(s)
Further reading:
SAIMC: From the office of the CEO: The changing world
SAIMC SAIMC
Following a vote, MESA Africa will be integrated as a group within the SAIMC and will continue to be responsible for all MES/MOM activities.
Read more...
---
SAIMC: Durban branch
SAIMC SAIMC
The Hennie Prinsloo Golf Day
May weather in Durban? Beautiful! And the weather on 6 May for the Durban branch golf day did not disappoint. It was clear, sunny, warm (dare we say hot?) and just beautiful 
...
Read more...
---
SAIMC: Cape Town branch
SAIMC SAIMC
The SAIMC Cape Town management team would like to thank Robert Wright and RJConnect for the great presentation and hopes to hear from him again in the future.
Read more...
---
SAIMC: From the office of the CEO
SAIMC SAIMC
Most people are aware that South Africa has one of the highest unemployment rates in the world and that new technologies are about to make that even worse unless countries are prepared for it.
Read more...
---
SAIMC: Cape Town branch
SAIMC SAIMC
So well was his presentation received that after Bafana's allotted hour ended, the audience was not sated until another 40 minutes had passed.
Read more...
---
SAIMC: Durban branch
SAIMC SAIMC
4 May marks the branch's return to face-to-face technology meetings, including evening drinks and networking, followed by dinner.
Read more...
---
SAIMC: Secunda branch
SAIMC SAIMC
All instrumentation and control-related mechanicians, technicians and engineers are welcome to attend the upcoming monthly technology events on 5 May and 2 June.
Read more...
---
SAIMC: From the office of the CEO
SAIMC SAIMC
This year kicked off with South Africans rebelling against foreigners taking their jobs. Truck drivers were among these, saying that driving a truck is not a critical skill and therefore it should be 
...
Read more...
---
SAIMC: Durban branch
SAIMC SAIMC
During the Durban branch's AGM in February, the following people were appointed (with portfolios) to the management team:   
• Mark Calvert – general manager. • John Owen-Ellis – secretary. • Kevin 
...
Read more...
---
SAIMC: Cape Town branch
SAIMC SAIMC
The branch held its AGM on 27 January, which was hosted by current branch manager, Hein Ries, via a Microsoft Teams virtual meeting. Ries presented the goals and objectives for the Cape Town branch, and 
...
Read more...
---