printer friendly version
SAIMC: Johannesburg branch
October 2019
SAIMC
The August technology evening we was hosted by Yokogawa at the Bryanston Sports Club. The theme was to find out more about the difference between a PLC and a DCS, where the PLC came from, some PLC theory, why we use both, and some of the components of these systems.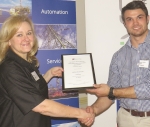 Ann de Beer (left) thanks Anton van der Linde after the presentation.
In bygone years all manufacturing processes were manual, people filling, labelling and packaging. General Motors Corporation decided they needed an automated system which could be easily programmed, easily maintained and reused in future applications. Initially PLCs were used for digital control like conveyor belts, on-off control, timers, counters etc. Now, applications for PLCs include energy management in buildings, steel making, breweries, food and beverage and countless others – but why then a DCS?
A DCS is generally a software platform for everything with enhanced databases, PID control, graphics and tags. A PLC system generally works from the field devices to a controller running on one network, the DCS can bring numerous controllers and networks together and distribute this information to engineering, HMIs, all the way up to business integration control.
We were taken through the questions you need to ask yourself before deciding on a PLC or DCS. Questions like: Will you be doing simple or complex control? What is the value of product manufactured and the cost of downtime? What does the operator need to be successful?
All this led to some lively debate and discussions of actual examples that individuals had experienced in their plants.
Ladies Tea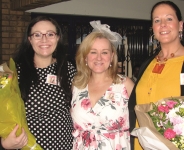 SAIMC president Annemarie van Coller (left) with Johannesburg branch chairman Ann de Beer (centre) and guest speaker Caroline Carter (right) at the ladies tea.
The Ladies Tea was held on the 23 August to celebrate woman's month. What a privilege to spend some quality time in the open air with the ladies of our industry.
Caroline Carter (marketing & customer relations manager) outdid herself with a unique outlook on 'Women as the Instruments of Measurement and Control'. She gave wonderful insight on how as the measures of control, women now influence business decisions in a traditionally male dominated industry.
SAIMC president Annemarie van Coller also addressed us with words of encouragement. It is so very important in the world we live in to motivate, encourage and support one another.
The day was a huge success and will be repeated in 2020. The branch thanks everyone for their attendance and support.
Credit(s)
Further reading:
Obituary: Steven James Meyer
January 1957 - January 2022
Technews Publishing (SA Instrumentation & Control) News SAIMC
It is with deep sadness and shock that we announce the sudden death of SA Instrumentation & Control Editor, Steven Meyer. Steven joined Technews in October 2007 in the position of Deputy Editor. His 
...
Read more...
---
SAIMC: From the office of the CEO
SAIMC SAIMC
I trust that you all had a wonderful holiday season and are rested and ready to start another year of hectic activity. For some people, the holidays are the highlight of their year, while for others, 
...
Read more...
---
SAIMC: Johannesburg branch
SAIMC SAIMC
During another full month, the Johannesburg team had the pleasure of hosting the branch year-end function, as well as a technology evening presented by turboTRAIN. The year-end function was a spectacular 
...
Read more...
---
SAIMC: Cape Town branch
SAIMC SAIMC
The Cape Town branch management team would like to thank all members for their support in 2021 and wish everyone all the best for 2022. Presented by by Dhiren Naidoo, the last technical evening 
...
Read more...
---
SAIMC: Durban branch
SAIMC SAIMC
On 3 November the branch was treated to an informative presentation, given by Dewald Smit of Festo, using Zoom as the virtual medium. He provided a well-balanced comparison of the relative advantages 
...
Read more...
---
SAIMC: From the office of the CEO
SAIMC SAIMC
Covid-19, vaccination and 5G are both culprits when it comes to the subject of rumours, false information and scare-mongering. I will not be talking about Covid as this is a highly controversial subject. 
...
Read more...
---
SAIMC: Durban branch
SAIMC SAIMC
The branch held its virtual technology meeting, as always, on the first Wednesday of October. Diogo Fidalgo from R. STAHL South Africa presented on the very interesting topic: HMI and camera solutions 
...
Read more...
---
SAIMC: Johannesburg branch
SAIMC SAIMC
The branch had the good fortune of hosting two technology events this month, but due to the Covid-19 virus threat and the current lockdown situation, the management team has decided to do virtual training 
...
Read more...
---
SAIMC: Vaal branch
SAIMC SAIMC
The branch hosted Kenneth M
c
Pherson from Turck Banner during the month of September, when he presented on the role that IO-Link can and probably will, play in the Industry 4.0 workplace.       Most 
...
Read more...
---
SAIMC: From the office of the CEO
SAIMC News
Last month I elaborated on the big question: What are assessors looking for? Today I would like to talk to you about the new CPD requirements. This is especially important to companies who will apply 
...
Read more...
---