printer friendly version
Safety systems for wrap-around packaging applications
February 2017
IS & Ex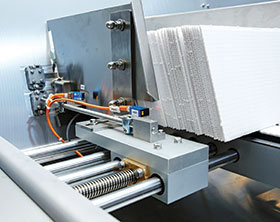 One of the beer market's most successful container sizes is the six-pack – whether it comes in the form of the classic six rings and cardboard sleeve, with a top-clip, or as a tray with a carrying handle.
To enable systems such as wrap-around machines to create these multipacks, blanks magazines provide a supply of flat carton blanks, which are extracted from their stack by a rotating collector or a vacuum gripper element, for example, before being set up in the machine.
Protecting the blank infeed against the risk of accidents
From a safety perspective, maintaining a sufficient quantity of carton blanks in the magazine provides a physical guard, as this blocks the opening between the blanks magazine and the actual packaging process, thus preventing the operator from having to reach directly into the moving mechanical parts of the machine. If the blanks magazine becomes empty, however, this area of the machine finds itself without protection and becomes accessible. Reaching into the parts of a machine while they are moving and therefore dangerous – during a material change or troubleshooting, for instance – poses a serious risk of injury. This must be prevented using appropriate safety-related measures – especially given that standard EN 415-7, 'Safety of packaging machines' requires protection for the kinds of openings in physical guards that are created by factors such as empty blanks magazines.
Safety without ergonomics or flexibility reduces productivity
To date, many applications have provided a protective function in the form of mechanical tunnels that are used to maintain the required minimum distance from the hazardous point. An alternative design involves positioning the magazine at a height that in some cases can only be reached using climbing aids. However, not only do both strategies offer little in the way of ergonomics, they also complicate the routine process of filling the magazine and make it extremely time consuming. What is more, they require significant additional work on the mechanical elements, need a large amount of space, and offer either no flexibility or only a little when it comes to changing carton formats.
Safe magazine monitoring with the Safeguard Detector
In recent years, intelligent sensor and control solutions have made it possible to achieve certain aims associated with both productivity and safety. The same has happened in monitoring applications for blanks magazines on packaging machines: The Safeguard Detector represents an alternative approach that ensures certified safety monitoring and, from a design perspective, opens up new possibilities for more ergonomic and space-saving machine configurations. The system solution consists of two MultiPulse photoelectric proximity sensors plus a modular Flexi Soft safety controller. As a certified system, the Safeguard Detector meets criteria up to SILCL2 in accordance with EN 62061 as well as PL d in accordance with EN ISO 13849.
The Safeguard Detector is a TÜV-certified safety system for detecting residual stacks of carton blanks in feed magazines used in machinery such as cartoners, tray packers, or wrap-around packers. It ensures that there is always a sufficient quantity of blanks available in the magazine, eliminating the need for operators to intervene in the machine's extraction and setup mechanisms. Not only is the system much more space-saving and ergonomic compared to physical guard solutions, it also offers unparalleled flexibility for format changes – offering significant cost and efficiency benefits for machine builders and operators alike.
The detector's MultiPulse sensors identify carton blanks in the blanks magazine and are able to detect both very light and very dark colours and surfaces on the blanks with outstanding reliability. The two sensors are connected to a modular Flexi Soft safety controller, which evaluates the MultiPulse sensor signals using certified function blocks. As soon as the MultiPulse photoelectric proximity sensors detect that the residual stack quantity is at a critical level, the Flexi Soft outputs are switched off and the machine stops safely. It then cannot be restarted until the blanks magazine has been refilled to a sufficient level.
Productivity and safety in harmony
Whether it is part of a new set of machinery or being retrofitted, the Safeguard Detector has sensor and control technology that is easy to integrate. The system ensures reliable monitoring of the required minimum quantity available in the blanks magazine – thus ensuring optimum availability and productivity of cartoners and wrap-around packers during the process of creating packaging units. Not only that, but it also provides machine operators with the utmost flexibility in cases involving changing blank formats. Thanks to their small sensor housing, the MultiPulse photoelectric proximity sensors require hardly any installation space. In contrast to tunnel systems, it is possible to keep the distances to the hazardous point short – which in turn ensures a small machine footprint. When a format change takes place, there is no need for any alterations in the layout of the safety-related equipment, as the side guides of the carton magazine consistently maintain the same distance from the contour of the format blanks. This monitoring method makes carton magazines easier to access and considerably more user-friendly – it takes hardly any time before the packaging machine is ready for new carton formats. Where machine operator protection is concerned, the Safeguard Detector has safety certification as a whole system, so there is no need for an additional safety review.
Prepared to handle overarching safety functions
The Flexi Soft safety controller can be custom-programmed with the user-friendly, licence-free Flexi Soft Designer configuration software. This allows the Safeguard Detector to be operated in a network with other safety applications that are typical of the kind associated with packaging machines. To enable this, the system provides appropriate modules for applications such as motion control. With Flexi Loop, sensor cascades can be connected as part of a Flexi Soft control solution. As a result, this provides an efficient way to monitor aspects of packaging plants, such as doors, protective flaps, and covers reliably – with minimum wiring required and maximum safety. Finally, optional fieldbus gateways offer numerous integration and diagnostics options as well as outstanding investment security.
With its ability to detect quantities available and prevent the risk of accidents, the Safeguard Detector from SICK is the ideal solution for automation and safety-related monitoring of blanks magazines on packaging machines.
For more information contact SICK Automation Southern Africa, +27 (0)11 472 3733, info@sickautomation.co.za, www.sickautomation.co.za
Credit(s)
Further reading:
Process safety transformed by TDL technology
Elemental Analytics IS & Ex
Servomex has introduced a new advantage to safety systems with its unique line lock technology incorporated into the latest tunable diode laser (TDL) analysers.
Read more...
---
Reduce the risk of shock and arc flash
Comtest IS & Ex
Comtest now offers a new Fluke tester to the market, which sources both AC and DC steady-state voltage for Hi-Z and Lo-Z instruments, thus simplifying safety compliance testing.
Read more...
---
Three key principles to build a strong safety culture
Comtest IS & Ex
To build a strong culture of safety, one first needs to create a climate that allows for adaptation and change.
Read more...
---
Preconfigured fail-safe circuit from Festo
Festo South Africa IS & Ex
The preconfigured Festo fail-safe circuit is ready to install in the control cabinet as a safe and low-cost alternative when it comes to fail-safe technology.
Read more...
---
Flameproof cable glands
Pratley IS & Ex
A new flameproof cable gland range from Pratley allows for soft-bedding cables like PVC to be fitted to flameproof equipment without any concern regarding cable damage.
Read more...
---
Gigabit intrinsically safe Ethernet
Extech Safety Systems IS & Ex
Eaton's 9470 product range provides cost-effective intrinsically safe (IS) Gigabit Ethernet equipment that can be installed and maintained easily in hazardous areas.
Read more...
---
Safety over IO-Link
ifm - South Africa IS & Ex
With the new AL200S PROFIsafe IO-Link module from ifm electronic, it is now possible to operate standard safety sensors and actuators via IO-Link.
Read more...
---
IS interface for signal processing
Endress+Hauser South Africa IS & Ex
Endress+Hauser's RN series interface modules power the foundation of measurement instrument loops and safety instrumented systems.
Read more...
---
Laser measurement for motion control
SICK Automation Southern Africa Sensors & Transducers
SICK Automation's new Speetec laser motion control sensor is now available in South Africa.
Read more...
---
Laser motion control sensor
SICK Automation Southern Africa Sensors & Transducers
SICK Automation's new Speetec laser motion control sensor is now available in South Africa.
Read more...
---