printer friendly version
High-end measurement technology from Beckhoff
February 2017
Maintenance, Test & Measurement, Calibration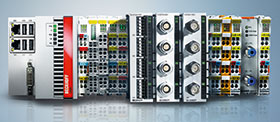 Beckhoff has extended its measurement technology portfolio with a new fast, high-precision measurement device series.
The new EtherCAT measurement modules open up opportunities in terms of accuracy, precision of measured values, cycle times, synchronisation and long-term measurement accuracy – the level of which is currently only offered by expensive dedicated devices when used in automation applications. Now, Beckhoff offers a system-integrated measurement solution, without platform or system gaps, for existing PC and EtherCAT-based control technology. The product portfolio now spans from simple analog 12-bit terminals to high-precision, 24-bit condition monitoring modules with a sampling rate of 50 ksamples/s.
Customer requirements in machine and plant engineering keep increasing with regard to cycle times, condition monitoring and predictive maintenance. High-precision measurement technology today is an important prerequisite to stay competitive. End of line test rigs have become the norm in production and packaging systems. In short cycle times, each end product must be individually checked or measured, and the data must be archived for subsequent tracking. Traceability places high demands on the measurement technology used, eg. it is necessary to provide factory calibration certificates, and the measuring reliability must be demonstrated continuously. In the past, it was often necessary to integrate external measuring equipment via bus systems, with correspondingly high overhead.
Beckhoff now offers an efficient, system solution through the introduction of a series of EtherCAT measurement technology modules that are tailored for these requirements. For example, each module has a unique identification number (ID), accompanied by a factory calibration certificate, if required. These EtherCAT measurement modules extend the existing Beckhoff measurement technology – consisting of analog standard measurement technology (12/16 bit), energy measurement and condition monitoring – with a new fourth series: high-speed, high-precision measurement technology.
A milestone in the world of automation
The new device class represents a milestone in the world of automation. It offers high-performance measurement technology with robust and user-friendly characteristics, designed for industrial applications with short assembly times and standard control cabinet installation environments. An additional feature is the comprehensive self diagnostics, which ensures long term reliability and low maintenance requirements in unattended operation. The EtherCAT measurement modules automatically and immediately detect any measuring errors, which otherwise would be frequently mistaken for valid data for prolonged periods. Corresponding diagnostic reports can be called up continuously via EtherCAT. The system is realised through:
• Comprehensive connection diagnostics for reliable detection of short circuits, broken wires and shunts.
• Comprehensive self tests and repeated internal checks.
• Continuous monitoring of temperature and input for detection of overload.
Although features such as high resolution, high measurement accuracy and high sampling rates have been available in laboratory measurement technology for a long time, Beckhoff now makes them available in a standard automation system. The combination of precision measure-ment technology and industrial automation standards opens up new technological advancement opportunities for manufacturers of conventional production machinery, inspection systems and testing equipment. At SPS IPC Drives 2016, Beckhoff launched an entry level class of EtherCAT measurement technology modules with sampling rates of 10-50 ksamples/s. This range will be extended in the future, based on real requirements found in customer applications.
Versatile EtherCAT measurement modules for test and industrial applications
The new devices are designed for versatile applications in industrial and testing environments. The available options include multi-function channels with numerous integrated measuring ranges (20 mV to 30 V, 20 mA, full/half/quarter bridge, SG (strain gauge), IEPE, thermocouple, RTD) and also price optimised versions with different numbers of channels.
The main feature of the EtherCAT measurement modules is the superior quality of the acquired data values, which is achieved through a range of measures:
• There is high crosstalk attenuation between the channels.
• High-quality, state-of-the-art components ensure particularly low-noise and dynamic measurement. The high 24-bit resolution, offering theoretically 256 times finer measure-ment resolution than the usual 16 bit, can be fully utilised. EtherCAT, with its 100 Mbit data rate, provides ample bandwidth for transmitting even hundreds of 24-bit channels with 10 ksamples/s.
• Special pretreatment ex-factory ensures that measurement technology exact synchronisation in < 1 μs enabled by EtherCAT Distributed Clocks, internally as well as externally with higher level clock measurement accuracy of 100 ppm and better, with high temperature stability depending on measurement range integrated connection and functional diagnostics to ensure long-term operational reliability.
• A shielding concept for analog cables was also implemented. This offers robust protection against interference and is also effective under vibration load.
• Low measurement uncertainty is achieved through high quality synchronisation in series and precisely logged dependencies of the influences: Beckhoff indicates the individual error components such as repeat errors, non-linearity, offset/gain errors and noise in the specification.
For some measuring ranges, a basic measurement accuracy of 100 ppm (0,01%) at 23°C is achieved, with high temperature stability. Although this is common in laboratory measurement technology, it is now revolutionary in the world of automation.
In the new entry level class, different sampling rates are available depending on the characteristics. The sampled values can be collected by any common EtherCAT master with 100-500 s cycle time using oversampling, including timestamp, and enable fine time resolution of measurements:
• 10 ksamples/s in multi-function terminals.
• 20 ksamples/s in the 2-channel versions U, I, SG (strain gauge).
• 50 ksamples/s in the 2-channel IEPE version.
The Extended Range function with the so-called 107% extension enables genuine measurement up to the nominal limit and beyond. This enables the full utilisation of the respective sensor range. The EtherCAT measurement modules are also flexible in terms of calibration: if preferred, the Beckhoff calibration values can be disabled and replaced with user provided values. This also applies to polynomial adjustment for compensation of nonlinearities. Another feature is synchronous sampling of all channels and terminals at < 1 μs up to external synchronisation with an absolute world time via IEEE 1588 or other EtherCAT networks.
Designed for industrial use in terms of processing power
High performance control not only characterises industrial PCs from Beckhoff, but also the new EtherCAT measurement modules. Advanced microcontroller technology provides significant computing power with high efficiency, enabling individual parameterisation of each channel in the module. In this way a large number of calculation functions can already provide pre-processed, interpretable measured values in the EtherCAT measurement module. These include:
• Polynomial adjustment for better linearity.
• Comprehensive internal temperature measurements and compensations.
• Adjustment of the sampling rate at runtime without re-initialisation of EtherCAT.
• 2-stage filter machine up to 39th order.
• 2-stage integrator/differentiator.
• Scaler for compensation of nonlinear sensors, eg. based on interpolation points table.
• TrueRMS calculation and PeakHold drag indicator.
Measurement technology seamlessly integrated in TwinCAT
TwinCAT automation software provides a platform for the generation of engineering and runtime modules which can be used to implement PLC, motion control, safety and measuring applications. Microsoft Visual Studio is the central programming and configuration platform for the entire TwinCAT system. The TwinCAT measurement product family is also integrated into this universal platform. It includes high performance charting tools for graphical representation of signals in the single digit μs range. In addition to conventional functions such as trigger, chart synchronisation and cursor, TwinCAT Scope View offers multi-core support to utilise the computing power in the corresponding system for the display of high frequency signals, including oversampling values. In conjunction with the TwinCAT Condition Monitoring library, frequency responses can be calculated with the aid of power or magnitude spectrums and graphically represented in Scope View.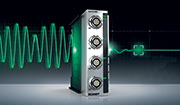 In the spirit of Industrie 4.0 and IoT, the acquired data can also be centrally correlated in networks or cloud systems, since TwinCAT supports communication with cloud systems as standard. TwinCAT Analytics is a special software package for data analysis in cloud systems, as part of the TwinCAT Measurement environment. It facilitates identification and documentation of significant characteristics in signals. A cloud storage provider enables convenient access to historical data in cloud storage systems.
Readers wanting to know more about measurement and automation technology in one system can download an interview with Hans Beckhoff at http://instrumentation.co.za/+J1775.
For more information contact Kenneth McPherson, Beckhoff Automation, +27 (0)11 795 2898, kennethm@beckhoff.com, www.beckhoff.co.za
Credit(s)
Further reading:
Humidity generator for probe calibration
Comtest Maintenance, Test & Measurement, Calibration
Portable humidity generator delivers fast, accurate multi-point calibration of humidity probes and loggers.
Read more...
---
An innovative alternative to mechanical seals
Bearing Man Group t/a BMG Maintenance, Test & Measurement, Calibration
BMG's range of Garlock sealing products includes a versatile sealing system that replaces mechanical seals in industrial pump applications.
Read more...
---
Understanding asset reliability for maximum impact in a post-pandemic world
Maintenance, Test & Measurement, Calibration
At the ARC Industry Forum Asia, Anindya Chatterjee, ABB's global head of Value Engineering and Data, gave a presentation that focused on return on asset reliability through information, operations and engineering technologies, powered by machine learning.
Read more...
---
Accelerating high-precision assembly of micro-optics
Beckhoff Automation System Integration & Control Systems Design
PC-based control technology automates component assembly.
Read more...
---
Fluke doubles the troubleshooting power
Comtest Maintenance, Test & Measurement, Calibration
Comtest now offers the Fluke 787B and 789 process meters that double the troubleshooting capabilities of previous versions by combining the power of a safety-rated, digital multimeter and mA loop calibrator into a single, compact test tool.
Read more...
---
Fluke's T6-1000 PRO electrical tester
Comtest Maintenance, Test & Measurement, Calibration
Comtest now offers the Fluke T6-1000 PRO true-RMS electrical tester. It measures voltage up to 1000 V AC and current up to 200 A without test lead contact to live voltage.
Read more...
---
Digitalised oil and gas pipelines
RJ Connect Maintenance, Test & Measurement, Calibration
Moxa's MDS-G4020 series offers a modular platform that can be fitted with fibre interfaces to connect pipeline subsystems to a control centre over long distances.
Read more...
---
The MX-System: the controller becomes a modular control cabinet
Beckhoff Automation System Integration & Control Systems Design
The new MX-System from Beckhoff is quite simply a revolution in control cabinet construction.
Read more...
---
2-channel EtherCAT motion interface
Beckhoff Automation Motion Control & Drives
Flexible and cost-effective stepper motor terminal with 6 A total current.
Read more...
---
Server engine for increasing machine learning requirements
Beckhoff Automation IT in Manufacturing
TwinCAT Machine Learning offers further inference engine.
Read more...
---