printer friendly version
4IR or Industry 4.0?
September 2019
SAIMC
Today, everybody is talking about the fourth industrial revolution (4IR) and the fact that it is going to change our lives substantially. The question: Is 4IR the same as Industry 4.0, or are they different? And if so, what is the difference? Some explanation might be necessary to take away the confusion.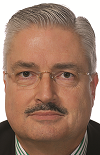 Marc Van Pelt.
4IR represents a fundamental change in the way we live, work and relate to one another. It is a new chapter in human development, enabled by extraordinary technology advances commensurate with those of the first, second and third industrial revolutions. These advances are merging the physical, digital and biological worlds in ways that create both huge promise and potential peril. The speed, breadth and depth of this revolution is forcing us to rethink how countries develop, how organisations create value and even what it means to be human. The fourth industrial revolution is about more than just technology driven change; it is an opportunity to help everyone, including leaders, policy-makers and people from all income groups and nations, to harness converging technologies in order to create an inclusive, human-centred future. The real opportunity is to look beyond technology, and find ways to give the greatest number of people the ability to positively impact their families, organisations and communities (www.weforum.org).
4IR is often also referred to as the Internet of Things (IoT). The IoT is the extension of Internet connectivity to physical devices and everyday objects. Embedded with electronics, connectivity, and other forms of hardware, these devices can communicate and interact with others over the Internet, and can be remotely monitored and controlled.
But what then is the Industrial Internet of Things (IIoT), or smart industry, and what does Industry 4.0 mean exactly?
Decentralised intelligence and cyber-physical systems
Smart industry – or Industry 4.0 – refers to the technological evolution from embedded to cyber-physical systems. Put simply, Industry 4.0 represents the coming fourth industrial revolution on the way to an Internet of Things: Data and Services.
Decentralised intelligence helps create intelligent object networking and independent process management, with the interaction of the real and virtual worlds representing a crucial new aspect of the manufacturing and production process. Industry 4.0 represents a paradigm shift from centralised to decentralised production – made possible by technological advances which constitute a reversal of conventional production process logic. Simply put, this means that industrial production machinery no longer simply processes the product, but that the product communicates with the machinery to tell it exactly what to do. Industry 4.0 connects embedded system production technologies and smart production processes to pave the way to a new technological age which will radically transform industry and production value chains and business models e.g. smart factory. (German Trade & Invest – Industrie 4.0 – Smart Manufacturing for the Future.)
The key to attaining smart factory benefits successfully is a solid wired and wireless Internet infrastructure making use of 5G communication capability.
An update on where things are headed in South Africa
In April, Cyril Ramaphosa appointed The Presidential Commission on the Fourth Industrial Revolution, with 30 representatives from all areas of industry and society as a cross-cutting enabler to work on our country's blueprint. Meanwhile six work streams and their leaders have been defined.
The commissioners established and assigned the work streams as follows:
• An infrastructure and resources work stream to be chaired by Convergence Partners, Andile Ngcaba.
• A research, technology and innovation work stream to be chaired by CSIR CEO, Thulani Dlamini.
• An economic and social impact work stream will be chaired by MTN Group CEO, Rob Shuter.
• A work stream on human capital and the future of work to be chaired by creative industries expert, Beth Arendse.
• A work stream on industrialisation and commercialisation to be chaired by SA Women in Farming's, Nomvula Mkhonza.
• A policy and legislation work stream to be chaired by Cisco public policy director Africa at Cisco Systems, Charmaine Houvet.
The above mentioned work streams reflect the requirements from a 4IR perspective. How these will align with the industrial requirements still needs to be defined. One might assume that the work stream on industrialisation and commercialisation will be defining these requirements. Important in this whole discussion also is the higher involvement of the private sector. Government needs to foresee the necessary frameworks, but the private sector needs to turn that into tangible actions.
If we draw a parallel with the German Industry 4.0, they defined working groups dealing with the requirements of the private sector. Six working groups stand for the technical and content-related results of the platform. Experts from businesses, associations, works councils and academia develop pre-competitive concepts, solutions and recommendations on key topics of Industry 4.0 – from standardisation and IT security to economic, legal and social dimensions. And every working group is headed up, in a rotating responsibility, by one of the private companies involved.
• Reference architectures, standards and norms, chaired by Kai Garrels – ABB Stotz-Kontakt.
• Technology and application scenarios, chaired by Johannes Kalhoff – Phoenix Contact.
• Security of networked systems, chaired by Michael Jochem – Robert Bosch.
• Legal framework, chaired by Dr. Hans-Jürgen Schlinkert – ThyssenKrupp.
• Work, education and training, chaired by Martin Kamp – IG Metall.
• Digital business models for Industry 4.0 – Dr Svenja Falk – Accenture.
Clearly, the time has come to get the private sector involved as they have the knowledge and power to bring maximum benefit to the South African economy and all of its people.
Credit(s)
Further reading:
Vaal branch
September 2020, SAIMC , SAIMC
As South Africa celebrated Women's Month in August, the Vaal branch and Proconics decided to celebrate women in engineering with a technical evening highlighting the importance of a diverse team for solving 
...
Read more...
---
SAIMC to host webinar during Electra Mining Africa 2020 Connect week
August 2020, SAIMC , News
As part of Electra Mining Africa 2020 Connect week (7-11 September), the Society for Automation, Instrumentation, Mechatronics & Control (SAIMC) will be hosting a webinar on the subject: "Preparing South 
...
Read more...
---
SAIMC: Johannesburg branch
September 2020, SAIMC , SAIMC
The August virtual technology evening was hosted by Eric Carter of turboTRAIN on the subject 'Instrumentation fault finding: why it is problematic and what can be done about it'. During the presentation 
...
Read more...
---
SAIMC: From the office of the CEO
September 2020, SAIMC , SAIMC
To address the skills shortage in the South African automation industry, the SAIMC plans to provide bursaries to students in fields of study related to automation and manufacturing.
Read more...
---
SAIMC: Durban branch
September 2020, SAIMC , SAIMC
The branch held its first virtual meeting and sticking to 'old regimes' it was held on the first Wednesday of the month, but sadly not at the Durban Country Club.
Read more...
---
Preparing South African business for the 4IR
September 2020, SAIMC , News
Incorporated into Electra Mining Africa 2020 Connect's Automation Day, the SAIMC recently hosted a webinar under the title, 'Preparing South African business for the 4IR, getting the business and technical frameworks right to ensure success'.
Read more...
---
SAIMC: Johannesburg branch
August 2020, SAIMC , SAIMC
Robert Wright of RJConnect discussed cyber security with the SAIMC members at the technology evening on 8 July. In this period, when so many people are working remotely and have meetings online, just 
...
Read more...
---
SAIMC: Vaal branch
August 2020, SAIMC , SAIMC
At the technology evening on Wednesday 1 July, Rob Burns from Pepperl+Fuchs presented on Ethernet Advanced Physical Layer (APL) and the concepts and implications for the IIoT, collaboration, applications 
...
Read more...
---
SAIMC: From the office of the CEO
August 2020, SAIMC , SAIMC
I read an article the other day titled "COVID-19 is accelerating 4IR – but SA may not be ready". It refers to the fact that as one of the most unequal societies in the world, South Africa needs to facilitate 
...
Read more...
---
SAIMC: Cape Town branch
August 2020, SAIMC , SAIMC
The last technology evening was held on the theme: "How secure is your Industrial Network?" The branch thanks presenter Rob Wright and RJ Connect for hosting this successful event. Rob is the managing 
...
Read more...
---