printer friendly version
Schneider Electric's expanded range of service-oriented drives
October 2016
Motion Control & Drives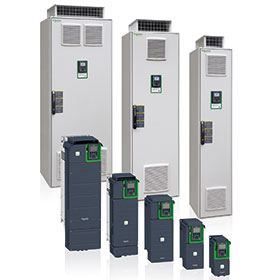 Serigne Diop, Schneider Electric's VP sales support for Drives Systems recently made a whistle-stop visit to South Africa together with Anthony Pickering, zone VP Industry for Africa & the Caribbean. Motion Control's editor was able to speak to them about the latest developments in Schneider's Altivar Process variable speed drives range and their application in the South African market.
Embedded intelligent services
The Altivar Process is Schneider's first variable speed drive on the market with embedded intelligent services, allowing for improved life-cycle asset management and enhanced energy consumption. First introduced in 2014, the range now comprises a full portfolio as the company continues to develop innovative new products. The Altivar Process family now includes the ATV600 series, focused on pumping applications with advanced pump management and low harmonics capabilities, as well as the ATV900 series focused on the oil and gas and MMM segments with innovative multidrives and regenerative capabilities.
We have optimised our range from a model with 'just enough' features, moving through to systems that have 'more than enough' features," explains Pickering. "These have all been launched globally and we are in a very strong situation. We are taking market share and we are looking good."
Diop adds that Schneider Electric today has one of the largest portfolios of drives in the world, producing 1,7 million VSD's each year with power ratings from 0,7 kW up to 16 MW . This makes them suitable for a wide range of markets, which include mining, cement, food and beverage, oil and gas, and water treatment.
The company supplies low voltage drives up to 2,4 MW and medium voltage drives up to 16 MW.
Two other new ranges are about to be launched. "We are very focused on the OEM business and the Altivar Machine is the next generation of OEM drive. Again we offer a very diverse range of options from 'just enough' to 'more than enough' with a high level of servo performance," adds Pickering. "We also have a new range coming out in 2018, the Altivar Building, a buildings-oriented product. This will be aimed at the air conditioning market and will incorporate all the appropriate communications. To give you an idea of Schneider's degree of investment, we currently have 450 R&D engineers working on this product."
Meeting the challenges of the African market
The South African market calls for easy to use, highly robust drives with exceptional servo performance and Pickering says that the rugged, high-performance Altivar Process drives meet this challenge comfortably. They are dust resistant and the flexibility of the programming, backed up by effective digital communications, makes reporting simple. It is easy for the customer to get access to the data for diagnostics through a mobile device using smart QR codes, and Schneider Electric aims to build on this backbone. In addition, the drives are cyber security certified through the high-end security standard, IEC 62443.
Schneider Electric also delivers full product support, with 35 people trained to combine local coverage supported by international backup from experts in France. The drives competency centre (DCC) provides one-stop design, repair, specification, installation, commissioning and support of low and medium voltage drives.
High-level training
Another challenge for Schneider Electric is to have good, strong internal support. Training and development are a very high priority and Diop says that the company has invested over half a million Euro in international employee exchange training programmes. These are designed to increase professional growth and development, promote a culture of learning and diversity and establish a deeper understanding of the organisation's latest products and services.
Five local product application engineers (PAE) have been through intensive training programmes led by Schneider Electric's top product managers and engineers at the company's factories in France and Austria. They have then come back to take up key positions in Schneider Electric South Africa. They are the first line of support and they are highly educated and trained.
"We also are very proud of our gender balance – the ratio of female to male is 50-50," adds Diop.
"This is an investment in the future. It is a key differentiator from our competition and our education programme is unique to our drives. On the bigger scale, Schneider Electric has put 100 people through this rogramme worldwide and it enables us to retain and motivate our people."
"The services-oriented Altivar Process drives are focused on optimising the customer's asset and enhancing business performance, overall equipment efficiency and total cost of ownership," concludes Pickering.
For more information contact Lebohang Thokoane, Schneider Electric SA, +27 (0)11 254 6400, lebohang.thokoane@schneider-electric.com, www.schneider-electric.com
Credit(s)
Further reading:
Space chair automation
December 2019, Siemens Digital Industries , Motion Control & Drives
The Euro Space Centre adventure park in Transinne in Belgium is home to a number of different simulators, including the original NASA multi-axis chair dating back to the 1960s which was used to familiarise 
...
Read more...
---
Superior Filtration relies on Movidrive
December 2019, SEW-Eurodrive , Motion Control & Drives
An industrial water filtration specialist that has used gearmotors from SEW-Eurodrive for many years has adopted its Movidrive inverters with CMP servo motors and customisable iPOS software for its latest 
...
Read more...
---
Blockchain technology in the food and beverage industry
December 2019, Schneider Electric South Africa , IT in Manufacturing
Advances in blockchain technology could enable the food and beverage industry (F&B) to enhance traceability. In the US alone, food recalls and food-borne illnesses cost some $77 billion per annum, including 
...
Read more...
---
New XTS functionality enables novel solutions in machine building
November 2019, Beckhoff Automation , Motion Control & Drives
XTS is a smart transport system of magnetically driven movers that travel along tracks consisting of motor modules and guide rails. A Beckhoff Industrial PC is able to control the movers independently 
...
Read more...
---
Couplings for high torque applications
November 2019, SKF South Africa , Motion Control & Drives
Available in a variety of configurations, SKF's range of Disc Couplings provide affordable, lubrication-free service in medium to high torque applications that require torsional rigidity. These innovative 
...
Read more...
---
Belting for food applications
November 2019, Bearing Man Group t/a BMG , Motion Control & Drives
BMG's Light Materials Handling division supplies and supports a comprehensive range of belting products suitable for the food processing, bottling and packaging sectors. "New to BMG's range of belting 
...
Read more...
---
Sawmills and sugar mills underpin growth for SEW-Eurodrive
October 2019, SEW-Eurodrive , Motion Control & Drives
Ageing sawmills and sugar mills in KwaZulu-Natal represent a significant growth opportunity for SEW-Eurodrive to introduce its latest energy-efficient technology. This is an increasing trend as both the 
...
Read more...
---
Integrated earth leakage protection
October 2019, Schneider Electric South Africa , Electrical Power & Protection
Schneider Electric has announced the introduction of integrated earth leakage protection for its Compact NSX and NSXm moulded circuit breaker ranges. "The award-winning Compact NSX moulded case circuit 
...
Read more...
---
Smart devices for Ex areas: Unbelievably simple mistakes that prevent control.
September 2019, Michael Brown Control Engineering , Editor's Choice, Motion Control & Drives
I am often astounded by finding really basic problems with controls in plants, which have operated that way for years. These problems are so basic that one can only wonder at how these controls could 
...
Read more...
---
Digitisation requires new skills
September 2019, Schneider Electric South Africa , IT in Manufacturing
Smart grid investments by municipal and public power utilities typically focus on electric distribution and customer systems. The expected benefits include lower costs, better customer service and more 
...
Read more...
---