printer friendly version
Schneider Electric's expanded range of service-oriented drives
October 2016
Motion Control & Drives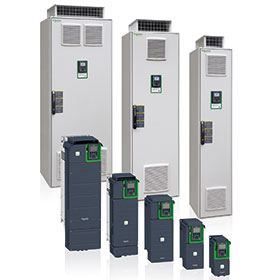 Serigne Diop, Schneider Electric's VP sales support for Drives Systems recently made a whistle-stop visit to South Africa together with Anthony Pickering, zone VP Industry for Africa & the Caribbean. Motion Control's editor was able to speak to them about the latest developments in Schneider's Altivar Process variable speed drives range and their application in the South African market.
Embedded intelligent services
The Altivar Process is Schneider's first variable speed drive on the market with embedded intelligent services, allowing for improved life-cycle asset management and enhanced energy consumption. First introduced in 2014, the range now comprises a full portfolio as the company continues to develop innovative new products. The Altivar Process family now includes the ATV600 series, focused on pumping applications with advanced pump management and low harmonics capabilities, as well as the ATV900 series focused on the oil and gas and MMM segments with innovative multidrives and regenerative capabilities.
We have optimised our range from a model with 'just enough' features, moving through to systems that have 'more than enough' features," explains Pickering. "These have all been launched globally and we are in a very strong situation. We are taking market share and we are looking good."
Diop adds that Schneider Electric today has one of the largest portfolios of drives in the world, producing 1,7 million VSD's each year with power ratings from 0,7 kW up to 16 MW . This makes them suitable for a wide range of markets, which include mining, cement, food and beverage, oil and gas, and water treatment.
The company supplies low voltage drives up to 2,4 MW and medium voltage drives up to 16 MW.
Two other new ranges are about to be launched. "We are very focused on the OEM business and the Altivar Machine is the next generation of OEM drive. Again we offer a very diverse range of options from 'just enough' to 'more than enough' with a high level of servo performance," adds Pickering. "We also have a new range coming out in 2018, the Altivar Building, a buildings-oriented product. This will be aimed at the air conditioning market and will incorporate all the appropriate communications. To give you an idea of Schneider's degree of investment, we currently have 450 R&D engineers working on this product."
Meeting the challenges of the African market
The South African market calls for easy to use, highly robust drives with exceptional servo performance and Pickering says that the rugged, high-performance Altivar Process drives meet this challenge comfortably. They are dust resistant and the flexibility of the programming, backed up by effective digital communications, makes reporting simple. It is easy for the customer to get access to the data for diagnostics through a mobile device using smart QR codes, and Schneider Electric aims to build on this backbone. In addition, the drives are cyber security certified through the high-end security standard, IEC 62443.
Schneider Electric also delivers full product support, with 35 people trained to combine local coverage supported by international backup from experts in France. The drives competency centre (DCC) provides one-stop design, repair, specification, installation, commissioning and support of low and medium voltage drives.
High-level training
Another challenge for Schneider Electric is to have good, strong internal support. Training and development are a very high priority and Diop says that the company has invested over half a million Euro in international employee exchange training programmes. These are designed to increase professional growth and development, promote a culture of learning and diversity and establish a deeper understanding of the organisation's latest products and services.
Five local product application engineers (PAE) have been through intensive training programmes led by Schneider Electric's top product managers and engineers at the company's factories in France and Austria. They have then come back to take up key positions in Schneider Electric South Africa. They are the first line of support and they are highly educated and trained.
"We also are very proud of our gender balance – the ratio of female to male is 50-50," adds Diop.
"This is an investment in the future. It is a key differentiator from our competition and our education programme is unique to our drives. On the bigger scale, Schneider Electric has put 100 people through this rogramme worldwide and it enables us to retain and motivate our people."
"The services-oriented Altivar Process drives are focused on optimising the customer's asset and enhancing business performance, overall equipment efficiency and total cost of ownership," concludes Pickering.
For more information contact Lebohang Thokoane, Schneider Electric SA, +27 (0)11 254 6400, lebohang.thokoane@schneider-electric.com, www.schneider-electric.com
Credit(s)
Further reading:
Danfoss efficiencies help South African farmers to free up energy and achieve production goals
October 2020, Danfoss , Motion Control & Drives
Danfoss, together with engineering components provider BMG, supplied a commercial maize farmer with the technology to combat challenges around irrigation sufficiency.
Read more...
---
Energy efficient drive technology for the mining industry
October 2020, Danfoss , Motion Control & Drives
The mining industry must forgo its traditional energy consumption patterns in a bid to ensure that the sector de-carbonises towards a greener and more sustainable method of extraction.
Read more...
---
Modular towel production lines
September 2020, Beckhoff Automation , Motion Control & Drives
Rapid development and configuration of manufacturing systems for terrycloth towels with PC-based control.
Read more...
---
New Modicon IIoT-ready controller
September 2020, Schneider Electric South Africa , PLCs, DCSs & Controllers
The Modicon M262 is IIoT-ready, designed and delivered with intuitive direct cloud connectivity and no gateways are required for OEMs to design solutions for performance demanding applications.
Read more...
---
BMG solutions for efficient agriculture
August 2020, Bearing Man Group t/a BMG , Motion Control & Drives
BMG's Boer Slim/Smart-Farming agricultural team works closely with farmers throughout southern Africa, assisting them with the selection, installation and operation of new electromechanical systems. These 
...
Read more...
---
PC and EtherCAT-based control technology in next-generation telescope
August 2020, Beckhoff Automation , Motion Control & Drives
Key factors were the advantages of EtherCAT for site-wide real-time communication connecting all telescope functions. Various embedded PCs and AM8000 servomotors were also tested and specified, among 
...
Read more...
---
Commander series drives
August 2020, Nidec Industrial Automation Southern Africa , Motion Control & Drives
The Commander series are simple and compact AC motor speed controllers that meet advanced requirements in a wide range of applications. Their small footprint makes them ideal for machine builders and 
...
Read more...
---
Belting products for furnace belts
August 2020, Bearing Man Group t/a BMG , Motion Control & Drives
BMG's Light Materials Handling division supplies and supports a comprehensive range of belting products suitable for use in diverse sectors, including high-temperature applications, like glass bottle 
...
Read more...
---
BMG's new generation of IE5+ motors
July 2020, Bearing Man Group t/a BMG , Motion Control & Drives
In 1916, BMG and German precision engineers, Getriebebau Nord, entered into a partnership agreement to assemble, distribute and support Nord Drivesystems throughout southern Africa. BMG has made 
...
Read more...
---
Rockwell Automation upgrade for Ghana Water
June 2020, Rockwell Automation , Motion Control & Drives
Over the last five years, Rockwell Automation has been working with Intermerc Ghana in supplying medium-voltage motor control and automation technologies to some of its recent pump upgrade and rehabilitation 
...
Read more...
---