printer friendly version
Flow measurement in pulp and paper applications
October 2016
Flow Measurement & Control
The pulp and paper industry has very aggressive and challenging applications for magnetic flowmeters including corrosive chemicals, high temperatures and pressures and abrasive slurries. Considering all these process conditions, Yokogawa delivers an optimised solution with the best-in-class reliability and accuracy for each application.
To start the process, pulp is produced by placing wood chips into a digester. Here cooking takes place under high pressures and temperatures in a caustic solution termed white liquor, a mixture of sodium hydroxide and sodium sulphide. The mixture of wood chips and liquor is steam heated and the wood chips are dissolved. The spent mixture of white liquor and lignin is known as black liquor. After the cooking, the pulp is discharged from the bottom of the digester through a blow valve and into the blow tank.
Measuring the amount of black liquor in the circulation /extraction process and the amount of pulp slurry in the blow line are two challenges experienced with flow measurement in the digester process. Conventional mag meters may have the following problems in this application:
• Slurry noise generation and unstable output result in loss of accuracy and control.
• Deterioration of electrode seals and tube liner abrasion result in a shorter life expectancy of the flow tube.
• Electrodes require frequent cleaning and maintenance due to the adhesive black liquor.

Solution
Yokogawa's solution to the above challenge is the Admag AXF whose dual frequency excitation has the advantage of both high and low frequency meters. Dual frequency excitation provides excellent zero stability with an accuracy of between 0,2% and 0,35% of the reading, as well as immunity to slurry noise. Furthermore, the 'Enhanced Dual Frequency Excitation Method' can be optionally introduced to cope with more difficult applications such as high concentration slurry measurement. The AXF's new enhanced dual frequency option provides an even higher excitation frequency of 165 Hz for maximum slurry noise reduction when needed, without sacrificing zero stability.
PFA liners
PTFE liners which are commonly used in conventional meters, are susceptible to failures as a result of vacuum conditions that can be created due to a pump or valve failure. In addition, meters that have PTFE liners generally have a shorter life span due to the aggressiveness of the chemicals used. In response to this, Yokogawa uses an injected moulded PFA liner with a retaining grid. This retaining grid plate, used to reinforce the PFA liner, acts like a rebar in concrete. This rugged construction holds the liner in place and prevents it from caving in due to vacuum conditions. The thickness and durability of the injection moulded PFA liner provides a flow tube that is capable of handling the most severe applications. Optional, removable electrodes can easily be removed and cleaned without having to remove the tube from the line.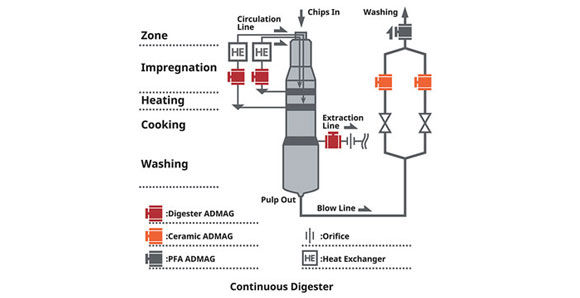 Ceramic liner
Yokogawa's CA ceramic liner delivers accurate and stable flow measurement on lines carrying aggressive slurry. The purity of alumina reaches 99,9% and provides better corrosion resistance and mechanical strength. This design allows no room for leakage is extremely slurry resistant and enables stable and accurate measurement. In addition, the optional tube mirror finish reduces the adhesion level because of its smooth surface.
Adhesion level diagnostics
The AXF advanced diagnostics function indicates four levels where coating on the electrodes can occur. This function can be optimised by each customer for their individual process, and the impedance values for the four levels can be individually set in the field. This allows the user to predict when preventive maintenance is needed, and remove the meter for cleaning before an interruption in the measurement occurs.
The dual frequency excitation method is Yokogawa's unique way of making the measurement of all noise generating slurries an easy task. Ensuring customer satisfaction and trustworthy flow measuring technology, Yokogawa can be trusted to offer reliable flowmeters throughout all industries.
For more information contact Christie Cronje, Yokogawa South Africa, +27 (0)11 831 6300, christie.cronje@za.yokogawa.com, www.yokogawa.com/za

Credit(s)
Further reading:
Flowmeter for utility applications
November 2020, KROHNE , Flow Measurement & Control
As an addition to the Optiswirl family, KROHNE has introduced the Optiswirl 2100, a new vortex flowmeter aimed at basic utility applications.
Read more...
---
Safe operation of CNG stations
October 2020, SICK Automation Southern Africa , Flow Measurement & Control
The Flowsic500 compact ultrasonic gas meter enables extremely accurate natural gas distribution measurement.
Read more...
---
Ultrasonic flowmeter for wide ranges
September 2020, Instrotech , Flow Measurement & Control
Bi-directionally transmitted ultrasonic waves provide precise results of volume flow as the result of their transit time difference. Installed in any position, the units can measure ranges of 1:250.
Read more...
---
Best practices in measurement
September 2020, Yokogawa South Africa , Maintenance, Test & Measurement, Calibration
Operating envelopes are changing and the impact of these changes on instrumentation must not be underestimated. Instrumentation with a design rating of a particular capacity is heavily stressed when the load is increased.
Read more...
---
Turck standardises its fluid portfolio
September 2020, Turck Banner , Flow Measurement & Control
Turck's new portfolio of fluid sensors offers a wide range of variants and combinations, while having common key features at the same time. The compact FS+ flow sensor with IO-Link now follows the launch of the PS+ pressure sensor.
Read more...
---
The digital twin explained
August 2020, Yokogawa South Africa , IT in Manufacturing
The digital twin defined
A digital twin is a virtual, digital copy of a device, system, or process that accurately mimics actual performance in real time, is executable, can be manipulated, and allows 
...
Read more...
---
Safe operation of CNG stations
August 2020, SICK Automation Southern Africa , Flow Measurement & Control
SICK's Flowsic500 gas meter, used in State Oil Company of Azerbaijan Republic's (SOCAR) transfer and measurement stations, has shown to meet stringent compressed natural gas (CNG) production protocols. 
...
Read more...
---
How investing in a niche market placed Yokogawa aboard the International Space Station
June 2020, Yokogawa South Africa , News
While the world was abuzz with excitement over the revival of U.S. manned spaceflight, another equally promising space endeavour flew under the radar. On 20 May, the H-II Transfer Vehicle (HTV-9), affectionately 
...
Read more...
---
Flexim perfects the steam flowmeter
June 2020, Actum Group , Flow Measurement & Control
Flexim is proud to announce the manufacture of a robust, user-friendly and industry-certified ultrasonic steam flowmeter solution. For this accomplishment, the company has been nominated for the 2020 
...
Read more...
---
Emerson introduces software for flow measurement
July 2020, Emerson Automation Solutions , Flow Measurement & Control
Emerson has released Micro Motion ProcessViz, a standalone, cost-effective software solution for flowmeter process data visualisation. Having an instant visualisation of raw process data translates into 
...
Read more...
---