printer friendly version
Paving the way towards digitalisation
October 2016
IT in Manufacturing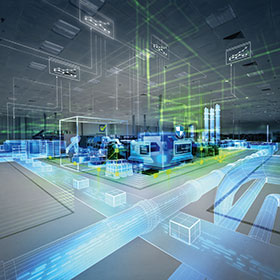 The Internet is revolutionising the economy. For manufacturing companies, however, the challenges are enormous. To remain competitive, they have to improve their processes, products and business models. New products have to be brought to market at an ever-increasing pace. Customers demand products that are tailored to meet their specific needs. Rapidly changing markets require more and more flexibility. And the constant pressure for efficiency improvements calls for ever-shorter development times as well as the efficient use of resources and energy – all while maintaining or even increasing the level of quality.
To accomplish this, technologies such as data analytics, the Cloud, or the Internet of Things, must be linked to existing technologies in order to merge the virtual and real worlds. The vision of Industrie 4.0 shows the way to the future, to achieve higher levels of flexibility, greater autonomy from systems, and better decision-making aids for the frequently complex processes of the customer. For Siemens, digitalisation offers the opportunity to continue to develop its key businesses in electrification and automation.
In the Digital Factory Division, Siemens merges the real and the virtual worlds. The division develops automation and drive technology products. In addition to this hardware, is the product lifecycle management (PLM) software, which can be used to simulate the complete lifecycle of a product – from its design and production to packaging. This results in a 'digital twin' of the real value-added chain. With this uniform database, companies have the opportunity digitally to simulate how the product will behave at many different points. It is now possible not only to create and simulate products in the computer, but to plan entire production lines and work processes before a factory is ever constructed. This approach significantly reduces the time requirements, costs, and error rate of the actual commissioning. And the staff can even be trained before a new plant becomes operational.
The virtual and real worlds are increasingly merging. Customers on their way to the digital enterprise should focus on four aspects:
• They should seamlessly integrate their software into automation components, because the optimisation of automation alone is no longer enough. Only intelligent software will make further production improvements possible.
• Industrial communication networks have to ensure that machines communicate with each other and also that all relevant data can also be exchanged with the management level and other locations.
• These factors require a great deal more security in automation, because increasing networking will offer new targets for cyber attacks.
• Lastly, new opportunities are opening up thanks to business-specific industrial services – either through the marketing of customer knowledge via cloud services or by offering special services from other companies.
Siemens already offers its customers solutions for addressing these four challenges. The Digital Enterprise Software Suite assists manufacturing companies in digitalising the entire value chain.
Data-driven manufacturing
Market researchers anticipate that thanks to industrial automation, global sales in this area will increase from around €160 billion in 2013 to approximately €195 billion by 2018. German industry alone will invest approximately €40 billion annually in Industrie 4.0 applications by 2020. In Germany, the industrial share of total economic output is already more than twice as high as in Great Britain, France, or the USA. Digitalisation will essentially determine the success or failure of German industry.
Faster, more flexible and efficient production
As a result of Industrie 4.0, in the future billions of machines, systems, and sensors worldwide will communicate with each other and share information. This will not only enable companies to make production significantly more efficient, it will give them greater flexibility when it comes to tailoring production to meet market requirements.
As a result of Industrie 4.0, in the future machines, systems and sensors worldwide will communicate with each other and share information. This will not only enable companies to make production significantly more efficient, it will give them greater flexibility when it comes to tailoring production to meet market requirements.
TIA – Totally Integrated Automation
The Siemens TIA Portal enables users to perform automation and drive tasks quickly and intuitively through efficient configuration. The software architecture is designed for high efficiency and ease of use, and is suitable for both new and experienced users. It offers a standardised operating concept for controllers, HMI and drives, as well as for shared data storage and consistency, for example during configuration, communication and diagnostics. The simple engineering facilitates full access to the entire digitised automation, such as digital planning, integrated engineering and transparent operation. Alongside PLM (Product Lifecycle Management) and MES (Manufacturing Execution Systems) within the Digital Enterprise Software Suite, the TIA Portal complements the holistic range of software from Siemens for companies on the path toward Industrie 4.0.
The new V14 version of the portal shortens the time to market for machine manufacturers and increases the productivity of end users. Siemens has enriched Version 14 of the engineering framework with a wide range of new functionalities for the digital enterprise and the requirements of Industrie 4.0. The portal interacts with other systems and exchanges data through open interfaces. The Teamcenter gateway has a new interface for product data management; Teamcenter is the Siemens data collaboration platform for design, planning and engineering.
Based on the 'one for all' guiding principle, the TIA Portal combines parameter assignment and programming of automation components – from controllers and HMI devices to drives – with over-arching functionalities, such as security and safety. A harmonised package, comprising the Simatic Advanced Controller and the Sinamics servo drive system, has been integrated into the V14 TIA Portal for motion control applications. The new Simatic S7-1500 T-CPU controller handles the control tasks and the new Sinamics V90 servo drive system with Profinet brings the required speed and precision into the machine. The new package now enables Simatic users to solve advanced motion control tasks, such as gearing and camming, in a familiar environment. The new multi-user function is applied for decentralised work concepts. This provides several operatives with efficient and simultaneous access to a server project, based on automatic synchronisation, facilitating device, object and function-based organisation of automation tasks. Parameter assignment and evaluation of the 3 VA moulded-case circuit breaker and the 7KM PAC series of measuring instruments are also new features of the TIA Portal V14. This simplifies acquisition of energy values for the infeed system, electrical outputs and individual loads.
Further new functionalities in TIA Portal V14 reduce engineering requirements and increase transparency during operations. The ProDiag option offers detailed plant and machine monitoring with minimal configuration and visualisation costs and provides support thanks to automated code generation and synchron-isation of HMI devices. ProDiag detects errors in the user process and can supply information on the type, location and cause of such errors on a display device, together with data on how to correct the error. The Simatic Energy Suite facilitates easy parameter assignment and evaluation of many measuring components, with the requisite control program being generated simply by pressing a button. The Simatic Energy Suite increases the transparency of energy flows and helps to save energy in accordance with ISO 50001. The energy data is easily acquired, and integrated into the automation solution. WinCC/WebUX help not only to monitor plant processes but also, if necessary, to control them via the Internet or intranet via mobile HMI devices, such as tablet PCs and smartphones. The process data are available worldwide providing easy access to the machine. The TIA Portal V14 now gives all Simatic S7-1500 controllers OPC UA server functionality, such as for standardised connections to a MES for vertical plant integration.
The next level of innovation in drive technology
Experts agree that future production facilities will be much smarter than today's factories. And it is also sure that drive technology will become ever more complex and demanding. Offering consistent integration into the entire environment of the production process, integrated drive systems from Siemens provide an answer to the challenges posed by today's – and even more so, tomorrow's – industrial production.
Today, plants and machines must reach increasingly higher rates of productivity and efficiency at the lowest possible cost. At the same time, the next stage of industrial manufacturing is already looming on the horizon: Industry 4.0, characterised by smart factories and selforganising communities of machines driven by information generated in the virtual world. Drive technology alone will hardly be able to tackle all the new challenges. What is needed is consistent integration of drive technology into the entire environment of the production process. With Siemens Integrated Drive Systems, this has become the new reality.
All this becomes possible thanks to the three axes of integration at the core of the integrated drive systems concept. On the horizontal, drive portfolio level, all frequency converters, motors, couplings, and gear units are guaranteed to interact and integrate seamlessly. On the vertical level, the integration into automation, integrated drive systems are part of TIA, and, as such, perfectly integrated into the entire automation environment – from the field level all the way to the MES. The third level, lifecycle integration, comprises software and services for all project steps from planning, design, and engineering to operation, maintenance, and all the way to modernisation measures.
For more information contact Jennifer Naidoo, Siemens Southern Africa, +27 (0)11 652 2795, jennifer.naidoo@siemens.com, www.siemens.co.za
Credit(s)
Further reading:
SA company launches AI-based risk screening mobile app
October 2020 , IT in Manufacturing
The Instant Vitals app converts a mobile phone into a key vital signs medical device that could save lives when screening for Covid-19 symptoms.
Read more...
---
Danfoss debuts Alsense
November 2020, Danfoss , IT in Manufacturing
Danfoss has updated and enhanced its service offering to create a more sustainable, scalable and secure cloud-based portal for managing food retail operations.
Read more...
---
Digitalising mineral processing operations
November 2020 , IT in Manufacturing
Mining's accelerated move toward digital solutions is being supported by FLSmidth's decades of research and development. The company has over 80 projects underway to improve its mining-related offerings.
Read more...
---
Sinumerik One Dynamics for motion control
November 2020, Siemens Digital Industries , Motion Control & Drives
Siemens has launched three powerful technology packages exclusively for the CNC Sinumerik One.
Read more...
---
Schneider Electric provides digital technologies to the mining industry
November 2020, Schneider Electric South Africa , IT in Manufacturing
"The organisation has invested significantly to develop a specialised competence in mining applications," explains Marc Ramsay, vice president industry business unit at Schneider Electric South Africa. 
...
Read more...
---
Smart manufacturing and the new normal
November 2020, Absolute Perspectives , IT in Manufacturing
In manufacturing, it is likely that billions of dollars have been lost in 2020, while a high percentage of manufacturing jobs have been negatively impacted.
Read more...
---
Will OT take over MES?
October 2020 , IT in Manufacturing
Industry 4.0 forces the convergence where IT needs to knock on the door of a manufacturing plant and sell OT, not IT or MES.
Read more...
---
Get full value from data science
October 2020, Omron Electronics , IT in Manufacturing
As huge amounts of data become available from the factory floor, information must be extracted and presented to the right audience, at the right time, and in the right way.
Read more...
---
Predictive analytics for artificial lifts
October 2020, Emerson Automation Solutions , IT in Manufacturing
Machine learning and artificial intelligence applications in artificial lift systems have seen a growth in importance recently and are no longer a nice to have, but essential tools for well optimisation.
Read more...
---
How can manufacturers survive under the new normal to 2021 and beyond?
October 2020, RJ Connect , IT in Manufacturing
Thanks to COVID-19, the manufacturing industry is entering the era of unmanned operations. How best can companies adapt to the new normal and maintain efficient operations?
Read more...
---