printer friendly version
SAIMC: Durban branch
July 2019
SAIMC
Durban branch held its June technology meeting at the Durban Country Club on Wednesday 5th June. It was another well-attended meeting with over 45 people in attendance.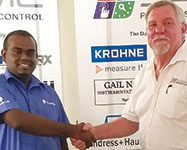 Prinesh Mari (left) being thanked by Hennie Prinsloo after the presentation.
Prinesh Mari, who is a senior electrical engineer at Proconics, gave a presentation in which he examined the underlying causes of major disasters at two hydrocarbon storage facilities.
He opened by showing a CSB Safety Video on the 2009 massive explosion at the Caribbean Petroleum, or CAPECO, terminal facility near San Juan, Puerto Rico. The incident occurred when gasoline overflowed and sprayed out from a large aboveground storage tank, forming a 107-acre vapour cloud that ignited, fortunately with no loss of life. He then compared that event with one that occurred in December 2005 at Buncefield depot in England, which had even more severe consequences.
What went wrong, and methods of how to avoid this type of calamity were discussed in detail with specific reference to:
• The application of API STANDARD 2350-2012 – Overfill Protection for Storage Tanks in Petroleum Facilities
• IEC 61511 Functional Safety – Safety instrumented systems for the process industry sector for the design and operation improvements of tank overfill protection strategies.
In the case of both disasters there were proven deficiencies in several aspects of managing, maintaining and operating those hazardous plants, which could
have been avoided if there had been adherence to good practice and relevant available standards. Prinesh dealt with those in some detail, and demonstrated their importance from the design phase throughout the lifetime of a plant.
After chairman Hennie thanked Prinesh for his interesting and relevant presentation and thanked Proconics for kindly sponsoring the meeting, everyone adjourned to enjoy some networking over good food and drinks.
Robotics takes KZN high school by storm
The Durban branch of the SAIMC has donated a First Tech Challenge starter kit to Hillcrest High School and this has caused a stir of excitement in the halls of the school and resulted in robotics being placed on the extramural curriculum. The SAIMC has pledged an amount of R20 000 initially. The project is also being supported by the local Rotary Club of Hillcrest.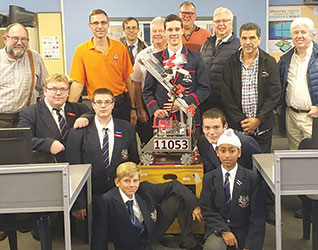 From l: Tim Attwell, Johannes de Vries, Graham Pearl, Dean Trattles, Fred Kroone, Pieter Victor, Robby Mamote, Colin Hetger, and some interested pupils.
The FIRST Tech Challenge (FTC) is designed for students in grades 7–12, who compete by designing, building and programming a robot to compete in an alliance format against other teams. The robot kit is programmed using Java, the MIT App Inventor or other Android programming systems. Teams under the guidance of coaches, mentors and volunteers are required to develop strategy and build robots based on innovative and sound engineering principles, and awards are given for the competition as well as for community outreach, design and other real world accomplishments.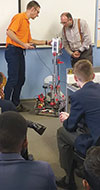 Johannes de Vries, who fits his passion for robotics and FTC in between his day job at the Electrical Engineering Department of the Tshwane University of Technology (TUT), is the chief co-ordinator of FTC in South Africa. He drives all the sponsorships and the funding, marketing and logistics of getting the teams of children together for the competitions. His passion and commitment was evident at a meeting held in May at Hillcrest High School with staff and interested students, where he demonstrated a working robot kindly lent to him by Waterkloof High School in Pretoria. Members from the Hillcrest Rotary Club were also present and they will help spread the word to other schools in the area.
The SAIMC is proud to be involved with FTC as a national sponsor. The Durban branch is also a sponsor of this project as it fits completely with its vision to educate and inspire youth in the world of control and automation. Today's students are tomorrow's engineers.
Anybody needing further information can email John Owen-Ellis at john.owen-ellis@saimc.co.za
Credit(s)
Further reading:
SAIMC: From the President's desk
February 2020, SAIMC , SAIMC
February marks the end of my 2-year term as elected president of the SAIMC, so it is a great time to reflect on what has happened in the past two years.      
Industry 4.0
Industry 4.0 has been a continuous 
...
Read more...
---
SAIMC: Johannesburg branch
February 2020, SAIMC , SAIMC
When you are passionate about the industry that you work in you can achieve great things. The Johannesburg branch proudly achieved Gold Status for 2019. This was a team effort by all involved and included 
...
Read more...
---
SAIMC: Durban branch
February 2020, SAIMC , SAIMC
Industrial fieldbus and Ethernet: installation considerations and problem diagnostics were topics presented at the Durban branch's final technology evening of 2019, held at the Durban Country Club on 
...
Read more...
---
SAIMC: Vaal branch
December 2019, SAIMC , SAIMC
At the last technology evening, Robert de Scande from SICK Automation gave a presentation on the subject of IO-Link. IO-Link offers new options for communication between the system control and field levels: 
...
Read more...
---
SAIMC: Durban branch
December 2019, SAIMC , SAIMC
Technology evening
At the last technology evening, Beckhoff Automation's Gareth Taylor (sales engineer, Durban) presented on the topic 'Open PC-based control technology in a world of modular process 
...
Read more...
---
SAIMC: Secunda branch
December 2019, SAIMC , SAIMC
At the technology evening on 10 October, Jacques Parrott, from SICK Automation SA gave a presentation on 'Measurement of green house gas emissions', which also touched on the issue of carbon tax. The 
...
Read more...
---
SAIMC: Johannesburg branch
December 2019, SAIMC , SAIMC
The October technology evening was hosted by Extech Safety Systems. Sales director Gary Friend presented an interesting take on the relationship between new technological advances, and the never-ending 
...
Read more...
---
SAIMC: From the President's desk
December 2019, SAIMC , SAIMC
2019 has been a year of many achievements by our members. Although the SAIMC might not be the organisation with the most members, the unselfish and hard-working team have certainly achieved more than 
...
Read more...
---
From the President's desk
January 2020, SAIMC , SAIMC
This year, I challenge you to try something that you are truly passionate about. In 2019 I took the plunge and bought an entry level 3D printer. It changed my life completely. I am now only limited 
...
Read more...
---
SAIMC: Durban branch
January 2020, SAIMC , SAIMC
The November technology evening was on the topic of shutdown planning, which was clearly of interest and attracted an audience of over sixty members and visitors to the usual venue at the Durban Country 
...
Read more...
---