printer friendly version
Case History 165: Interesting tests on loop problems show how much can be deduced from the results.
March 2019
Motion Control & Drives
I have published many articles showing problems in control loops with figures showing the tests conducted to determine the problems. This time, by way of a change, I would like to suggest that readers first study the figures, and try to determine what can be deduced from these.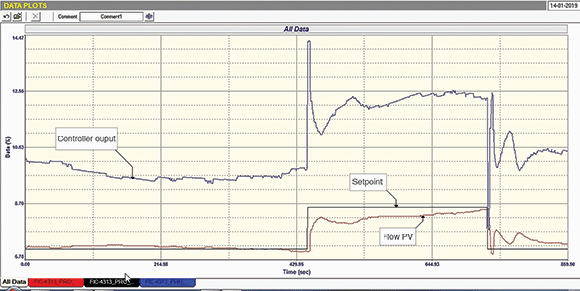 Figure 1.
Figure 1
Figure 1 is an 'as-found' closed loop test (i.e. a test with the controller in automatic and using the existing tuning parameters) on an air flow loop in a metallurgical plant in Portugal, where I recently did some work. Have a good look at it and see what you think is wrong. Then carry on reading below.
This is what can be determined from the test:
• It can be seen that the PV (process variable) never actually settles at setpoint, and that after the SP (setpoint) changes it still does not get there but slowly ramps it.</i> This is an indication on a fast process like flow that the integral setting is far too slow.
• On the SP changes it can be seen that there is a big kick in the PD (controller output) and then the PV tends to cycle, with about 1,5 cycles on the SP change upwards, and about two full cycles when the SP was stepped back down. This indicates two things are wrong:
1. The proportional gain is far too big and the tuning is actually close to instability.
2. There is a strong possibility that the valve has non-linear installed characteristics, so the response is slower in the higher ranges and faster as the PV gets lower.
• The PV and the PD are working at extremely low values in a region well below 10%, which is in fact the region where they normally operate. Working so low down is very bad practice. Firstly, most flow measuring methods do not work well at very low ranges, and may in fact be terribly inaccurate and possibly give incorrect readings; this obviously depends on the type of flow measurement being used. In this case it was a vortex shedding flowmeter. The specifications for this were not available onsite, but I strongly suspect that the measuring span of the meter is far too wide. Secondly, as far as the valve is concerned, it is a well-known 'rule of thumb' that under normal operating conditions the valve should operate above the 20% mark. All sorts of control problems can occur with valves working close to seat. It is also pretty obvious that the valve must be largely oversized, which is a bad thing for various reasons that are covered in other articles.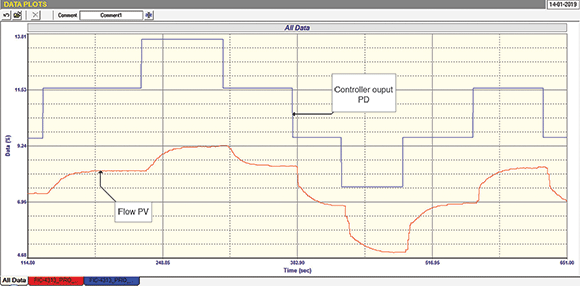 Figure 2.
Figure 2
Figure 2 shows an open loop test, on the previous system, with equal step changes in PD being made in both directions with the controller in manual. Unfortunately it is hard to actually determine deadtime and lag times from the figure without being able to zoom in and see more details, but let it suffice to say that if you could you would have found that the deadtime was about five seconds and time constant about nine seconds, which was repeatable on most of the steps. Bearing this in mind, what would you deduce?
This is what you should be able to come up with:
• The response in the first three steps was rather slow compared with subsequent steps, which would indicate that the valve was pretty sticky and then loosened up a bit. The latter steps also gave a rather peculiar response for a flow loop with a sudden change in the PV, which then slowed down taking quite a while to get to the final position. Again, this would indicate stickiness in the valve with the positioner forcing the valve to the final position.
• Normally flow loops with pneumatically actuated valves have deadtimes around 1-2 seconds and time constants about the same. The excessive deadtime and slow time constant in this particular case indicate that the valve is really sticky and that the positioner is working hard to get it to the right place.
• The three steps downwards in the middle of the test confirmed the quite badly installed non linearity of the valve, with the last step being almost three times bigger than the first.
The controller was then retuned using the largest steps at the low end of the range.
The original tuning was P = 3, and I = 120 seconds/repeat. This confirms the original deductions made when looking at the 'as-found' closed loop test, i.e. too high a gain, and too long an integral.
New tuning was then set at P = 0,9, and I = 10 seconds/repeat. Figure 3 shows the loop running in automatic with the new values and steady SP. There is a small cycle on the loop. The question is: Is this instability due to bad tuning, or is there another reason?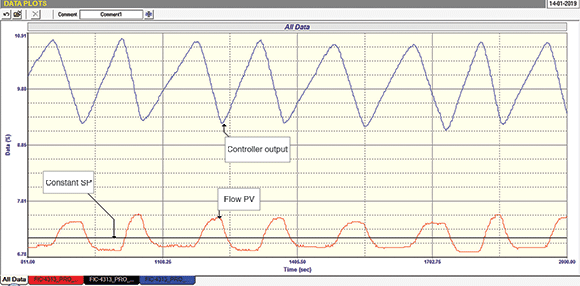 Figure 3.
Generally, people with little knowledge of practical process control would say that it is due to bad tuning, and this is probably why the original values were chosen to operate so slowly – so that it did not cycle. However, the integral was then so long that it never got to setpoint, so the person who tuned tried to compensate by increasing the gain.
The cycle is in fact a fairly typical 'stick-slip' cycle, which I have discussed in quite a few previous articles. It is caused when the positioner cannot get the valve to exactly the right position. The valve sticks and then the integral action in the controller, now with correct tuning, is relatively fast and so keeps ramping until the valve does actually move. This causes the positioner to push too much pressure into the actuator, which then forces the valve to 'slip' and overshoot the set point. The whole thing then repeats in the opposite direction. The stick-slip cycle is immediately identified by the saw-tooth waves on the controller output, which are more or less pure ramps due to the constant integrating error.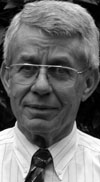 In reality, the cycle which looks terrible in the figure due to the expanded scale, has an extremely small amplitude of about 0,5%, and can be completely ignored. It will not affect the life of the valve to any noticeable extent. Also, if the recommendations are followed and if the valve is serviced, the cycle would probably disappear.
It is most interesting how logical conclusions can be deduced from correct interpretation of the results generated by these types of analytical and tuning tests.
Michael Brown is a specialist in control loop optimisation with many years of experience in process control instrumentation. His main activities are consulting, and teaching practical control loop analysis and optimisation. He gives training courses which can be held in clients' plants, where students can have the added benefit of practising on live loops. His work takes him to plants all over South Africa and also to other countries. He can be contacted at Michael Brown Control Engineering cc, +27 82 440 7790, michael.brown@mweb.co.za, www.controlloop.co.za
Credit(s)
Further reading:
The automated chameleon tongue
March 2019, Festo , Motion Control & Drives
Festo's adaptive gripper can pick up anything.
Read more...
---
Energy-saving irrigation methods
March 2019, Zest WEG Group , Motion Control & Drives
Anyone within the agricultural sector will know that operating an irrigation system can be expensive, with one of the primary factors being the cost of energy. The good news is that there are ways to 
...
Read more...
---
Quality in aftermarket fuel filters
March 2019, Parker Hannifin Sales Company South , Motion Control & Drives
When it comes to replacing the fuel filter element on a light commercial vehicle, such as the Ford Transit, Parker Racor ensures the job is simple, fast and foolproof, thanks to a patented compound bayonet 
...
Read more...
---
Flexible drive control
March 2019, Festo , Motion Control & Drives
Servo drive and servo motor as a complete system.
Read more...
---
Bag-in-Box technology just got faster
February 2019, Beckhoff Automation , Motion Control & Drives
Beckhoff's control architecture provides best solutions for local machine builder.
Read more...
---
Conveyor systems for grain applications
February 2019 , Motion Control & Drives
BLTWorld offers dependable solutions for specific problems at the transfer points of conveyor systems in bulk materials handling, for example, grain in the food and beverage industry. "ScrapeTec Trading's 
...
Read more...
---
Bosch Rexroth introduces latest transfer system
February 2019, Tectra Automation , Motion Control & Drives
By optimising existing components and integrating new modules into its TS 5 conveyor system for heavy loads, Bosch Rexroth has enhanced its already impressive flexibility to meet the requirements of an 
...
Read more...
---
One machine control over EtherCAT
February 2019, Omron Electronics , Motion Control & Drives
Manufacturing is changing. Production lines need to be increasingly flexible to cope with shorter production runs, more varied products and tighter deadlines. Manufacturers are addressing these challenges 
...
Read more...
---
Case History 164: More on valves that do not control properly.
January 2019, Michael Brown Control Engineering , Motion Control & Drives
I often publish articles showing valve problems. One of the reasons is that I do not think many people understand that valves are generally responsible for 75-80% of all control loop problems. When it 
...
Read more...
---
Global partnerships for automotive support
January 2019, Parker Hannifin Sales Company South , Motion Control & Drives
Parker Hannifin is a global leader in motion control components and system solutions serving industrial, mobile and automotive markets. Specialising in hydraulics, pneumatics, electromechanics, fluid 
...
Read more...
---