printer friendly version
SAIMC: Durban branch
February 2019
SAIMC
Technology evening
The final technology evening of 2018 was held on the 5 December at the Durban Country Club. Ajanth Sewpersad, sales engineer for SICK Automation, gave an informative and well-balanced talk on emission monitoring, the legal requirements and techniques. The audience was introduced to The National Environmental Management: Air Quality Act (2004), and the measures required therein for compliance were highlighted.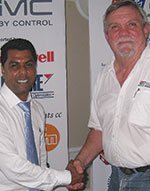 Hennie Prinsloo (right) thanks Ajanth Sewpersad after the presentation.
Other related standards that were listed included several British (EN) standards.
Following from there, Ajanth covered Quality Assurance of an Automated Measuring System (AMS) according to EN14181, and explained terms and definitions associated with emission monitoring before covering some basic principles of alternative continuous measurement techniques. The verification method using isokinetic sampling by an independent authority was then discussed, which led to some questions and subsequent debate later in the meeting.
The relative advantages and disadvantages of in-situ gas analysis and extractive analysis were explained, with the alternatives of cold dry and hot wet extractive systems being discussed. Examples were provided of dust monitoring as applied in industry to determine the efficiency of filtration/precipitation systems, achieved by measuring the dust burden before and after it has been extracted from a flue gas. The reasons for different applications requiring either light transmission or light scattering were also explained.
Ajanth concluded with an overview of typical applications of continuous emission monitoring in a coal fired power station as widely applied by Eskom. Some equipment was also on display so that members could view typical monitoring assemblies and ask more detailed questions after the presentation concluded. The meeting then adjourned to enjoy networking over a meal and drinks to the usual high standard of the Durban Country Club.
Annual year-end-function

Busani Sindibi, MC
2018 was a busy year for the branch, which finished in style at the year-end function, ably MC'd by Busani Sindibi at the Mount Edgecombe Country Club.
A balmy November evening (translate to hot and steamy for the out-of-towners) began with pre-dinner drinks and photographs before the 240 guests were invited into the main hall for the brief formalities. Celebrating the Platinum Award achievement, chairman Hennie Prinsloo thanked the committee for their hard work and commitment. President, Annemarie van Coller, then applauded the branch as being the first to achieve this status and praised the trail-blazing approach as it sets the bar high for all branches.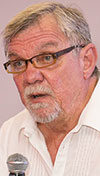 Hennie Prinsloo, Chairman
At the behest of the committee, Annemarie thanked Hennie for being such an inspiring and tireless leader, while everybody agreed all kudos to him for his contribution as chairman.

Annemarie van Coller, President
With the formalities over, the fun began with local comedian Jem Atkins breaking the ice and setting the scene for a relaxed and convivial evening. It was refreshing to listen to a comic who did not rely on bad language and cheap-thrill effects, but who was intelligent and clever-funny.
During the delicious buffet dinner guests were intrigued and bemused by the chef who wanted to say thank you and farewell as he was leaving the country. The emotional cook somewhat overstepped the mark with his confession of aspiring to be a famous singer promptly followed by a rendition of his favourite song – not very well delivered! He was sent back to the kitchen to 'stuff the tarts', but it wasn't long before he (and the food and beverage manager) found their voices and came back to wow the audience with famous arias sung beautifully.
This was a hard act to follow given the surprise and fun nature of it, but Maskandi musicians David Jenkins and Maqhinga Radebe, who form the band Qadasi, followed it with aplomb: great singing, accomplished banjo and concertina playing, and some foot stomping thrown in for good measure. The audience loved it and it was a fitting finale to a wonderful evening and a great 2018.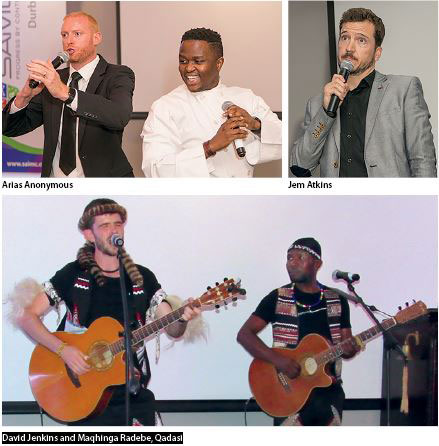 The branch thanks all patrons and table sponsors, ifm for the drinks sponsorship, and Reed Exhibitors for the gift hampers.
Credit(s)
Further reading:
SAIMC: Secunda branch
July 2019, SAIMC , SAIMC
May Technology Evening
   On 16 May 2019 Kevin Preston from Phoenix Contact gave a very interesting and explanatory presentation on SIL (functional safety). Safety Integrity Level (SIL) is by definition 
...
Read more...
---
SAIMC: From the President's desk
July 2019, SAIMC , SAIMC
On behalf of the SAIMC, I am proud to announce that there are multiple initiatives that have progressed well within our organisation:      
Automation as an engineering discipline in South Africa
As most 
...
Read more...
---
SAIMC: Vaal branch
July 2019, SAIMC , SAIMC
The May Technical Evening was presented by Krzyszstof Lapacz from ifm – South Africa. He is responsible for business development and industrial networking. Krzyszstof gave an in-depth technical presentation 
...
Read more...
---
SAIMC: Tshwane branch
July 2019, SAIMC , SAIMC
The committee wishes to thank Nico Marneweck from Endress+Hauser for serving on the committee since the branch's inception. Unfortunately Nico's work commitments have changed and he is not available to 
...
Read more...
---
SAIMC: Durban branch
July 2019, SAIMC , SAIMC
Durban branch held its June technology meeting at the Durban Country Club on Wednesday 5th June. It was another well-attended meeting with over 45 people in attendance.    Prinesh Mari, who is a senior 
...
Read more...
---
SAIMC: Johannesburg branch
July 2019, SAIMC , SAIMC
SICK of safety regulations?
   At the May meeting of the SAIMC Johannesburg branch held at SICK Automation, Stephen Eltze brought some fun into the safety discussion. As a nation of would-be taxi drivers, 
...
Read more...
---
SAIMC: From the President's desk
June 2019, SAIMC , SAIMC
We have reached the half-way point of 2019 and I am shocked at how time has just flown by for me personally. But, that is usually the result when you are fully engaged and busy with things that occupy 
...
Read more...
---
SAIMC: Durban branch
June 2019, SAIMC , SAIMC
The May technology evening was moved out a day to accommodate the public holiday on 1 May and the topic of IO-Link attracted an excellent attendance at the Durban Country Club, in spite of the disruption 
...
Read more...
---
SAIMC: Secunda branch
June 2019, SAIMC , SAIMC
On 4 April, Theo Wassenaar from Emerson Automation Solutions gave an informative presentation on 'Steam trap monitoring with pervasive sensing and plantweb insight'.    Over the years, steam traps have 
...
Read more...
---
SAIMC: Vaal branch
June 2019, SAIMC , SAIMC
At the last technology evening, Jacques Parrot, a project engineer from SICK Automation, gave an in-depth presentation on "Greenhouse phenomena and the looming legal requirements that emission producing 
...
Read more...
---