printer friendly version
Meet challenges and beat the odds at X-Change 2016
March 2016
News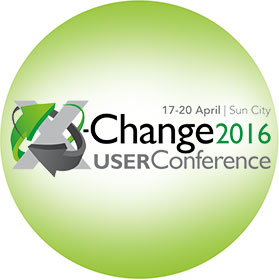 Wonderware Southern Africa's 24th annual User Conference, X-Change 2016, will be held at a brand new facility in the heart of Sun City from the 17th to the 20th April. X-Change is the most successful and longest running conference of its type on the continent and has become a yardstick for the quality and quantity of the knowledge it shares with professionals in the manufacturing, food and beverage as well as the mining, minerals and metals industries.
X-Change has earned this reputation by delivering information value and unparalleled networking and business opportunities to international and South African professionals in the fields of HMI/Scada, Manufacturing Operations Management and Production Information Management.
From its South African home, the conference has become an international phenomenon and every year it hosts industry leaders such as this year's keynote speaker, Ravi Gopinath, executive vice president, Software Business, Schneider Electric, who will map out the strategy and opportunities for the company's rapidly-evolving range of technologies.
To illustrate the point that such technologies are business enablers, a dozen presentations by end-users will illustrate how Wonderware's technologies are helping them achieve their operational and business goals. But this is only a fraction of the dozens more presentations that will address key issues across most industrial domains.

What's in it for you?
X-Change provides in-depth information sharing, education and networking opportunities in a power-packed three-day event. Attend product roadmaps, solution and industry overviews, deep-dive technical breakouts and customer success story experiences. The conference also features two days of demos and displays in the Collaboration Expo, along with entertainment and many networking opportunities – all helping you optimise your operations and providing options for a better business model.
In spite of its name, X-Change is open to everyone and not only to Wonderware users. The solutions feature extensive integration facilities which will help users get the most from their existing assets. It's no coincidence that the world's leading industrial companies make use of Wonderware as they know that this remarkable suite of inclusive solutions looks after their past investments while catering for unlimited future capability.
X-Change by numbers
• 350 delegates will get to see how their colleagues are addressing the ever increasing challenges their industries face. They will meet like-minded people from Africa's top mining companies, leading F&B companies, best manufacturing companies and leading utility providers so that they can see how problems they are confronting are being addressed.
• 45 top-rated technical presentations by local and international industry experts will address various topics of interest to your industry including what to expect in the near future and how you can turn this into bottom-line profits – but they're not just at a speaker's podium – have one-on-one meetings with them about your own issues.
• 12 end-user presentations will demonstrate the value Wonderware solutions have delivered to South African companies who have looked for effective solutions in the HMI and Supervisory Control, Manufacturing Operations Management and Production Information Management categories of applications.
• 24 exhibitors from the best system integrators and solution providers in southern Africa and beyond will show you the level of the depth of knowledge and expertise available to you right here and now. Every year, these industry solution providers choose the unique opportunities offered by X-Change to network with existing and potential customers and to showcase their capabilities. From instrumentation to software and from consulting to system integration, these solution suppliers are at the top of their game and combine their skills, knowledge and experience with Wonderware solutions to provide world-class implementations to your industry.
Solution line-up
Wonderware's new 2016 product releases will bring you greater power than ever so that you can explore a much wider range of possibilities for improving your business. We will be releasing the most significant new solutions since the launch of ArchestrA and adding new meaning to 'integration', 'versatility', 'scalability' and 'simplicity'!
From advanced process control, device integration, improved formula management and mobile scada to energy management, manufacturing intelligence, workflow management and mobile reporting, X-Change 2016 brings a new world of opportunities and capabilities for the bottom line. In other words, see how operational and business processes can be integrated into a formidable competitive advantage.
On the product side, Wonderware and Schneider-Electric commit annually to an investment of over €.1,1 billion towards innovation and development. At this conference, you will see not only the current benefits of this investment, but also where this promises to take us in the near future.
Conclusion
X-Change is designed to help you address today's challenging issues whether you're in the mining, manufacturing or utility industry. Brochures can only go so far and often don't tell it like it is – we do. You can't ask brochures searching questions – here you can. Our best brochures are our customers, so come and get your answers from those best qualified to supply them.
Welcome to WonderWorld at Sun City! If you want to book your seat, make a presentation or reserve an exhibition stand, please visit www.x-change.co.za
For more information contact Jaco Markwat, Wonderware Southern Africa, +27 (0)11 607 8100, jaco.markwat@wonderware.co.za, www.wonderware.co.za
Credit(s)
Further reading:
From the editor's desk: Edge, cloud or both?
June 2019, Technews Publishing (SA Instrumentation & Control) , News
In the illusory world of digital transformation, the question of where the applications will best be hosted often triggers a lively discussion. In particular, the cloud vs. edge debate has left many wondering 
...
Read more...
---
Wireless IoT devices in oil and gas reached 1,3 million in 2018
June 2019 , News
According to a new research report from Berg Insight, the number of devices featuring cellular or satellite connectivity deployed in oil and gas applications amounted to 1,3 million at the end of 2018. 
...
Read more...
---
Siemens and Iraqi government sign roadmap agreement
June 2019, Siemens Digital Industries , News
In a move that takes the roadmap for rebuilding Iraq's power sector a step further, Siemens and the Ministry of Electricity of the Republic of Iraq have signed an implementation agreement. This builds 
...
Read more...
---
Emerson acquires KNet software
June 2019, Emerson Automation Solutions , News
Emerson has announced the acquisition of KnowledgeNet (KNet) software from Tunisia-based Integration Objects. KNet's unique analytics application software accelerates digital transformation initiatives 
...
Read more...
---
BI set to add ContiTech belts to its range
June 2019 , News
Bearings International (BI) is set to add to its basket of premium brands following a visit by the ContiTech Power Transmission Group to discuss a local distribution agreement for its belt ranges. These 
...
Read more...
---
Endress+Hauser expands patent portfolio
June 2019, Endress+Hauser , News
The number of patents submitted by the Endress+Hauser Group continues to rise. As reported during the annual Innovators' Meeting held this year in France, the Group submitted 287 initial patents in 2018, 
...
Read more...
---
Hyflo Southern Africa incorporated into BMG's Fluid Technology division
June 2019, Bearing Man Group t/a BMG , News
The Engineering Solutions Group (ESG) of Invicta Holdings has incorporated Hyflo Southern Africa into BMG's Fluid Technology Division. This development is a positive move for both companies and for the 
...
Read more...
---
Festo to go digital at Automation Expo
June 2019, Festo , News
The world is currently undergoing radical digital transformation, which is viewed as an implementation of digital technologies in all sectors, including the automation industry. As a company that continuously 
...
Read more...
---
MESA aligns with Africa Automation Fair to promote next level industry automation
June 2019, Reed Exhibitions , News
MESA Africa has aligned with Africa Automation Fair for the first time this year, to help drive the next level of industry automation in South Africa. Vice chairman, Gerhard Greeff, explains that MESA's 
...
Read more...
---
Future Production Technologies Conference
June 2019 , News
"The Fourth Industrial Revolution will herald the transformation of entire systems of production, management and governance," says Bob Williamson, chair of the Future Production Technologies Conference 
...
Read more...
---