printer friendly version
SAIMC: An evening to remember
December 2018
SAIMC
SAIMC's prestigious annual dinner was once again held at the Montecasino Ballroom. In addition to senior council members, also present were VIP guests from the DTI and the National Technologies Implementation Platform (NTIP). Beckhoff MD, Kenneth McPherson was the MC, entertaining the guests and moving the proceedings smoothly along. Platinum and Gold sponsors were Beckhoff, Proconics RJ Connect , Endress+Hauser and ifm electronic.

SAIMC President, Annemarie van Coller set the tone with the president's address. She described the progress made in SAIMC's portfolio of projects: strategic projects, education and training, SAIMC growth, Industry 4.0 and First Robotics. She also highlighted the importance of the branches, explaining how much takes place behind the scenes every month and thanking the rising stars in the branches who are taking leadership roles. "It's an honour to be part of this team, are you not proud of our industry?" she said.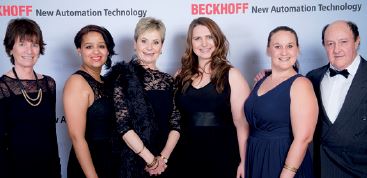 Team SA Instrumentation & Control
Rather than having branches competing with each other, this year's Branch of the Year awards were determined by the value each branch provided to its members. A branch earned a Platinum award if it met 100% of its target, Gold if it met 90% and Bronze if it met 80%. A Platinum award went to Durban branch, Gold to Tshwane and Secunda, and Bronze to Johannesburg.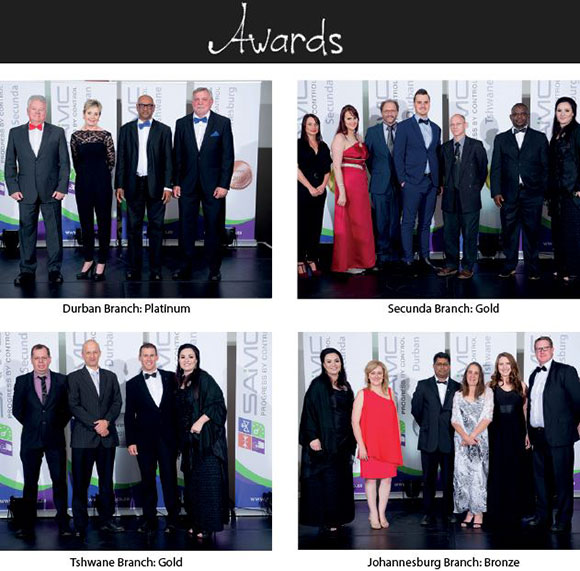 Then COO Johan Maartens, head of the automation and training task group, talked about the need for an automation degree and the work SAIMC is doing interacting with ECSA and higher institutions to achieve this goal. He is on the board of the international Automation Federation where the role of automation is being defined globally.
The NTIP is running highly successful programmes to upskill previously disadvantaged youth and prepare them for careers in manufacturing. Inspirational testimonies by two bright youngsters who have been through the programme were testament to this. Amos Makgoba is a product of the National Tooling programme. He grew up in a shack and now has an apprenticeship in dye and mould making. "NTIP has changed my life and my family" he said.
Machoene Manana went through the NTIP programme at Denel, qualified as a machinist, and is now internal sales manager at Weco. "Apart from teaching me, NTIP groomed me to be a valuable asset and this has made a huge impact on my life," she added. "Now I can add value to industry."
A highlight was the presentation by South Africa's own mentalist, Gilan Gork, who entertained guests with his powers in reading and influencing people and showed how your thoughts control your surroundings. Guests were then able to dance the night away. All in all, the evening was a very classy affair.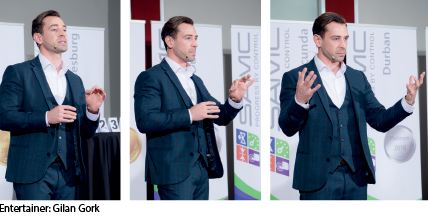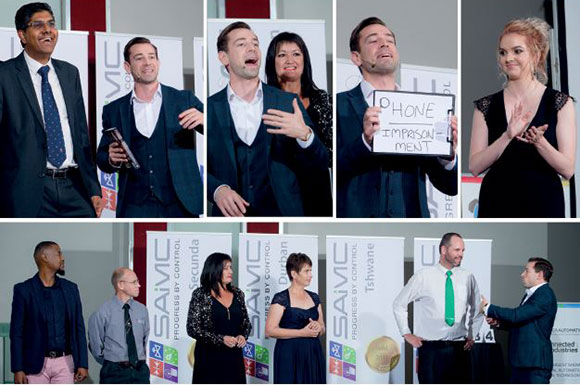 A tribute to the sponsors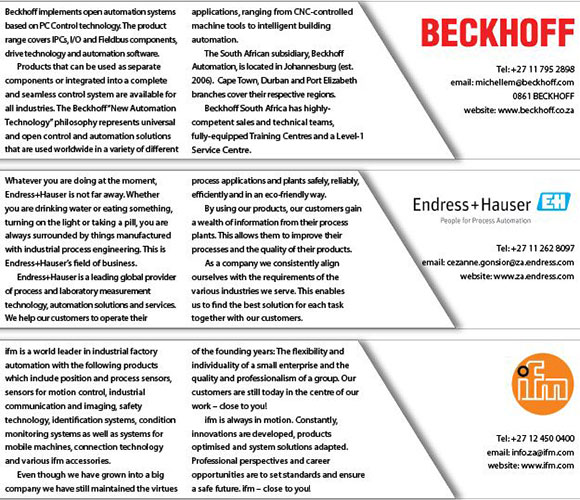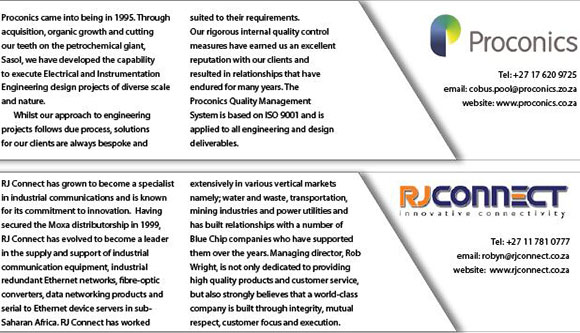 Credit(s)
Further reading:
SAIMC: From the President's desk
May 2019, SAIMC , SAIMC
The SAIMC branches are doing very well this year. If you as a member have not been able to get to a technology evening to learn something new regarding technology and network with your peers, I urge you 
...
Read more...
---
SAIMC: Tshwane branch
May 2019, SAIMC , SAIMC
There have been some changes at the branch and Morne Maree has taken over from Petrus Klopper. Petrus will move to a new portfolio for which more information will be communicated later. Nico Marneweck 
...
Read more...
---
SAIMC: Durban branch
May 2019, SAIMC , SAIMC
The April technology evening was held as usual at the Durban Country Club. The subject of 'Taking the next step in automation using collaborative robots' elicited great attendance and interest, and presenter 
...
Read more...
---
SAIMC: Secunda branch
May 2019, SAIMC , SAIMC
Technology evening
   On 7 February, Ian Janse van Rensburg, valve specialist from Mitech, gave a very informative presentation on control valve actuator selection.    Valve actuators are a differentiating 
...
Read more...
---
SAIMC: Johannesburg branch
May 2019, SAIMC , SAIMC
What is flow measurement, why is it important and how do we measure it? Those were the questions asked of members at the March Technology evening, hosted at WIKA Instruments and presented by Sagadevan 
...
Read more...
---
SAIMC: Vaal branch
May 2019, SAIMC , SAIMC
At the last technology evening, SMC Pneumatics, in partnership with Staro Process Control, presented on the topic "Energise your efficiency: Transform energy into a boost for your competitiveness".    Brian 
...
Read more...
---
Advancing standards in automation
Africa Automation Fair 2019 Preview, SAIMC , SAIMC, News
The SAIMC NPC is committed to advancing standards in the field of automation, instrumentation, measurement and control, creating awareness about automation amongst young people and recognition for automation 
...
Read more...
---
SAIMC: From the President's desk
April 2019, SAIMC , SAIMC
In the pursuit of betterment, in an ideal world, we would like to think that every person, can, as a minimum, choose to leave this world in a better state than they found it. For each of us this might 
...
Read more...
---
SAIMC: Johannesburg branch
April 2019, SAIMC , SAIMC
Is your data really yours?
   This question was posed by Mark Dilchert of Integr8. With cloud-based storage and communication, a company's data goes in one end, (usually) comes out the other, without 
...
Read more...
---
SAIMC: Tshwane branch
April 2019, SAIMC , SAIMC
The branch technology evenings are held on the first Wednesday of the month at our new venue – the offices of IoT.nxt, with invites sent via e-mail. Unfortunately, at present only around 30% of subscribers 
...
Read more...
---