printer friendly version
SAIMC: Johannesburg branch
December 2018
SAIMC
At the last technology evening Dave Wibberley, managing director of Adroit Technologies, presented on 'New perspective on smart factories in the context of Industry 4.0 and IOT' with regards to sustainability, benefits to employees and energy management.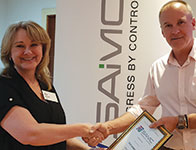 Ann de Beer (left) thanks Dave Wibberley after the presentation.
We live in a connected world. Industry 4.0, M2M, IoT, IIoT are all interconnected and interrelated in order to measure, monitor, control, manage and optimise our production systems and facilities.
The smart factory is aimed at a flexible system that can self-optimise performance across a broader network, self-adapt to and learn from new conditions in real or near-real time, and autonomously run entire production processes. The Smart Factory/Process should be one that focuses on achieving two things namely elimination of waste and creation of value, together with lean manufacturing.
Industry 4.0 is a name given to the current trend of automation and data exchange in manufacturing technologies. It includes cyber-physical systems, the IoT, cloud-based analytics and cognitive computing. Industry 4.0 is commonly referred to as the fourth industrial revolution.
The IoT, is a system of interrelated computing devices, mechanical and digital machines, objects, etc, that are provided with unique identifiers (UIDs) and the ability to transfer data over a network without requiring human-to-human or human-to-computer interaction.
Industry is evolving and embracing these new technologies due to compliance (regulations and norms) and also to remain competitive and efficient in this global economy. However, we also need perspective into the benefits and limitations as there is no quick fix.
The branch thanks Dave Wibberley for his informative and well received presentation.
Golf day
The branch hosted its annual golf day on 19 October at the Jackal Creek Golf course. The day dawned with blue skies and between the wonderful support from the staff at Jackal Creek, the attendance and the outstanding support of Johannesburg Patrons and members, the day could only be classed as a great success. The enthusiastic crowd of nineteen four-balls enjoyed the golf and also some welcome refreshment at the eleven watering holes along the way. Overall winners for the day were as follows:
First: Endress+Hauser – Danie Martins, Wynand Basson, Duncan Venter and Christopher Meyer.
Second: Loadtech – Magnus Geldenhuys, Divan Vosloo, Reinhardt, Mario.
Joint third: Extech – Gary Friend, Bruce Boake, Teboho Leepile and Les Friend.
Endress+ Hauser – Glenn Smith, Noel Lendis, Bernhard Kloss and Glen Cook.
The branch thanks everyone who participated in the event.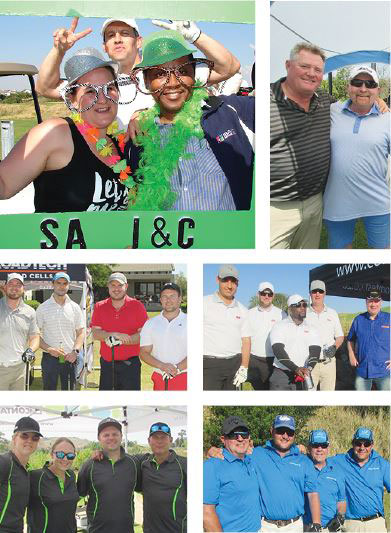 Credit(s)
Further reading:
SAIMC: From the President's desk
May 2019, SAIMC , SAIMC
The SAIMC branches are doing very well this year. If you as a member have not been able to get to a technology evening to learn something new regarding technology and network with your peers, I urge you 
...
Read more...
---
SAIMC: Tshwane branch
May 2019, SAIMC , SAIMC
There have been some changes at the branch and Morne Maree has taken over from Petrus Klopper. Petrus will move to a new portfolio for which more information will be communicated later. Nico Marneweck 
...
Read more...
---
SAIMC: Durban branch
May 2019, SAIMC , SAIMC
The April technology evening was held as usual at the Durban Country Club. The subject of 'Taking the next step in automation using collaborative robots' elicited great attendance and interest, and presenter 
...
Read more...
---
SAIMC: Secunda branch
May 2019, SAIMC , SAIMC
Technology evening
   On 7 February, Ian Janse van Rensburg, valve specialist from Mitech, gave a very informative presentation on control valve actuator selection.    Valve actuators are a differentiating 
...
Read more...
---
SAIMC: Johannesburg branch
May 2019, SAIMC , SAIMC
What is flow measurement, why is it important and how do we measure it? Those were the questions asked of members at the March Technology evening, hosted at WIKA Instruments and presented by Sagadevan 
...
Read more...
---
SAIMC: Vaal branch
May 2019, SAIMC , SAIMC
At the last technology evening, SMC Pneumatics, in partnership with Staro Process Control, presented on the topic "Energise your efficiency: Transform energy into a boost for your competitiveness".    Brian 
...
Read more...
---
Advancing standards in automation
Africa Automation Fair 2019 Preview, SAIMC , SAIMC, News
The SAIMC NPC is committed to advancing standards in the field of automation, instrumentation, measurement and control, creating awareness about automation amongst young people and recognition for automation 
...
Read more...
---
SAIMC: From the President's desk
April 2019, SAIMC , SAIMC
In the pursuit of betterment, in an ideal world, we would like to think that every person, can, as a minimum, choose to leave this world in a better state than they found it. For each of us this might 
...
Read more...
---
SAIMC: Johannesburg branch
April 2019, SAIMC , SAIMC
Is your data really yours?
   This question was posed by Mark Dilchert of Integr8. With cloud-based storage and communication, a company's data goes in one end, (usually) comes out the other, without 
...
Read more...
---
SAIMC: Tshwane branch
April 2019, SAIMC , SAIMC
The branch technology evenings are held on the first Wednesday of the month at our new venue – the offices of IoT.nxt, with invites sent via e-mail. Unfortunately, at present only around 30% of subscribers 
...
Read more...
---