printer friendly version
From the editor's desk: Digital transformation includes people, and services
October 2018
News
Digital transformation, according to Microsoft, is about reimagining how we bring together people, data and processes to create value for customers and maintain a competitive advantage in a digital-first world. So, while the fourth industrial revolution is underpinned by digital technologies, the revolution itself is not purely about technology. This is what makes digital transformation so disruptive to implement, one of the main obstacles to its adoption within industrial organisations.
The technologies themselves, which include big data and analytics, artificial intelligence, smart sensors, wireless communications, robotics and cloud computing, are all well publicised, and mostly, well understood. What sometimes gets missed though is an understanding of how to integrate these for new value creation. Mostly, the part that gets missed is that the technology itself will add very little by way of value, unless it is deployed within new business models. And, of course, new business models mean new ways of doing things, which invariably lead to disruptions of the existing organogram – structure follows strategy still applies.
According to surveys on the subject (by MIT and McKinsey, amongst others) many digital transformation programmes focus too much on the technology. The shortcoming of these technology-centric approaches is that they often fail to challenge the fundamentals of a company's business model. As a result, the tendency is to try and automate existing business processes, rather than fundamentally reengineering them to enable new business models.
Essentially, many organisations expect to get the benefits of digitalisation without the hardship of driving the necessary changes. Whatever the reasons, executives tend to underestimate the organisational implications of a digitalisation strategy i.e. the need to realign people, processes, organisational structures and culture.
One local company that hasn't fallen into the trap, and is getting things right in this area, is RCL Foods. The company's Transformation Project Manager, Hilde Volschenk, describes in an article in this issue how digital transformation all starts with people. She identifies the five dimensions of digital transformation at RCL Foods as company culture, empowered teams, customer experience, data and innovation. The transformation strategy centres around these five areas, and then involves everyone in the organisation. It includes technology yes, but it all starts with people. See the article on page 40 and prepare yourself to go 'all in'.
Adding services to products – an Industry 4.0 solution
On the subject of digital transformation, contributing editor Gavin Halse provides an interesting take on how manufacturing companies can use Industry 4.0 technologies to supplement traditional product offerings with value-added services. He even introduces a word for this: servitisation is the process of developing capabilities in a manufacturing company that supplement traditional product offerings with value added services. For example, selling maintenance contracts for capital goods is an example of a service being added to a product.
The idea of servitisation is not new, and in fact does not even rely on digital technology for its implementation; after all, maintenance contracts have been around for years. What the technologies of the fourth industrial revolution enable is the creation of 'smart products' which then allow the ideas of value-added services to be advanced further than was possible before.
Some commentators are calling this the real fourth industrial revolution, based on the relentless drop in profits from the manufacturing sector, while the profits of service-providing companies continue to grow. No surprise then that manufacturing executives have recognised the competitive advantage of including services to boost declining revenue through fully integrated product offerings.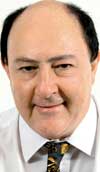 But, as Gavin points out, the clock is ticking. When one considers the complexity of a digital transformation strategy, it is not surprising that many manufacturers who intend to embark on the journey are still at the starting point. Short term business pressures make it difficult to plan the way forward, with many people simply too busy surviving to worry about Industry 4.0. Nonetheless, if competitive advantages and barriers to entry are to be protected in the digital age then new business models must be found, which include services and the people who provide them. 'How adding services to products could start your journey towards an Industry 4.0 solution' could help to get you started.
Steven Meyer
Editor: SA Instrumentation & Control
Credit(s)
Further reading:
Becker Mining South Africa supplies uninterruptible power supply systems
May 2020, Becker Mining South Africa , News
Becker Mining South Africa has supplied 12 uninterruptible power supply (UPS) systems to a local coal mine supplier, to enhance safety and prevent unnecessary downtime. These specially designed systems 
...
Read more...
---
Aguru announces agreement with French industrial services company Ennovia
May 2020 , News
Aguru Business Solutions (Aguru), a company specialising in automation and digital transformation advisory and project management services, has announced that it has entered into a reseller agreement 
...
Read more...
---
From the editor's desk: Loop signatures and digital postage during lockdown
May 2020, Technews Publishing (SA Instrumentation & Control) , News
In this month's issue, we publish the first updated version of Michael Brown's Loop Signature series of articles, the material that forms the basis for his popular control loop training courses.  
...
Read more...
---
Best of breed industrial software: announcement from Element8
May 2020 , News
Element8 is proud to announce its appointments as authorised Ignition distributor for Inductive Automation, distributor of Canary Historian for Canary Labs, and distributor of Flow Information Platform 
...
Read more...
---
BMG provides critical engineering support during lockdown
May 2020, Bearing Man Group t/a BMG , News
BMG, a leading South African engineering solutions specialist, has been authorised to provide engineering components and support services to businesses approved as essential service providers, during 
...
Read more...
---
Emerson acquires American Governor
May 2020, Emerson Automation Solutions , News
Emerson has announced that it has completed the purchase of American Governor Company, a leader in technologies and services for hydroelectric turbine controls. The addition of American Governor builds 
...
Read more...
---
EtherCAT Technology Group seminars postponed due to coronavirus pandemic
May 2020, Technews Publishing (SA Instrumentation & Control) , News
The series of EtherCAT Technology Group (ETG) seminars, scheduled to be held in South Africa from 22-29 October, has had to be postponed due to the uncertainty relating to travel and event hosting as 
...
Read more...
---
Endress+Hauser receives top rating for sustainability
May 2020, Endress+Hauser South Africa , News
Endress+Hauser has been placed in the top ranking of companies in the EcoVadis sustainability audit for the fourth time in a row. The group again improved its overall result. With 72 points, Endress+Hauser 
...
Read more...
---
Endress+Hauser partner programme gains importance through IIoT solutions
May 2020, Endress+Hauser South Africa , News
How can field instruments and components easily be integrated into automation systems? The answer is becoming increasingly important as industrial production digitalisation progresses. The Endress+Hauser 
...
Read more...
---
MESA International announces development of Model for Smart Manufacturing
May 2020, MESA Africa NPC , News
MESA International has announced the development of a new model called 'The Model for Smart Manufacturing'. The model will cover several intersecting dimensions including business intelligence, product 
...
Read more...
---