printer friendly version
ABB's low voltage switchgear ­ensures smooth operation
October 2015
Electrical Power & Protection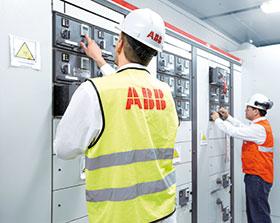 It takes time for a system to prove itself. Low voltage (LV) switchgear equipment may conform to all the current IEC standards and have been subject to the most rigorous testing, but it is only in the daily usage over a period of time that the true value of the design and control parameters of such equipment becomes evident. It is only in real-life and real-time that all the promises of safety and reliability can be truly put to the test.
Time for a change
Sasol's Secunda Synfuels operation is now realising the benefits of its decision to migrate certain plants to ABB's MNS LV switchgear more than 20 years ago. The transition to new switchgear was essential for the petrochemical facility as the existent equipment, sourced from a wide range of suppliers and installed in the late 1970s, was due for modernisation.
"The problem was that the old system could no longer match the harsh conditions at the Secunda plant; it had a single point of failure and no built-in redundancy. Fault-finding was a major challenge," says Leigh Visser, senior foreman at Sasol Synfuels outside ash and water division.
"We chose ABB's MNS product range for inclusion in the group of preferred solutions as the requirement is for switchgear products suited to the harsh conditions on the plant: both in terms of dust ingress and heat, as well as meet safety requirements," he adds.
Pushing the boundaries in safety technology
As someone who has been tasked to maintain and oversee the distribution and breaker switching at his division for a decade, and a 20-year career with Sasol, Visser is only too familiar with the challenges of working with energised equipment: the risks inherent in fault-finding meant that there was always a chance that something could go wrong.
MNS LV switchgear features enhanced operator safety features that include the ability to rack out and rack in without having to open the door. Added to this are separate compartments for controls and power cables, and internal arc fault containment.
The only operator protection in the older technologies was provided by cumbersome arc flash personal protection equipment (PPE) when working with the switchgear. This is not only uncomfortable, but limits the operator's mobility and visibility.
"We are still in the process of replacing panels, to ensure the second level of protection," he says.
Due to Sasol-specific requirements, Sagren Nair, chief technologist at Sasol Group Technology was involved in the design, concept and commissioning of technology for Sasol, as well as the quality assurance/quality control of equipment, and Nair himself has been closely involved with MNS switchgear since 1996.
Walking the extra mile
In the wastewater environment at Sasol Secunda, Nair explains, there was a high risk of arc-flashes on dropper bus bars which has been eliminated by the multi-function separation of the MNS design.
"With MNS, each bus bar is segregated from the other, which means a significant increase in safety as well as ease of maintenance," he explains. "The safety of our people is not negotiable. The built-in enhanced operator safety and arc-proof design has made a significant contribution to the excellent safety record for the Secunda wastewater facility."
Put to the test
Early in January, ABB MNS LV switchgear was put through an unexpected test when there was an incident in one of Sasol Secunda's substations. Albert Pretorius, chief electrical technologist at Sasol Synfuel's test department, who has extensive working experience with ABB MNS in the steam plant environment, explains: "There was a rupture fault inside the tier isolator causing the board's incomer to trip. Thanks to the monitoring system of MNS, the fault was quickly identified and we could take immediate action. Not only that, but the problem was contained and limited to the point of ignition only."
The design of ABB MNS features the withdrawal of modules and contacts, allowing for targeted maintenance on a problem area without having to shut off the entire system. The net result is minimal downtime. "The board was up and running again within 24 hours, where, without MNS, it would have taken two to three days," explains Pretorius.
The ability for a switchgear system to withstand the harsh, high-risk conditions of the petrochemical industry was paramount for Sasol Synfuel's requirements. The risk of explosion in the steam plant environment, for example, exists because of the very fine wet and dry coal dust present in the atmosphere.
"It is critical that the switchgear is able to withstand the harshest environment and oper­ational conditions. We have had an ABB MNS board at the steam plant since 2000 with only one rupturing fault, and no injuries," he adds.
Easy does it
As an end-user, Visser highlights the user-friendliness of MNS, something that both he and his artisans ex­­perience on a daily basis. He describes the racking out process as easy and smooth, in comparison to the old system, where the panels were bulky and made maintenance cumbersome.
"The simple layout of the MNS panels makes it easy to maintain and replace components. It has also been designed in such a way that it does not allow mistakes, with the added feature of having access to all com­ponents from the front of the switchgear," says Visser.
"The MNS system is an easy board to install and maintain," says Pretorius. "The beauty is, once it is installed nothing changes. The only training necessary is in control, protection and metering of the board. It certainly has made my job easier."
A design in evolution
Since MNS was introduced in the early 1970s, the basic design and construction of the system has remained unchanged. However, ABB's proactive R&D division has ensured a steady evolution in reliability, availability, maintainability and safety (referred to as 'RAMS'), and modifications and extensions can be added or retrofitted to existing switchgear installations.
"There have been constant improvements over the years which have allowed us to either retrofit items, or install new modules," says Visser.
In late 2014, ABB organised a special seminar on MNS, presented by ABB Australia's David Stonebridge and local ABB MNS proponent, Avi Ramdhin. Stonebridge, with over 45 years' experience of LV switchgear, has been at the forefront of testing and development of MNS technology for ABB globally. Pretorius agrees that there is always more to learn when it comes to LV switchgear and the seminar deepened his understanding of the value and power of MNS.
For Nair, the seminar was an example of how ABB invests in knowledge-sharing and building relationships with its customers. "In an industry such as petrochemicals, safety on the plant is critical. A safe board contributes reduced downtime and injuries, as well as limiting productivity losses."
Intelligent choices pay off
With an ABB satellite facility based in Secunda, on-site support and service is never far away. "Product support has made a big difference," notes Visser. "We appreciate how flexible ABB is in providing the right equipment and backup support to suit individual scenarios. Furthermore, component replacement is quick and efficient.
"In addition, the system provides additional information to give a whole new level of control. The diagnostics capability on the board gives the operator valuable feedback which enables us to be proactive about maintenance, rather than reactive."
Nair also highlights the value of intelligent switchgear and how it is aligned to Sasol's business culture and way of thinking. "The on-line, real-time monitoring of the process plant with MNS provides increased information and data which is invaluable for accurate decision making. ABB LV switchgear provides the ultimate combination of safety, comfort and peace of mind. It has proven itself over time and fulfils all of our requirements."
For more information contact Paul Louw, ABB South Africa, +27 (0)10 202 5916, paul.louw@za.abb.com, www.abb.co.za/lowvoltage
Credit(s)
Further reading:
Transformer for special applications
July 2021, ASSTech Process Electronics + Instrumentation , Electrical Power & Protection
The Jumo IPC 300 was developed for the control of heating loads that previously required an additional transformer for power control.
Read more...
---
ABB launches new MCB range
July 2021, ABB South Africa , Electrical Power & Protection
The circuit breaker industry sees the local launch of a high-quality product as ABB Electrification introduces its new range of 3 kA SR200T miniature circuit breakers.
Read more...
---
ABB technology can help make SA steel industry competitive
June 2021, ABB South Africa , IT in Manufacturing
South Africa's steel industry needs to invest in technology like automation and data analytics if it is to improve its productivity to the point where it is globally competitive.
Read more...
---
The Pepperl+Fuchs M-LB-5000 surge protection system
June 2021, Pepperl+Fuchs , Electrical Power & Protection
Using the modular M-LB-5000 system with diagnostics eliminates extensive testing and operational interruptions. It is supplemented by the M-LB-2000 system for applications in which a minimum specification is sufficient.
Read more...
---
Beckhoff expands power supply portfolio
June 2021, Beckhoff Automation , Electrical Power & Protection
Buffer and redundancy modules for 24/48 VDC power supply increase system availability.
Read more...
---
Legrand's new P17 Tempra Pro plugs
June 2021, Legrand , Electrical Power & Protection
New to Legrand's range of plugs and sockets is the versatile P17 Tempra Pro range, which has been developed for safe installation in indoor and outdoor environments.
Read more...
---
UPS series with One Cable Technology
April 2021, Beckhoff Automation , Electrical Power & Protection
Beckhoff's new CU81xx UPS series is designed for universal use. Due above all to the flexible connection options extending up to One Cable Technology for uninterruptible power supply (UPS-OCT), the series 
...
Read more...
---
Flameproof switchgear for system protection
April 2021, Becker Mining South Africa , Electrical Power & Protection
Becker Mining South Africa's Energy Distribution division manufactures customised switchgear, designed for the efficient distribution of electrical power.
Read more...
---
Schneider Electric extends UPS range
April 2021, Schneider Electric South Africa , Electrical Power & Protection
Schneider Electric has announced the extension of Easy UPS 3L from 250 kVA to 600 kVA (400 V) with the addition of 250, 300, and 400 kVA UPSes for external batteries.
Read more...
---
Complete Beckhoff system for power supply, protection and energy monitoring
April 2021, Beckhoff Automation , Electrical Power & Protection
Transparent energy data solutions increase machine efficiency and open up optimisation potential.
Read more...
---