printer friendly version
Fit for flow
October 2015
Flow Measurement & Control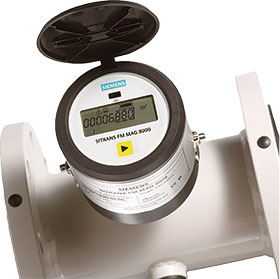 The Sitrans F M MAG 8000 series of battery-operated water flowmeters combines world-class performance with dedicated application solutions and low cost of ownership – no mains power required. The meters have been engineered to combine high efficiency technology with advanced power management to give 10 years of maintenance free operation and a customer selectable low battery level alarm.
The series includes the standard Sitrans MAG 8000 for distribution and abstraction networks, the Sitrans MAG 8000 CT with OIML R 49 and MID custody transfer approvals for bulk water and revenue metering, and the Sitrans MAG 8000 Irrigation for irrigation systems.
• Distribution and abstraction: To ensure consumers receive a continuous flow of drinkable water, more and more water meters are installed in the network to monitor the water flow from trunk lines to local systems.
• Bulk water/revenue metering: To ensure water bills are fair, and to reduce the need for verification, usage must be measured cost-effectively and accurately.
• Irrigation: Where irrigation systems are used in crop production, MAG 8000 Irrigation ensures water wastage is kept to a minimum and that farmers get a fair deal.
Benefits include:
• Simple placement of the meter – bury the meter underground or in a floating chamber. The IP68 (NEMA 6P) design is unaffected by meter position or in-line piping stresses, and there is no requirement for filters.
• Low pressure loss – an unrestricted flow tube ensures minimal pressure loss, even at the highest flow rates. Overall network system pressures can be reduced, helping to prevent leakage from burst pipes and excess stress placed on pumping stations.
• Measurement in both directions – only one meter required for measuring in both directions.
• Intelligent meter – only one meter for leak detection, data-logger function, and self detection of errors.
Wireless communication
To extend the benefits of both the MAG 8000 and MAG 8000 CT flow transmitters, a wireless communication module is available to allow for continual monitoring of water applications, even when on-the-go.
The module logs all flow measurement data from the MAG 8000 and transmits it to a designated recipient via email or SMS at customisable intervals throughout the day. The result: optimised flow performance and maximised productivity.
Combining the flexibility of wireless technology with the superior flow measurement capabilities of the MAG 8000, the wireless communication module offers an array of competitive benefits:
• Email and SMS functionalities: Automatically keeps the operator up-to-date regardless of location and makes it possible to change the settings without visiting the site.
• Your data, your way: The GSM/GPRS module utilises an open-integration OPC server for data storage and viewing, eliminating the need for costly and complex proprietary software.
• Proven power management: The module features the same power management concept as the MAG 8000. This includes the ability to calculate total system consumption. The innovative battery arrangement ensures a long lifetime of up to 7 years for the standard lithium batteries despite added power demands.
Other communication options for the meters include interfaces for Modbus RTU RS-232, Modbus RTU RS-485 and encoder output 'Sensus Protocol'.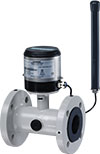 How battery-operated flowmeters improved the monitoring of a district's water usage
A private water company in the northeastern United States delivers more than just clean water. It provides comprehensive and sustainable management solutions for drinking water and wastewater processing to promote public and environmental health. Serving as both a utility owner and a contract services operator, the company can customise management and operational strategies to suit local needs and meet expectations.
The challenge
With the expansion of the urban districts it served, the drinking water management business unit realised that it needed to review the data of billed volume vs. produced volume. An acceptable 'loss' is typically 3%, but across several districts, the company was experiencing much more significant discrepancies. Pinpointing the sources of these losses was difficult since the distribution system is so large, but it theorised that some of its larger customers were bypassing the water meters.
The company also wanted to look for fire hydrant loss since it had observed pool companies using hydrants to fill their trucks (even though that water is only intended for fire districts), as well as for leakage into the ground.
Because nearly 500 000 water meters had been deployed, the customer realised that implementing an Automatic Meter Reading/Advanced Metering Infrastructure (AMR/AMI) strategy would be a costly investment. Therefore, it decided to implement a 'district strategy' by comparing the billing, plant generation reports and population profiles of each district and then determining which districts had the largest non-billable water usage. That information would allow it to use other strategies to identify individual or group offenders.
Unfortunately, two factors made it difficult for the company to collect district data: the location of some of the water interconnects in the middle of busy highways and the fact that certain interconnects lacked a power source. The company approached the local Siemens representative to investigate a solution that would include data collection and communication capabilities. It initially considered a large solar-powered radio infrastructure to accomplish the task, but community ordinances prohibited pole or tower construction, and objections were raised against the large solar panels that would have to be installed.
The solution
The local Siemens representative recommended the Sitrans F M MAG 8000 battery-operated electromagnetic flowmeter for continuous flow measurement at those sites with no power available. The customer agreed and eight of these meters were installed successfully at pre-determined points throughout the water distribution network. However, it was still required to travel to each site to collect the data. That is when it decided to use the Modbus output for the Sitrans MAG 8000. The Modbus signal is sent to a data-logger with cellular interface for data retrieval, with no solar panels required for operation.
Since this comprehensive system was implemented, all required flowmeter data has been sent back to the customer's scada for collection. The system is now able to run calculations on usage and aid in the determination of production values vs. loss values. This data has been very useful in determining where the loss issues reside.
Benefits
Cost savings: With the battery-powered Sitrans MAG 8000, there is no need to run power to remote sites.
Time savings: Using the Modbus capability of the Sitrans MAG 8000, the customer was able to send meter output over the wireless network, thereby reducing field time for the meter readers.
Customer service: The local Siemens representative provided start-up and fine tuning of the installed system.
For more information contact Thaven Govender, Siemens Southern Africa, +27 (0)11 652 2163, thaven.govender@siemens.com, www.siemens.co.za
Credit(s)
Further reading:
Siemens makes industrial 5G router available
July 2021, Siemens Digital Industries , Industrial Wireless
Router supports future-oriented applications such as remote access via public 5G networks or the connection of mobile devices such as automated guided vehicles in industry.
Read more...
---
Siemens adds AI to Simcenter
July 2021, Siemens Digital Industries , IT in Manufacturing
Siemens Digital Industries Software has announced the latest release of Simcenter Studio software, a web application dedicated to discovering better system architectures, faster. Simcenter Studio offers 
...
Read more...
---
Key factors for picking the optimal flowmeter
July 2021, KROHNE , Flow Measurement & Control
While a variety of factors impact meter performance, the most common culprits are flawed sizing and failing to choose the most appropriate technology.
Read more...
---
Siemens and Google Cloud to co-operate on AI-based solutions in manufacturing
June 2021, Siemens Digital Industries , News
Siemens intends to integrate Google Cloud's data cloud and artificial intelligence/machine learning technologies with its factory automation solutions to help manufacturers innovate for the future.
Read more...
---
Siemens expands CFD simulations
June 2021, Siemens Digital Industries , IT in Manufacturing
Siemens' Simcenter portfolio expands capabilities for frontloading computational fluid dynamics (CFD) simulation and increased productivity.
Read more...
---
New motors extend the Sinamics S210 system
June 2021, Siemens Digital Industries , Motion Control & Drives
Siemens has added new servo motors to its proven Sinamics S210 single-cable servo drive system, thereby expanding its range of applications.
Read more...
---
Water 4.0 for Botswana
April 2021, Siemens Digital Industries , News
Thanks to automation and electrical engineering from Siemens Solution Partner Moreflow, a new water treatment plant delivers 11 million litres of this precious resource every day.
Read more...
---
CSIR and Siemens partner to boost the South Africa's 4IR competitiveness
February 2021, Siemens Digital Industries , News
South Africa's pursuit of being a key player in the Fourth Industrial Revolution received a massive boost as the CSIR and Siemens South Africa entered into a partnership to empower the country's economy.
Read more...
---
Motion control with Sinumerik One Dynamics
March 2021, Siemens Digital Industries , Motion Control & Drives
Siemens has launched three powerful technology packages exclusively for the CNC Sinumerik One.
Read more...
---
Exact determination of fuel consumption
April 2021, Instrotech , Flow Measurement & Control
The Kobold DOE, an oval gear flowmeter, can be used with a wide range of media and chemicals
Read more...
---