printer friendly version
Radiation-based instrumentation for extreme process conditions
August 2015
Level Measurement & Control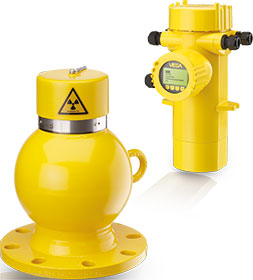 VEGA now supplies SIL-qualified measuring instruments for radiation-based level and point level measurement. The ProTrac series was developed according to the strict specifications of IEC/EN 61508 and all sensors in this series fulfil the highest standard requirements. In addition, all ProTrac sensors have an ingenious asset management system at their disposal.
Radiation based technology
Why the need for radiation-based technology? "Under extreme process conditions many measuring principles quickly reach their limits," explains John Groom, MD of Johannesburg-based VEGA Instruments SA. "This is where ProTrac is different: these radiation-based gauges remain completely unaffected by high vessel pressures, aggressive media, extreme medium temperatures or difficult physical product properties."
How is that possible? "ProTrac sensors can measure right through container walls with the help of gamma radiation," continues Groom. "Our radiometric technology provides you with reliable measurement data on filling level, limit level, density, separation layer and mass flow."
How it works
The basic element of radiometric (also known as nucleonic) measurement is a radio-active preparation that emits gamma rays. A Cesium-137 or a Cobalt-60 isotope is usually used as the radiation source. A special detector mounted on the opposite side of the tank picks up the radiation. This scintillator is able to convert the radiation received into flashes of light that are counted and evaluated. Because gamma rays are attenuated by changes to the process medium, this technology can calculate the level, the limit level, the density or mass flow from the intensity of the incoming radiation, i.e. from the number of light flashes.
Security at the highest level
ProTrac is equipped with the optimised source container VEGASOURCE. The lead-filled housing protects the surroundings against gamma rays so well that it allows operation even without a control area and at the same time protects the isotope from damage. The container is also available in a fire-resistant version as per ISO 7205 and IEC 60405.
The radiation is emitted through a narrow ray path in the housing and focused in the direction of the detector. This radiation emission channel can be completely closed if required. The shutter mechanism of the source container can also be pneumatically operated.
Asset management
All ProTrac instruments are equipped with a smart asset management system for self monitoring and diagnosis. It continuously checks all components and functions for accuracy and correctness, fully automatically. ProTrac switches from 'green' to 'yellow' status according to the traffic light principle when it recognises even the smallest deviations from the optimal state. This allows sufficient time to correct the problem well before a real disturbance or breakdown can occur, thus preventing expensive system standstills.
Flexible application options

Until now, multiple rod detectors had to be connected in series for level measurement in round and conical vessels. Now there is FiberTrac, a sensor with flexible plastic fibres. The flexible detector can be up to 7 m long and very simply contoured to the vessel shape. So today, one single instrument often suffices where several were previously required. To allow for extremely long measuring ranges, FiberTrac can also be cascaded.
For measurement in straight sided vessels there is SoliTrac, which has a classic PVT rod detector. With its crystal scintillator in compact design, MiniTrac is the specialist for density measurement. And last but not least there is PoinTrac, a level switch that offers a convincing price and performance capability.
A range of applications for level, overfill protection, density and mass flow measurement
VEGA's ProTrac series of gauges are suitable for a range of applications; for example, for level measurement in a polyester melt process, where the gamma radiation penetrates the cylinder despite the rotation of the cylinder and the great heat generated during the process.
ProTrac is also suitable for level detection in cellulose production and for density measurement of lime water in flue gas de-sulpherisation. The gauge can also be applied to a conveyor belt to measure mass flow of a hot product such as clinker.
Set-up and adjustment
ProTrac speaks the language of automation equipment and can be simply integrated into any process control system. Setting up a radiometric measurement is now simpler than ever: users can set the parameters of normal level or density applications with the on-site adjustment module PLICSCOM directly on the instrument. For more complex measurement setups, the powerful and highly effective DTMs and EDDs take over this task.
Groom concludes: "With ProTrac, the user gets perfected radiation-based measurement technology from a leading producer of sensors and gauges. The instrument sets standards in the area of safety as well as being particularly easy to handle."
For more information contact Chantal Groom, VEGA Instruments SA, +27 (0)11 795 3249, chantal.groom@vega.com, www.vega.com
Credit(s)
Further reading:
High-reliability float switch
September 2021, ASSTech Process Electronics + Instrumentation , Level Measurement & Control
ASSTech has added a new simple-to-mount horizontal design of float switch to its Jumo range.
Read more...
---
Multi-application radar level transmitters
September 2021, Instrotech , Level Measurement & Control
Instrotech now offers Kobold's NGR, a robust, maintenance-free level sensor that uses TDR (time domain reflectometry) technology.
Read more...
---
Level transmitter for hygienic applications
August 2021, Emerson Automation Solutions , Level Measurement & Control
The Rosemount 1408H Level Transmitter with IO-Link provides accurate, non-contacting measurement to help optimise operations and ensure food safety.
Read more...
---
Ready for use anywhere
August 2021, Endress+Hauser South Africa , Level Measurement & Control
The first 2-wire loop-powered compact transmitter enters the market.
Read more...
---
Make level sensor checks redundant
August 2021, DRH Components , Level Measurement & Control
The Roto-Bin-Dicator PRO is a simple paddlewheel device that monitors the level of dry bulk material.
Read more...
---
Clean and colourful
September 2021, VEGA Controls SA , Pressure Measurement & Control
VEGA has completed its measurement technology portfolio for hygiene-sensitive processes with two new compact instrument series comprising pressure sensors and level switches.
Read more...
---
Level switches master viscous substances
July 2021, VEGA Controls SA , Level Measurement & Control
VEGA has developed the new front-flush level switch, Vegapoint 24, especially for use with sticky, viscous or abrasive products.
Read more...
---
Level sensors shorten the distance from the field to supermarket shelves
August 2021, VEGA Controls SA , Level Measurement & Control
VEGAPULS C 11 ensures fast processing of carrots and onions with reliable measured values.
Read more...
---
New horizontal float switch
June 2021, ASSTech Process Electronics + Instrumentation , Level Measurement & Control
The R40 LSH now includes devices for point level measurement with features such as floats and reed contacts.
Read more...
---
Bypass level indicators
June 2021, Instrotech , Level Measurement & Control
Instrotech now offers Kobold's NBK level indicators for continuous measurement, display and monitoring of liquid levels in above or below-ground tanks.
Read more...
---