printer friendly version
Yokogawa launches next-generation field wireless
Technews Industry Guide - Wireless 2015
Industrial Wireless
In 2010, Yokogawa launched its first wireless field products conforming to the ISA100.11a standard and today continues to spearhead the development of industrial wireless technologies.
Recently, the company released a new, large-scale, reliable, next-generation plant-wide field wireless system with the following key features:
• Reliability: reliable high-performance field wireless and redundant technologies.
• Flexibility: flexible architecture supporting the full range, from small to large-scale plants.
• Openness: open ISA100.11a standard allowing third-party field wireless devices to be connected.
Next-generation field wireless systems
Although most field wireless systems are currently installed in relatively small areas, demands are rising to increase the number of monitoring points, covering wider areas, and expanding to process control as well as diagnosis, monitoring and measurement. To respond to these demands, Yokogawa has developed a large-scale, reliable, next-generation plant-wide field wireless system, which can manage up to 500 wireless field devices.
Conventional small field wireless systems are mainly installed as additional monitoring tools in areas with a clear line-of-sight such as tank yards and wastewater treatment facilities. Such systems offer only limited advantages such as improved inventory management, reduced regular visual checking, automated environmental measurement, and reduced wiring costs. In contrast, plant-wide field wireless systems can cover both a large number of measuring points in a small area with a high density of production equipment, as well as the entire plant. This allows customers to set up wireless devices anywhere in their plants and manage data from those devices to improve plant-wide production efficiency.
Several products have been added to the architecture of the new field wireless system including:
• YFGW410 field wireless management station.
• YFGW510 field wireless access point.
• YFGW610 field wireless media converter.
In the new architecture, the YFGW510 serves as an access point and forms the wireless backbone network with the YFGW410 field wireless management station. Therefore, by installing multiple YFGW510 field wireless access points throughout the plant, wireless sub-networks can be built and then connected to each other to create a large-scale, plant-wide field wireless system. The YFGW510 and YFGW410 can communicate via Ethernet, optical Ethernet, wireless LAN, instrumentation cable communication, and so forth, allowing flexible installation in plants. Yokogawa's YFGW710, the existing all-in-one type field wireless integrated gateway, combines all the functions of access points and wireless management, enabling small wireless systems to be easily installed.
Yokogawa's field wireless has excellent receiving efficiency with high reliability of the wireless physical layer (Reliable Radio). The technology enables communication within a 600 metre radius, with a standard antenna if there are no obstacles.
Reliability
The reliability of the network layer is enhanced with the following new technologies:
Duocast
Duocast is a redundancy technology for the wireless path specified in the ISA100.11a standard. In the conventional mesh-topology network, if communication is not established in a path, data is then sent via another path. However, this may affect real-time performance because the data is not sent in the same time slot, but in a later time slot even in the same superframe.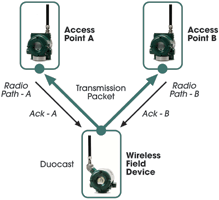 Figure 1. Duocast can overcome failures of either access point as well as errors in a wireless path.
Yokogawa's Duocast technology simultaneously sends two sets of identical data in the same time slot, and provided either data is successfully transmitted, real-time performance is maintained. Therefore, Duocast is ideal for ensuring the redundancy of mission-critical wireless paths and helps improve reliability while securing low latency (see Figure 1).
Dual wireless backbone network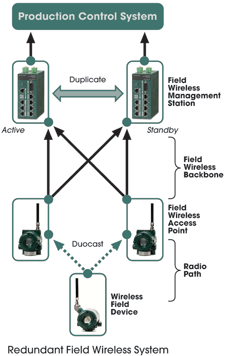 Figure 2. Redundant field wireless system.
The network between the YFGW510 and YFGW410 is called a wireless backbone network. Its redundancy is specified by the ISA100.11a standard to improve the reliability of the network and is achieved by the redundant YFGW410 stations. Either of the dual YFGW410 stations can deal with disconnections and errors of the wireless backbone network, as well as malfunctions of the other YFGW410 stations. One station is set to active and the other to standby and these are connected together via a synchronous communication cable. If a fault is detected in the active YFGW410, the functions and data are quickly routed to the standby YFGW410 to seamlessly continue communication. (see Figure 2).
Further enhancements
The communication quality has been improved with the release of the detachable antenna type model. The extension cable and high-gain antenna can be used with this model. The placement of the antenna can be adjusted with the antenna extension cable without change to the installation of transmitters.
The battery life of the detachable antenna type model has been extended from 1,5 times to 2 times more for a product with low power consumption. The EJX B series wireless differential pressure/pressure transmitter battery will last 10 years with an update time of 30 seconds or five years with a 10 second update. Similarly, the YTA510 wireless temperature transmitter battery will last 10 years with an update time of 10 seconds and eight years with a 5 second update time.
Summary
The flexibility of wireless solutions enables less investment in infrastructure, while providing greater process insights into plant operations where the measurements were previously too difficult or uneconomical to implement. The ISA100.11a's robust security mechanism provides continuous safety in various system operations.
For more information contact Christie Cronje, Yokogawa South Africa, +27 (0)11 831 6300, christie.cronje@za.yokogawa.com, www.yokogawa.com/za
Credit(s)
Further reading:
Siemens makes industrial 5G router available
July 2021, Siemens Digital Industries , Industrial Wireless
Router supports future-oriented applications such as remote access via public 5G networks or the connection of mobile devices such as automated guided vehicles in industry.
Read more...
---
NearFi couplers for contactless power and data transmission
July 2021, Phoenix Contact , Industrial Wireless
By launching NearFi, Phoenix Contact has introduced a new, innovative technology for contactless power and data transmission in the near-field range.
Read more...
---
Water resource sustainability management
July 2021, Yokogawa South Africa , System Integration & Control Systems Design
One way Yokogawa is successfully pursuing its sustainability goals is through its service to the global water industry.
Read more...
---
Pallet power in the chemical industry
June 2021, Turck Banner , Industrial Wireless
Contactless detection of incoming and outgoing goods provides those involved in logistics with considerably greater transparency of stock levels.
Read more...
---
Digital twin for refinery production
June 2021, Yokogawa South Africa , IT in Manufacturing
Within Repsol's Industrial Business, the development of a refinery digital twin leads the digitalisation program. The digital twin maximises production while optimising energy consumption.
Read more...
---
Wearable device keeps workers safe during the pandemic
June 2021, RS Components SA , Industrial Wireless
Maintaining social distancing is key to limiting the spread of coronavirus, but it can be a real challenge in busy workplaces such as manufacturing facilities, warehouses and construction sites.
Read more...
---
Remote monitoring of temperature in cryopreservation facilities
March 2021, Omniflex Remote Monitoring Specialists , Industrial Wireless
When the Medical Research Council needed to upgrade sixteen of its facilities to monitor temperature and humidity levels in its -80°C sample storage area, it engaged Omniflex to find a solution.
Read more...
---
Expert advice for a stress-free digital transformation journey
May 2021, Yokogawa South Africa , IT in Manufacturing
The journey begins with a digital roadmap, which is a strategic plan to bring change to the company. It is all-encompassing in the organisation and goes beyond technology, IT and OT."
Read more...
---
RFID system tracks meat production in Chinese slaughterhouse
February 2021, Turck Banner , Industrial Wireless
To implement the tracking of the pork across all process levels, every pig is provided with an electronic earring containing the relevant data.
Read more...
---
Three key considerations to build reliable wireless communications for AGVs
February 2021, RJ Connect , Industrial Wireless
Moxa has helped machine OEMs and system integrators worldwide to augment their AGVs and AS/RS for optimal reliability and efficiency.
Read more...
---