printer friendly version
Benefits of an integrated control and safety PAC
January 2015
PLCs, DCSs & Controllers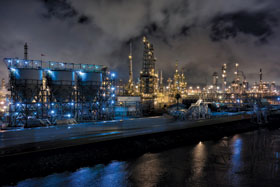 Current challenges in the process industry
Whatever the process and application, the process industry faces a number of major challenges. These include the need to keep processes up and running with maximum uptime. At the same time, the performance and profitability of processes need to be maximised, and ultimately, processes need to produce products that are of a higher quality than those of the competitors. Plant reliability, employee safety and environmental compliance are also crucial to a smoothly operating process. Accidents must be reduced to as few as possible, with zero being the goal. Emissions need to be controlled, and should an emergency occur, the plant or specific process needs to be shut down in a safe and timely manner.
Providing a protective layer around industrial process systems is the role of a Safety Instrumented System (SIS), examples of which include a safety interlock, a safety shutdown system, or an emergency shutdown system. The objective of a SIS is to prevent any unforeseen incidents which the process control system cannot handle, and take a process to a safe state when safe operating conditions have been transgressed.
A SIS is comprised of Safety Instrumented Functions (SIFs) with specific Safety Integrity Levels (SILs) implemented to achieve or maintain a safe state. A SIF's sensors, logic solvers and final elements act in concert to detect a hazard and bring the process to a safe state.
Which SIL is required?
SILs are defined in accordance with IEC 61511 and indicate the tolerable failure rate of a particular safety function. The SIL corresponds to a range of values from 1 to 4 measured in terms of the average probability of failure to perform a safety function on demand and in terms of the safe failure fraction – the higher the SIL, the greater the impact of a failure and the lower the failure rate that is acceptable.
SIL-4 is the highest level of risk reduction that can be obtained. However, in the process industry this is not a realistic level and currently there are few, if any, products/systems that support this level. SIL-4 systems are typically
so complex and costly that they are not economically beneficial to implement. Additionally, if a process includes so much risk that a SIL-4 system is required to bring it to a safe state, then fundamentally there is a problem in the process design that needs to be addressed by a process change or other non-instrumented method.
When determining whether a SIL-1, 2, or 3 system is needed, the first step is to conduct a process hazard analysis to determine the functional safety need and identify the tolerable risk level. After all of the risk reduction and mitigation impacts from the basic process control system and other layers of protection are taken into account, a user must compare the residual risk against their risk tolerance. If there is still an unacceptably high level of risk, a risk reduction factor (RRF) is determined and a SIS/SIL requirement is calculated. The RRF is the inverse of the probability of failure on demand for the SIF/SIS (see table).

Selecting the appropriate SIL level must be done carefully as costs increase considerably to achieve higher SIL levels. Typically in the process industry, companies accept SIS designs up to SIL-2. If a process hazard analysis indicates a requirement for a SIL-4 SIS, owners will usually require the engineering company to re-design the process to lower the intrinsic process risk. The Honeywell HC900 process control system has recently been certified as a SIL-2 device.
Introducing the Honeywell HC900 process and safety system
The Honeywell HC900 process and safety system is an advanced process and logic controller with a modular, scalable design that is built to work with a wide range of process equipment in a cost-effective way. It comes with a touch-screen operator interface which makes it very easy to operate. HC900 possesses a flexible architecture that can accommodate the most demanding application, and with its advanced features and versatile connectivity, is capable of customised pinpoint control. HC900 also simplifies the documentation process and eliminates filing errors.
The system offers the capability and flexibility of hosting both safety and process control applications on a single hardware platform or separate platforms depending on the need of the application or the end user. A common hardware platform allows separation between the process control and safety environments within the designer software which is totally non-interfering and easy to configure using function block methodology.
If separate hardware platforms are chosen, then communication between the process control system and safety system becomes very easy and flexible because of easier data exchange and similar communication protocols.
Similar hardware for process control and safety allows for easy training of engineering and safety personnel. This leads to development and training cost savings because the same function block software is used for safety and process.
Training costs are reduced because training on using the tools need to be conducted only once although proper design procedures must be followed to ensure there is no common cause of failure between BPCS and SIS when shared components are used between the safety and process control system.
The operators can have the same HMI or operator interface with enhanced diagnostics to view the process and safety control operations. The use of a similar kind of system for process control and safety reduces the system complexity and number of systems from different manufacturers used.
Recently added features of HC900 include a SIL-3 certified operating system with TÜV SIL-2 certified function blocks with input voting and output validation features. Advanced features include the use of external watchdog time, independent clock, additional ram and flash memory, and ECC memory circuitry for safety and process controllers.
Benefits of the system
HC900 SIL-2 is proven in the field with over 13 000 installations globally across process control and critical applications. The system is ideal for a process/safety software environment. Its non-interfering software environment means that the HC900 system is capable of hosting process control and safety applications, providing control, monitoring, password protection for configuration, alarm processing and data acquisition for process applications.
High reliability and availability is ensured by redundant CPU, rack power supply, communications and networking, as well as by features such as removal and insertion under power, online monitoring, edits and hardware maintenance during running operation. Its hardware, communications and sensor level diagnostics are robust, and the system provides early warning notification of pending sensor failure.
Process specific function blocks including I/O validation safety function blocks suited to individual application needs reduce configuration time. The system is quick to start up thanks to its HC Designer intuitive software.
Powerful Accutune III auto-tuning algorithms enable control loops to be quickly and easily tuned to reduce start-up time and lessen the impact of process upsets.
Advanced monitoring and debugging tools are easy to use and engineer, and the system provides an integrated operator interface and open Ethernet communications as well as central and remote I/O capability.
The system is fully scalable, allowing a customer to purchase only what the process currently needs, while enabling future expansion as the process expands.
Specific advantages over other safety logic solvers
The HC900 offers additional advantages over other safety logic solvers:
• Provides redundancy and I/O checking.
• Redundancy of CPU, power supply and communication is easily achieved.
• Voting capability on the inputs and output validation.
• Flexibility in programming allows the program to be developed by experts thus helping exceed the NFPA codes.
• Program security and protection through password protection.
• Affordable SIL-2 solution can be achieved right out-of-the-box, thus helping achieve compliance to industry standards.
• System flexibility allows it to be used with any fired equipment such as ovens, furnaces, boilers etc.
• Communicates easily with other third-party PLCs.
• Integrated HMI and a global database easily reduce operator errors.
• Multiple burners, multiple scanners can be used for burner related applications (as compared to microprocessor based BMS systems).
• Critical information and advanced diagnostics for improved operations.
Conclusion
The SIL-2 certified HC900 is a single flexible system for process control and safety with faster start-up time, common engineering tools, reduced training, simplified maintenance and lowest cost of ownership. Its engineering tools and hardware can easily integrate with Honeywell system and other third-party applications.
This leads to increased throughput, less rework, secure accurate process records, improved safety, and reliability, reduced human error, and loss prevention through a TUV certified SIL-2 system.
For more information contact Boni Magudulela, Honeywell Southern Africa, +27 (0)11 695 8000, boni.magudulela@honeywell.com, www.honeywell.com
Credit(s)
Further reading:
Controller for robotic systems
June 2021, Omron Electronics , PLCs, DCSs & Controllers
Omron has announced the launch of its first 'Robotic Integrated Controller', based on its leading NJ series of machine controllers for industrial automation.
Read more...
---
Wireless controller for smarter factories
March 2021, Turck Banner , PLCs, DCSs & Controllers
Turck Banner's DXM wireless controllers are designed to facilitate Ethernet connectivity as well as enabling IIoT applications.
Read more...
---
Automation with PC-based control at UOW Malaysia KDU University
March 2021, Beckhoff Automation , PLCs, DCSs & Controllers
Eight embedded PCs and 3000 EtherCAT I/Os ensure maximum building efficiency across university campus.
Read more...
---
Open PLCnext Technology ecosystem
February 2021, Phoenix Contact , PLCs, DCSs & Controllers
With the new PLCnext Control AXC F 3152 controller, Phoenix Contact now provides a high-performance Axioline controller based on the open PLCnext Technology ecosystem.
Read more...
---
Controllers with real-time Ethernet solution
April 2021, Mecosa , PLCs, DCSs & Controllers
Bronkhorst is pleased to present Powerlink as its tenth on-board fieldbus interface option.
Read more...
---
Industrial edge controller for pipeline operations
February 2021, Emerson Automation Solutions , PLCs, DCSs & Controllers
Denka Wangdi, of Emerson's machine automation solutions business, explains how the gathering, storage and analysis of detailed operational and diagnostic data by modern edge controllers provides significant benefits for pipeline operators.
Read more...
---
Becker Mining's upgraded chairlift PLC panels increase safety
November 2020, Becker Mining South Africa , PLCs, DCSs & Controllers
Becker Mining South Africa recently launched a new upgraded chairlift PLC panel that enhances the reliability of Becker chairlift systems, which are used to transport personnel on mines throughout the world.
Read more...
---
Open PLCnext Technology ecosystem
January 2021, Phoenix Contact , PLCs, DCSs & Controllers
With the new PLCnext Control AXC F 3152 controller, Phoenix Contact now provides a high-performance Axioline controller based on the open PLCnext Technology ecosystem.
Read more...
---
New Modicon IIoT-ready controller
September 2020, Schneider Electric South Africa , PLCs, DCSs & Controllers
The Modicon M262 is IIoT-ready, designed and delivered with intuitive direct cloud connectivity and no gateways are required for OEMs to design solutions for performance demanding applications.
Read more...
---
Modular mid-range PLC series
June 2020, ElectroMechanica , PLCs, DCSs & Controllers
The Delta compact modular mid-range AS series PLCs, available locally from ElectroMechanica (EM), is a high-performance, multi-purpose controller designed for all kinds of automated equipment. The series 
...
Read more...
---