printer friendly version
Behind the chameleon
January 2015
Valves, Actuators & Pump Control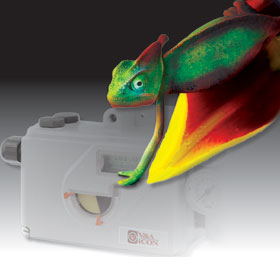 The V&A iCon® positioner family comprises the model 270991 valve positioner and the model 270960 valve positioner.
Adaptable
The chameleon is legendary for changing colour to adapt to its environment. How does this positioner family match up to that ability?
Process environment

The V&A 270991 positioner incorporates an LCD for configuration and fault-finding.
The 270960 is ATEX flameproof and FM explosionproof rated, while the 270991 can be used for intrinsically safe applications. A stainless steel housing is available as an option.
BPCS or SIS?
While these positioners are well-suited to use in basic process control systems (BPCS) they may also be used in safety instrumented systems (SIS) in applications requiring components up to a SIL3 rating. Using the available partial stroke testing (PST) capabilities for ESD valve circuits
can yield massive bottom line cost savings through extended full proof test intervals.
System integration

Positioners from the V&A iCon® range can be interfaced to control systems through discrete I/O, analog I/O or through one of the many common process control protocols available. These include FOUNDATION Fieldbus H1, FoxCom, HART and PROFIBUS PA.
Valves and Actuators
Properly mounting a positioner onto a valve or actuator can be a significant challenge for EPC and end-user organisations because of the almost infinite permutations of valve supplier, valve body design, actuator supplier and actuator design.
This range of positioners overcomes these challenges by offering standardised, predesigned attachment kits for almost every known combination and custom kits for the unknown. This eliminates the engineering risk of physical integration of positioner to actuator/valve and ensures a well-engineered and lasting solution.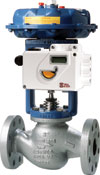 So whether the valve requiring a positioner comes from ABB, ARCA, Fisher, Jamesbury, Masoneilan, NAF, Neles, Samson, Valtek or a host of other manufacturers there is a suitable attachment kit.
And in the rare event that if there is no standard for that manufacturer there will be a custom kit to suit rotary, linear, cylinder or special mounting requirements that arise.
The positioners can be used in conjunction with single-acting and double-acting actuators.
Situational awareness
Just as the chameleon's 360 degree vision ensures its safety through being vigilant to events in its surroundings, the intelligence built into the V&A iCon® positioners ensures that BPCS and SIL functions perform safely and as required.
Status and Self-diagnostics
Using local buttons in conjunction with the positioner's integral LCD the user or technician can set up the positioner using the menu-based configuration system and also perform fault-finding on the device and the valve, thus minimising the need to carry loop simulators.
More advanced diagnostics are available using either the service plug, an optional infrared interface or through the control system protocol communications capabilities.
The self-diagnostics allow the technician to view data such as hours in operation and cycle counts, loop current and potentiometer status.
System diagnostics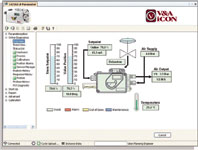 More importantly from a maintenance and predictive maintenance perspective, performance of the valve + actuator + positioned combination can be configured and tested through the FDT/DTM-based software which is included in positioner deliveries at no additional cost. Planned service intervals can be set and monitored and information can be accessed on sum of actuator travel, position-response hysteresis curves, partial stroke test history and results, valve signatures and stem friction.
Field Device Tool (FDT) technology provides standardised communication and configuration interfaces between all field devices and host systems which means that these positioners can be seamlessly incorporated into existing asset management systems.
These diagnostics mean that the risk of valve non-performance and maloperation are reduced and owners can take early cost effective and planned action to repair valves that begin to show off-specification performance, thus preventing costly unplanned process stoppages.
The ability to incorporate PST into the V&A iCon® positioners means that the risk of probability of failure on demand of an ESD valve and its associated safety integrated function can be kept lower for longer, allowing proof test intervals to be extended and providing direct operational cost benefits.
For more information contact Fred Venter, Valve & Automation,+27 (0)11 397 2833, fred.venter@valve.co.za, www.valve.co.za
Credit(s)
Further reading:
Schubert & Salzer and Macsteel
September 2021, Macsteel Fluid Control , Valves, Actuators & Pump Control
The demand on valves, particularly in tyre production plants, is extreme with tyre curing presses working constantly at high temperatures and pressures.
Read more...
---
Chinese LNG tanker fitted with ARCA anti-surge valves
September 2021, Valve & Automation , Valves, Actuators & Pump Control
ARCA anti-surge valves avoid surging by accurately adjusting the gas circulation or blow-off flow, effectively protecting the safety of the compressor unit.
Read more...
---
Electrified subsea actuator for offshore production
September 2021 , Valves, Actuators & Pump Control
Bosch Rexroth has engineered the SVA R2 Subsea Valve Actuator as a disruptive innovation for electrically actuating valves in the subsea process industry. It can replace conventional hydraulic cylinders 
...
Read more...
---
Eliminate bearing failures in TOVs
August 2021, Valve & Automation , Valves, Actuators & Pump Control
Bearing failures are among the highest root causes of failure in triple offset valves (TOV) for tight shutoff applications. This issue is directly attributed to the need to have metal bearings with very 
...
Read more...
---
Locally manufactured knife gate valves
August 2021, Bearing Man Group t/a BMG , Valves, Actuators & Pump Control
BMG and Abrasive Flow Solutions (AFS) play a major role in the local valves sector, through the design, distribution, supply and support of a broad range of slurry related valves.
Read more...
---
Protect your pump and keep it longer
July 2021, Elemental Analytics , Valves, Actuators & Pump Control
Unexpectedly losing a pump is often an expensive or even a dangerous problem in a chemical plant.
Read more...
---
Locally valves manufactured for tailings pipeline
June 2021 , Valves, Actuators & Pump Control
The AFS manufacturing plant in Benoni is equipped with advanced equipment and is supported by specialists who offer dependable technical support to ensure the optimum safety, efficiency and extended service life of every system.
Read more...
---
New flange monoblock with shut-off valve
March 2021, WIKA Instruments , Valves, Actuators & Pump Control
WIKA's new monoblock with flange design integrates a shut-off valve to separate the process from the instrument side.
Read more...
---
Erratum
February 2021, Valve & Automation, Technews Publishing (SA Instrumentation & Control) , News
Read more...
---
The Stafsjö HX story – greater demand calls for action
February 2021, Valve & Automation , Valves, Actuators & Pump Control
As a knife gate valve supplier, Stafsjö supplies product solutions to realise efficiency and production goals in pulp and paper applications.
Read more...
---