printer friendly version
Predictive condition monitoring at power plants
December 2014
PLCs, DCSs & Controllers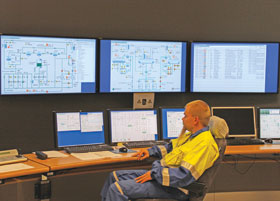 At any power plant, the steam or gas turbine is not only critical with regard to production, but it is also the most expensive individual rotating machine. When the turbine condition is known, operators are able to predict its service needs and add efficiency to its maintenance. Repairs can be scheduled to take place during the next planned service shutdown so they cause no extra production downtime. Being predictive also brings cost savings as the needed spares, tools and resources can be reserved. In case of sudden equipment failure, getting all organised at a short notice can be challenging and the process will be down the whole time.
Adding turbine controller vibration monitoring and protection features
Traditionally, power plant automation has been composed of separate islands, whose systems and applications often come from different suppliers. Turbine availability and safety can be improved significantly when the turbine controller, mechanical protection and vibration monitoring are implemented as part of the automation system that controls the whole power plant process.
Metso has integrated its renewed turbine controller, turbine mechanical protection and turbine vibration diagnostics into the Metso DNA automation system where they operate seamlessly together. In addition to the more advanced turbine controller, mechanical and vibration measurements are also part of the automation results automation system. In this way, Metso's strong condition monitoring know-how is fully utilised.
Integrated condition monitoring improves turbine generator diagnostics and removes the need for a separate condition monitoring system. The measurement results can be used for turbine protection and for everyday online condition monitoring as well as for more demanding diagnostics purposes.
Vibration based condition monitoring helps predictive maintenance
Machine protection monitors the most critical turbine parameters and activates interlockings to prevent machine failure. Vibration-based condition monitoring can be expanded to a more comprehensive diagnostics tool for predictive maintenance. It enables the plant to follow up the turbine condition online, gather diagnostics data from it and notice creeping faults before they have time to develop into problems.
Metso's new solution for mechanical condition monitoring, Metso DNA Machine Monitoring, makes it possible to implement vibration measurements and analyses as part of the automation system. The operators and maintenance staff are able to monitor the machine condition data based on vibration measurements directly on the control system user interface at their own workstations. One common view of the machine condition data enables them to solve issues related to the condition of mechanical equipment together, fast and efficiently. The operators can follow how mechanical failure develops and, if there is a serious risk of damage, forward the information quickly to the maintenance staff. The maintenance staff gets the same information at their own workstations on the same displays and is able to analyse the vibration measurements in more detail to find out the cause for the disturbances and to plan remedial actions. Using the same data on the same display pages also improves cooperation and communication between the main­tenance and operations staff.
Information directly to the maintenance system
The information produced by the condition monitoring applications can be better utilised when there are information transfer solutions between the automation system and the maintenance information system. For example, a fault notification entered in the electric shift diary, Metso DNA Report Diary, can be transferred to the maintenance information system just by pushing a button. Linking boosts the maintenance process and the flow of information in the organisation.
Condition monitoring services support predictive maintenance
Metso provides power plants with a wide range of services that support the staff in maintenance operations. There are support services for control loop tuning, field device monitoring and analysing vibration measurements of mechanical devices. If needed, the services can also include regular condition monitoring reports, which the customer can use directly in maintenance planning.
The vibration-based condition monitoring products and services offer an excellent way to improve process availability and boost maintenance at a power plant. Implementing condition monitoring as part of the automation system creates new opportunities for the cooperation between the operators and the maintenance staff. It is also a cost-efficient way to build and maintain condition monitoring system solutions.
For more information contact Metso Automation, +27 (0)31 502 9350, nsdu@metso.com, www.metsoautomation.com
Credit(s)
Further reading:
Valmet and Neles to merge
August 2021, Neles South Africa , News
Valmet Oyj and Neles Corporation have announced that their respective boards of directors have signed a combination agreement and a merger plan to combine the two companies through a merger.
Read more...
---
Controller for robotic systems
June 2021, Omron Electronics , PLCs, DCSs & Controllers
Omron has announced the launch of its first 'Robotic Integrated Controller', based on its leading NJ series of machine controllers for industrial automation.
Read more...
---
Wireless controller for smarter factories
March 2021, Turck Banner , PLCs, DCSs & Controllers
Turck Banner's DXM wireless controllers are designed to facilitate Ethernet connectivity as well as enabling IIoT applications.
Read more...
---
Automation with PC-based control at UOW Malaysia KDU University
March 2021, Beckhoff Automation , PLCs, DCSs & Controllers
Eight embedded PCs and 3000 EtherCAT I/Os ensure maximum building efficiency across university campus.
Read more...
---
Open PLCnext Technology ecosystem
February 2021, Phoenix Contact , PLCs, DCSs & Controllers
With the new PLCnext Control AXC F 3152 controller, Phoenix Contact now provides a high-performance Axioline controller based on the open PLCnext Technology ecosystem.
Read more...
---
Controllers with real-time Ethernet solution
April 2021, Mecosa , PLCs, DCSs & Controllers
Bronkhorst is pleased to present Powerlink as its tenth on-board fieldbus interface option.
Read more...
---
Industrial edge controller for pipeline operations
February 2021, Emerson Automation Solutions , PLCs, DCSs & Controllers
Denka Wangdi, of Emerson's machine automation solutions business, explains how the gathering, storage and analysis of detailed operational and diagnostic data by modern edge controllers provides significant benefits for pipeline operators.
Read more...
---
Becker Mining's upgraded chairlift PLC panels increase safety
November 2020, Becker Mining South Africa , PLCs, DCSs & Controllers
Becker Mining South Africa recently launched a new upgraded chairlift PLC panel that enhances the reliability of Becker chairlift systems, which are used to transport personnel on mines throughout the world.
Read more...
---
Open PLCnext Technology ecosystem
January 2021, Phoenix Contact , PLCs, DCSs & Controllers
With the new PLCnext Control AXC F 3152 controller, Phoenix Contact now provides a high-performance Axioline controller based on the open PLCnext Technology ecosystem.
Read more...
---
New Modicon IIoT-ready controller
September 2020, Schneider Electric South Africa , PLCs, DCSs & Controllers
The Modicon M262 is IIoT-ready, designed and delivered with intuitive direct cloud connectivity and no gateways are required for OEMs to design solutions for performance demanding applications.
Read more...
---