printer friendly version
S instead of SOS
July 2014
IS & Ex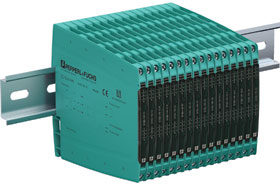 High long-term reliability and precision, as well as maximum protection for people and equipment in a space-saving compact design; this is what distinguishes Pepperl+Fuchs' SC-System signal conditioners. The newly developed product range is specially designed to meet the requirements of industrial sectors in which potentially explosive areas play a subordinate role.
The SC-System signal conditioners combine all of the most powerful characteristics of comparable products in one device family. The design incorporates all the company's experiences in the strict requirement profiles of product development for the explosive area. Benefits for operations include higher system availability, greater temperature stability and improved signal transmission quality. In addition, in the event of a fault, people and equipment are guaranteed maximum protection, and in terms of switch cabinet planning, the intelligent design of the SC-System means effective use of the available space and low cooling requirements.
Circuit design challenge
A number of physical effects set limits on signal conditioner performance.
* The reduction of capacitance values at high ambient temperatures determines the temperature range in which signal conditioners can be used continuously.
* The self-heating temperature of the entire circuit has an effect on the permissible temperature range, as well as on the switch cabinet cooling requirements.
* Short circuits in transformer coils, as well as the ageing of components, have a significant impact on the length of maintenance intervals – and thus on the system availability.
* The use of conventional trimming potentiometers carries the dangers of time-dependent drift and calibration deviations due to manual calibration; they are also more susceptible to faults due to the slider contact point. Manual calibration also provides a spread of values within a series.
* The quality of the galvanic isolation determines the degree to which faults are intercepted by the signal conditioner, and thus the degree to which people and equipment can be protected.
To meet these challenges and also generate a family of products that is the best it can possibly be, this was the goal of the SC-System development team and was implemented using the following:
* The absence of drift-loaded trimming potentiometers through fully automated laser trimming of fixed resistors provides the best calibration results without production spread. The risk of faults from trimming potentiometers due to the slider contact point whose contact can be adversely affected by vibration or contamination is likewise eliminated with laser trimming.
* Electrolytic capacitors can dry out due to heat and exhibit temperature-dependent drift in their capacitance values. In the SC-System, alternative components are used to avoid temperature-dependent capacity loss as well as component-related ageing. By replacing electrolytic capacitors, the SC-System signal conditioners can be operated at an ambient temperature of up to 70°C.
* The low-power design, which ensures low self-heating, contributes to the wide temperature range in which the products can be operated.
* The availability of a process facility is also influenced by the probability of faults occurring, and thus by the extent to which the signal conditioner can intercept such events. The SC-System uses high-quality three-way isolation between input, output and supply which withstands a working voltage of up to 300 V and a test voltage up to 2,5 kV. The risk of short circuits in coils within the signal conditioner is counteracted by the use of PCB transformers. In this design, the transformer coils are integrated into the PCB to eliminate short circuits in coils due to faulty insulation.
* Effective use of the switch cabinet space is achieved by a compact design: the housings, which are just 6 mm wide, reduce the space requirement of the signal conditioner modules to a minimum. The housing height is so low that the modules fit between the narrow-seated cable channels.
The SC-System portfolio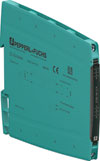 The single- and dual-channel SC-System signal conditioners are available in several versions with different functions.
Transmitter power supplies transfer the 4-20 mA signals from connected transmitters, and at the same time deliver the supply voltage to them. They are also available as smart devices which, in addition to the analogue signal, can transmit multiple HART variables. Moreover, transmitter power supplies have a signal splitter function. Their use is recommended when measurements are made available to other systems besides the control system, for example for displays or safety control. Transmitter power supplies with a signal splitter function provide the output signal at two parallel and galvanically isolated outputs. This means that, even when an output circuit is interrupted, reliable signal transmission to the other system is guaranteed. Temperature converters, loop-powered current repeaters, and universal signal converters for bipolar signals are also part of the new SC-System portfolio.
Signal conditioning success factor
Process optimisation = Result optimisation
Process sub-steps generally run at their best only at a certain temperature. Compliance with the reaction temperature must be independent of external conditions such as outside temperature, throughput of substances in ovens, and temperature of substances used. Otherwise quality (example: rotary kilns in cement production) and yield (example: thermal processing of wood waste in paper production) vary. Signal conditioners ensure trouble-free signal transmission, and thus protect against process deviations caused by faulty control due to faulty signals.
Safety for people and equipment
A lack of protection against contact represents a direct risk due to the signal circuit itself: if, for example, high voltages occur due to isolation faults of mains-supplied devices on signal lines, this means a specific risk for personnel and equipment. In the worst-case scenario, there are even dangerous voltages at the controller. Signal conditioners provide effective protection against over voltages that can occur due to faults in the field.
Signal conditioning can also protect against indirect hazards caused by a faulty controller. So, for example, the signal from a pressure monitoring system for a steam line in a power plant can be distorted due to ground loops. In the worst case, the line will explode due to excessive pressure as the controller has not throttled the steam supply because of an incorrectly transmitted value. Signal conditioners prevent equalising currents by ground loops, and thus protect against distortions of measurement and control signals.
Active environmental protection
The fluid level in vessels such as limewater containers during flue gas desulphurisation of all combustion plants (power plants, cement, steel) must be monitored continuously in order to prevent overrun or dry running. In the first case, under unfavourable conditions, the overflowing lime can harm the groundwater, and in the second case, untreated flue gas escapes through the flue. Signal conditioning ensures reliable signals, and thus effectively prevents environmental damage due to faulty processes.
For more information contact Mark Bracco, Pepperl+Fuchs, +27 (0)87985 0797, mbracco@za.pepperl-fuchs.com, www.pepperl-fuchs.co.za
Credit(s)
Further reading:
Tube connector for Ex areas
May 2020, Parker Hannifin Sales Company South , IS & Ex
Parker Hannifin has extended its Phastite permanent instrumentation connection range, which is now available in a number of corrosion-resistant alloys (CRAs), including Alloy 825, 625 and Super Duplex, 
...
Read more...
---
Surge protection for electro-mobility
July 2020, Phoenix Contact , IS & Ex
The market for electric cars is growing exponentially and automobile manufacturers are increasingly focusing on electro-mobility. However, surge protection also has a part to play in this technology. 
...
Read more...
---
Everything in view
July 2020, Pepperl+Fuchs , Sensors & Transducers
Instrumentation from Pepperl+Fuchs enables a creative solution for the chemical industry.
Read more...
---
Pepperl+Fuchs to host a free, five-day online event
June 2020, Pepperl+Fuchs , News
Pepperl+Fuchs' 2020 Online Summit is a free digital platform that will allow customers and other interested parties to learn about the latest trends and solutions in factory and process automation – even 
...
Read more...
---
Ethernet for Ex areas
July 2020, Turck Banner , IS & Ex
Turck is opening the world of the process industry to digitalisation and Industry 4.0 with its first Zone 2 Ethernet gateway for the excom I/O system. All process data can thus now reach IT systems for 
...
Read more...
---
Safety light grid with muting
July 2020, ifm - South Africa , IS & Ex
The new generation of safety light grids from ifm electronic allows for the muting mode without an external junction box or a muting relay being required, as they are already integrated into the receiving 
...
Read more...
---
Tailored to the demands of the future
June 2020, Pepperl+Fuchs , Fieldbus & Industrial Networking
Gateway for the seamless integration of device and process data.
Read more...
---
Instrumentation connection for Ex areas
April 2020, Parker Hannifin Sales Company South , IS & Ex
Parker Hannifin has extended its Phastite permanent instrumentation connection range, which is now available in a number of corrosion-resistant alloys (CRAs), including Alloy 825, 625 and Super Duplex, 
...
Read more...
---
Remote alarm monitoring made simple
May 2020, Omniflex Remote Monitoring Specialists , IS & Ex
Alarms are normally managed on site by personnel charged with supervising the plant/facility and ensuring the continuity of the operation. Alarms are implemented to help manage operations and mobilise 
...
Read more...
---
Extech announces new i.safe Mobile devices
May 2020, Extech Safety Systems , IS & Ex
Extech Safety Systems has announced the introduction of two new mobile devices – IS530.1 and IS930.1 – both IA certified for South Africa including Ex ia Ma zone 0 for underground coal mining.      
IS530.1
...
Read more...
---